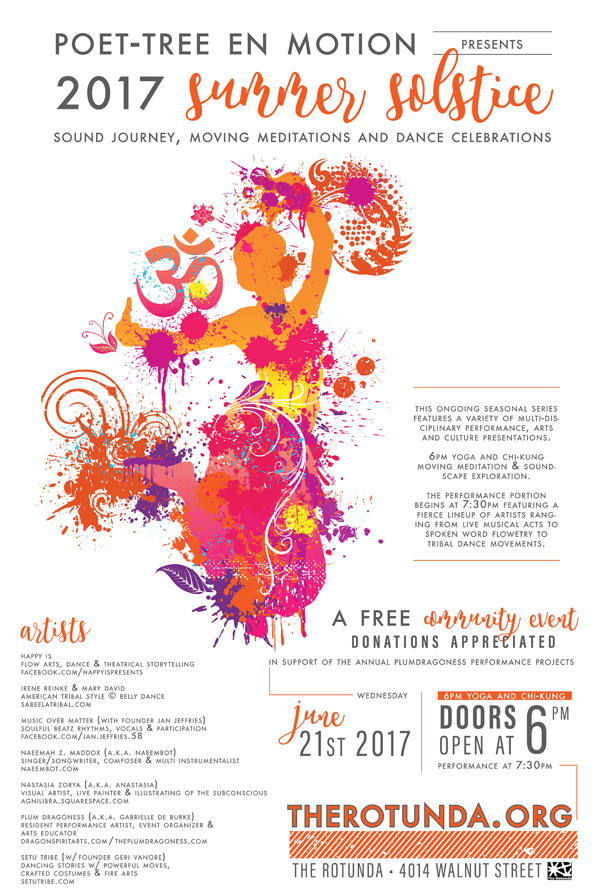 Poet~tree EnMotion Presents
The 2017 Summer Solstice Celebration! 
Wednesday, June 21st, 6-10pm (Doors @ 6pm)!
This ongoing seasonal series features a variety of multi-disciplinary performance, arts & culture presentations… Doors open @ 6pm to find a spot to participate in the Yoga/Chi-kung Moving Meditation & Soundscape Exploration. The performance portion begins @ 7:30pm featuring a Fierce Lineup of Artists ranging from Live Musical Acts to Spoken Word Flowetry to Tribal Dance Movements. 
A FREE community event … but Donations are Appreciated!

• Happy Is: Flow Arts, Dance & Theatrical Storytelling: facebook.com/happyispresents 
• Irene Reinke & Mary David: American Tribal Style © Belly Dance: sabeelatribal.com 
• Music Over Matter (w/ Founder Jan Jeffries): Soulful Beatz Rhythms, Vocals & Participation: facebook.com/jan.jeffries.58 
• Naeemah Z. Maddox (a.k.a. NaeemBot): Singer/Songwriter, Composer & Multi Instrumentalist: naeembot.com 
• Nastasia Zorya (a.k.a. Anastasia): Visual Artist, Live Painter & Illustrating of the Subconscious: agnilibra.squarespace.com
• Plum Dragoness (a.k.a. Gabrielle de Burke): Resident Performance Artist, Event Organizer & Arts Educator: dragonspiritarts.com / ThePlumDragoness.com 
• Setu Tribe (w/ Founder Geri Vanore): Dancing Stories w/ Powerful Moves, Crafted Costumes & Fire Arts: setutribe.com
ARTIST BIOS:

• Happy Is: Flow Arts, Dance & Theatrical Storytelling: facebook.com/happyispresents 
• Irene Reinke & Mary David: Irene Reinke is the former director of Barajagala dance troupe and a certified American Tribal Style® dance instructor. She performs in Philadelphia as a soloist and recently has joined with fellow ATS® dancer, Mary David in performing duets.
Mary David is also a certified American Tribal Style® dance instructor has performed many times in the Philadelphia area and will be starting up ATS® dance classes in the spring.

American Tribal Style® dance or ATS® is an American fusion dance that was created by Carolena Nericcio in the late 70's in SanFrancisco. It is a dance influenced by elements of bellydance, flamenco, and folkloric dance. It is unique in that at it's core it is an improvised dance performed within a group of dancers with its leaders constantly changing. However, from the audience point of view, the dancing appears to be choreographed because the dancers perform so perfectly in synch with each other.
For performance contact Irene Reinke at ireinke56@gmail.com or Mary David at sabeelatribal@gmail.com : sabeelatribal.com 
• Music Over Matter (w/ Founder Jan Jeffries) 
M.O.M. is made up of a group of dedicated people from many walks of life who express profound rhythm which beats within us all. The music of M.O.M feeds the souls of children, teens, & adults alike. The Maha Sound of M.O.M inspires; transporting the observer to an emotionally invigorating, uplifting dance of Pure Spiritual Beauty. facebook.com/jan.jeffries.58 
• Naeemah Z. Maddox (a.k.a. NaeemBot) 
Philly born and bred, Naeemah Maddox aka NaeemBot is a singer songwriter, composer, and multi- instrumentalist. Naeemah's style is a unique combination of soul, progressive rock, singer-songwriter, and neoclassical influences. NaeemBot has been on a musical journey that's led her to produce her most ambitious work yet. Vile Tyrant and the MiddleMen (VTMM) is a fusion of chamber pop, progressive rock and soul, blended into a unique and original style. Five years in the making, VTMM started as a collection of GarageBand demos that Naeemah initially began recording as early as 2007. Constantly writing and recording elaborate demos, Naeemah soon had a growing collection of songs bridging many styles with her quirky writing sensibility. Using the musical skeletons of the songs, she reimagined the harmonies, articulation, and scoring. Now unleashed and unrestrained, in addition to playing guitar and singing, Naeemah has recorded all of the flutes, violins, and keyboard parts as well as composing, and producing it herself. "Vile Tyrant and the MiddleMen" is scheduled for a March 2017 release. In addition to performing her original music, Naeemah also plays guitar in the RoseMary Fiki Band, Bkgvox for artist Donn T., guitar for artist Alexa Gold, vocals for Jewish-World Music ensemble - Ezuz. Naeemah also contributed backing vocals on progressive thrash metal band Vektor 's 2016 release "Terminal Redux". naeembot.com 
• Nastasia Zorya (a.k.a. Anastasia) 
Born and raised in the Russian federation, She grew up in a family that had liberal views and open minds about the roles of creativity and art in people's lives. At an early age, Nastasia decided to study different art forms, receiving an education at a traditional fine art schools in Russia. In her early 20's, her dream to explore world cultures combined with her desire to learn and grow as a visual artist, led her to travel through several countries, and ultimately landed her in Philadelphia. Constantly involved in creative projects, it is a joy for Nastasia to be part of the worldwide creative movement and to have opportunities to collaborate with other artists. She loves being able to inspire and nurture imagination in others, especially when they can express themselves through hands-on creativity.
Creative expression through the medium of visual art is one of the most defining aspects in Nastasia's life and work. Mythology and storytelling from world cultures have been fueling her diverse set of interests from a young age. Her artwork carries a strong connection to the realm of mysticism and exploration of the dream state of mind. The surreal flow of composition, bold vibrant hues, and passion for eye-grabbing contrast have become the intrinsic traits in Nastasia's paintings. One of her trademark expressive devices is dream visualization – a meditative interpretive process of illustrating the subconscious by delving into the philosophy of Nature's Five Elements, the tension inherent in the duality of light and dark, individual and collective consciousness esoteric symbolism and animal spirits. Nastasia Zorya is a multi-medium artist/illustrator with an innovative mind. She finds her unique style and specific fusion of mediums through open-minded experimentation while remaining mindful of artistic balance. Nastasia's visual art has a unique symbiosis of abstract, surreal, impressionist, and visionary art. Her skills have developed and flourished over the years thanks to her varying opportunities for practical application, including work in SFX makeup and body art for film and entertainment, sculpture, art installation and set design, and painting across multiple mediums. Currently, Nastasia Zorya is creating a whole new brand of art that merges holistic living, natural organic materials, functionality in design, and uniqueness of vision. The mission of her new art brand is to awaken the imagination of the audiences that interact with her pieces, as well as raise awareness and introduce more Natural Esthetic and beauty to their everyday lives. agnilibra.squarespace.com
• The Plum Dragoness (a.k.a. Gabrielle de Burke) 
Native to West Philadelphia, Plum is a multi-talented thespian, dancer, martial artist, instructor, poetess and writer who has been involved with performing arts since childhood. She is known for her poetic style, vocal performance, fire dance, flow arts and choreographic flair throughout Philadelphia and abroad. Over the past 15 years, she has toured not only as a solo artist, founding member/core performer/assistant artistic director of Archedream for HumanKind among many others. She has also independently released 2 albums of original work with the project Plum Dragoness & the Elements, known for its fusion of multi-media, live world beat musical infusions, spoken word vocals & lyrical poetry. She has also helped bring together the all female performance group trio known as The Femme-Mynistiques, who will officially release their debut EP "Here She Comes…" in the summer of 2016. Since 2007, Plum has been a resident performance artist, as well as host and organizer for the successful performing arts series known as Poet-tree En Motion at The Rotunda! This has allowed her the opportunity to share her own creative performances (including collaborative projects she initiated) and work created by a plethora of other unique artists with the west Philadelphia community and beyond! Gabrielle's work as a healing arts practitioner and instructor continues to intersect with her work as an inter-disciplinary performance artist through the incorporation of Internal and Martial Arts forms in combination with Dance, Poetry and Theater presentation. Gabrielle has been teaching in, around the Philadelphia area & abroad since 2000.  If you dig It…then follow:
(Healing Arts) DragonSpiritArts.com & facebook.com/dragonspiritarts 
(Performance Arts/Music & Lyrical Poetry) ThePlumDragoness.com & facebook.com/4plumdragoness 
Listen on: soundcloud.com/plum-dragoness, cdbaby.com/Artist/PlumDragonessandtheElements, tunecore.com/music/plumdragoness 
• Setu Tribe (w/ Founder Geri Vanore)
The Setu Tribe consists of… the Warrior Goddess, Connection, Fire Lotus, Men At Work... these are just a few of the movements created by Setu Tribe, a growing group of women (currently 21 and counting), led by Geri Omni, who come together to perform a collectively choreographed dance. Each movement is derived from a single, memorable experience belonging to each woman, making the dance into a series of pivotal moments that each Tribes Woman shares. In addition to creating their own movements, each Tribes Woman also crafts their own costume. Setu Tribe connects us all to these powerful moments as it heals and uplifts through the dance.
The Tribes founder, Geri Vanore ("Lady Omni") has been inspired by the Tribal qualities of the Phamily known as The Philadelphia Experiment, the amazing, strong and beautiful women and men of the community, and the uplifting creations and music of the artists. facebook.com/setu.tribe, facebook.com/groups/136211769890796, setutribe.com
sign up for a spot at 7:30pm, space is limited...

Open Mic will close the night!
Addtional Images