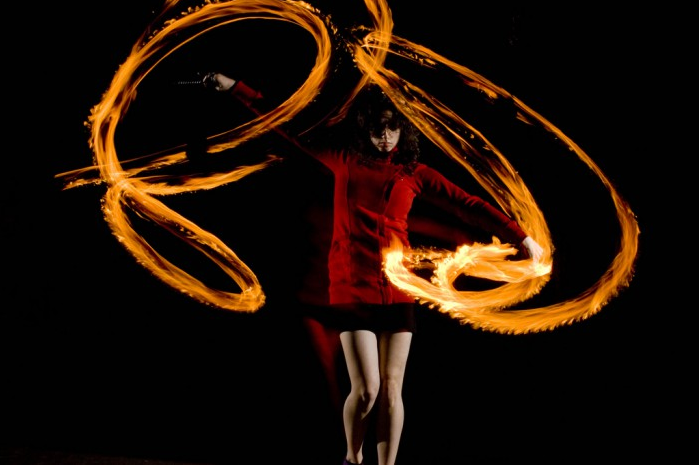 Poet-tree En Motion
2014 Winter & Spring Performance Series!
This ongoing seasonal event series features a variety of dance/movement/theater mediums, live electronic/acoustic music, vocalists & poetry/spoken-word presentations, circus/fire/flow arts performances, community art creations, live painting & VJ projections… 
Plus an Open Mic/Stage & Jam Sessions!
Featuring:
May 7th: Spring Fire Lights the Night & Lunar Celebrations!



•

Armour Sisters/Angela & Michelle (Fire Dance & Flow Arts)

a dynamic 





sister duo, passionate about fire dance, flow & healing arts, plus writing & performing original music in their band Silver Skies. Michelle and Angela Armour have long had a passion for the path of healing expression through movement and music, their songwriting and musicianship currently expressed through their Philly-based band, Silver Skies. Angela is a certified Hooping With Kids instructor who connects with people of all ages, and Michelle is a yoga instructor and licensed massage therapist.



•

Bill Fieger (Live Experimental Music)

This marks my 35th year as a 


Guitar player. When I started this journey I had no idea where it would take me. As a teenager my dreams of playing in Hard Rock and Heavy Metal bands came true how cool is that? After I got tired of playing in rock bands I decided on a more personal approach to music. Composing electronic music under the name Oblivious Solitude. Later I was performing and recording with Heather Lind as Stares to Nowhere. I've also performed with Mike Hunter as Mayakara, as well as recording and performing solo acoustic music, sometimes modifying and creating new instruments to take the music to new places. 
facebook.com/william.fieger.39 



•

Kalamandir Dance Company (Dance) a contemporary dance ensemble


that uses the vocabulary of classical Indian dance to explore new spaces of artistic expression. Instead of diminishing the foundation of our classical styles, we look to investigate their communicative potential when merged with Western dance traditions. Using Odissi, Kathak, Bharatanatyam, Capoeira, Flamenco, Modern and Ballet training, our dancers collaboratively converse with movement and create dialogue with expression. We are driven by creativity, human emotions, and a desire to be released from the four walls of our daily existence. Our movement vocabulary is a collective effort that aims to create a reachable area for all people to participate and communicate. Artistic Director, Malabika Guha presents the piece "The Love That Remains". Based on the Portuguese word "saudades," this piece explores the fervent state of longing by channeling the painful sweetness of remembering a loved one from whom we have been separated while reveling in the joy that they may return (see link above for more info)! 



•

Jan Jefferies & M.O.M./Music Over Matter (Live Song &



Percussion) made up of a group of dedicated women from many walks of life, who feel and express the profound rhythm which beats within us all. M.O.M. takes special pleasure in embracing the participation of all the children of the universe. Under the expert tutelage of Founder and percussionist, Jan Jeffries, the group shares their hearts and souls with each other, while exploring the universal love of tradition buried deep in their essence by the wisdom of countless ancient ones. 



•

Lauren Raske (Fire Dance) A fire dancer in Philadelphia that started


performing professionally in 2006. She studied the science of fire under the Amazing Barry Silver, master of the seven deadly acts and is constantly in awe with the contemporary evolution of the arts & community. She has had the honor to perform with some of the best artists locally, nationally, and internationally. An expert of a multitude of tools and props [poi, fans, hoop, double staves, buugeng, fire breathing, fire eating, torches, etc.] her fire shows captivate people in a wide variety of settings and celebrations from intimate private parties to main stages at 40,000+ attendee festivals, and everything in between. In support of the progression of the craft I also teach workshops and private/semi-private clients about fire safety and flow techniques for several tools and produce large scale showcases. She has recently began experimenting with filming and am exploring fire arts installations so stay tuned for more exiting things!



•

Oriental Fitness Institute (T'ai Chi Chuan Demonstration) dedicated to


helping students implement and maintain a healthy lifestyle by providing information about different kinds of exercise and diet, a program is designed to meet each individual's specific needs.  The practices draw on the wisdom and practices of both ancient and modern traditions. East & West Come Together To Maximize overall Health & Well-being.
orientalfitnessinstitute.com  



•

Plum Dragoness/a.k.a. Gabrielle de Burke (Flow Arts & Fire Dance) 


Native to West Philadelphia, Plum is a multi-talented thespian, dancer, martial artist, instructor, poetess and writer who has been involved with performing arts since childhood. She is known for her poetic style, vocal performance, fire dance, flow arts and choreographic flair throughout Philadelphia and abroad. Over the past 15 years, she as toured not only as a solo artist but also as founding member/core performer/assistant artistic director with groups like Archedream & Be Tru Dance Crew among many others. She has also independently released 2 albums of original work with the project Plum Dragoness & the Elements, known for its fusion of multi-media, live world beat musical infusions & spoken word vocals & lyrical poetry. In addition, Plum is the resident performance artist & organizer for the ongoing community performing arts series known as Poet-tree En Motion, since 2007 at The Rotunda! 



•

Steve Shorts (Live Painting Artist) a former assistant painter for the


Philadelphia Mural Arts Program. In New York City he worked on murals as an apprentice for Colossal Media and Skyhigh Murals (the largest hand-paint ad company in the United States).  While in New York, Steve also completed community art projects for non-profits including Covenant House and the United Way. Between 2007 and 2008, Steve was an event volunteer at the Chapel of Sacred Mirrors (CoSM), an arts non-profit owned and operated by world famous artist Alex Grey.  In 2009, Steve left New York City and moved to Wappingers Falls, New York to work at CoSM full-time as a chapel builder. After leaving CoSM in late 2010, Steve moved to Philadelphia, where he has worked on commercial and residential properties all over Philadelphia, Bucks County, and New Jersey.  He has painted commercial advertisements and signs in New York, Newark, Atlanta, San Francisco, and Washington D.C.  He has live painted, body painted, and shown his work at events all over Philadelphia and New York.  Steve currently lives and creates at the Ellen Powell Tiberino Memorial Museum.



•

Text Rich/a.k.a. Ali Richardson (Live Music, Songs, Raps & Scats) an


artist of many talents and gifts. His musical mastery includes working with traditional acoustic and electric instruments such as djimbe, guitar, bass, piano, drums, and more. His range of vocal interpretation covers singing, emceeing, beat boxing, scatting, and performing poetry. Text Rich's musical background started with Hip Hop music as it developed through the 80's and 90's and once introduced to the guitar he took to learning blues, jazz, rock, and funk. He brings all these elements of music and expression to the stage, to classrooms where he teaches music, and in the community as a known griot/troubadour openly sharing musical inspirations with others. Known well in the community as Ali Richardson, Text enjoys spending a large portion of his time creating musical learning experiences for all ages. He is also committed to providing quality educational experiences for youth through workshops and classroom education. 
reverbnation.com/textrichmusicrich 



•

VJ Spooky-this Philadelphia based VJ enhances events w/ a multimedia


experience!
facebook.com/vjspooky 
*Facebook Group for Poet-tree En Motion: facebook.com/groups/116980678334215
*Facebook Event for Poet-tree En Motion on 5/7: facebook.com/events/602099869860616 
Admission is FREE but donations are always appreciated!
AND THEN... June 4th: Summer Solar Festivities & Plum Dragoness Fundraising Activities!