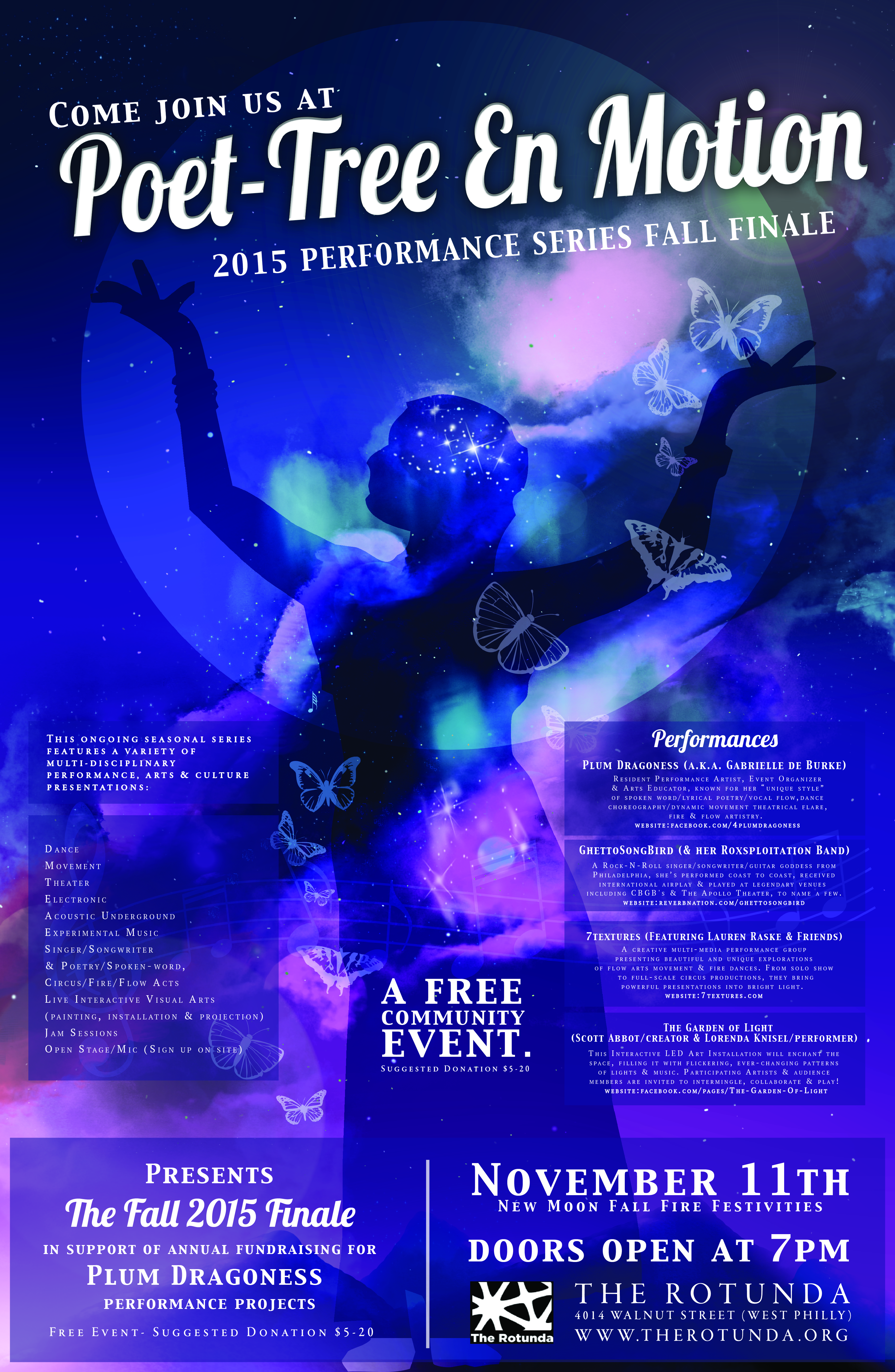 Poet-tree En Motion 

Presents
The Fall 2015 Finale!
Doors Open @ 7pm 

This ongoing seasonal series features a variety of multi-disciplinary performance, arts & culture presentations including: 



Dance/Movement/Theater, Electronic/Acoustic/Underground/Experimental Music, Singers/Songwriters & Poetry/Spoken-word Artists, Circus/Fire/Flow Acts, Live Interactive Visual Arts (painting, installation & projection), plus Jam Sessions & Open Stage/Mic (Sign up on site)… 



This last event of the season also offers an opportunity to celebrate the 9 years of Gabrielle de Burke's (a.k.a. Plum Dragoness) ongoing performing arts residency @ The Rotunda & to support the annual Fundraising efforts of Plum Dragoness Performance Projects! A suggested donation of $5-20 is greatly appreciated at the door & there will be a Silent Auction featuring donations ranging from Antiques & Art, Farm to Table Restaurants, Artisan & Organic Body Jewelry, various Crafters to Goods & Services (Massage/Bodywork/Acupuncture) & etc. Think of this as an opportunity to support local community artists & an opportunity to procure some unique gifting possibilities for friends & family… THANKS FOR YOUR CONSIDERATION & SUPPORT!}  



November 11th: Fall Fundraiser & New Moon Fire Festivities!
Plum Dragoness (a.k.a. Gabrielle de Burke) 
Resident Performance Artist, Event Organizer & Arts Educator, known for her "unique style" of spoken word/lyrical poetry/vocal flow, dance choreography/ dynamic movement/theatrical flare, fire & flow artistry. 
facebook.com/4plumdragoness


 GhettoSongBird (& her Roxsploitation Band)
A Rock-N-Roll singer/songwriter/guitar goddess from Philadelphia, she's performed coast to coast, received international airplay & played at legendary venues including CBGB's & The Apollo Theater, to name a few. reverbnation.com/ghettosongbird
7Textures (Featuring Lauren Raske & Friends) 
A creative multi-media performance group presenting beautiful and unique explorations of flow arts movement & fire dances. From solo shows to full-scale circus productions, they bring powerful presentations into bright light. 7textures.com
The Garden of Light (Scott Abbot/creator & Lorenda Knisel/performer) 
This Interactive LED Art Installation will enchant the space, filling it with flickering, ever-changing patterns of lights & music. Participating Artists & audience members are invited to intermingle, collaborate & play!  facebook.com/The-Garden-Of-Light & facebook.com/BellydancebyLorenda 
Upcoming Event March 2016 (In Honor of Her-story Month)!
Go to the Poet-tree En Motion Event on FB: facebook.com/events/1523857644572724/
Join the Poet-tree En Motion Group on FB: facebook.com/groups/116980678334215
ARTIST BIOS
Plum Dragoness (a.k.a. Gabrielle de Burke)
Native to West Philadelphia, Plum is a multi-talented thespian, dancer, martial artist, instructor, poetess and writer who has been involved with performing arts since childhood. She is known for her poetic style, vocal performance, fire dance, flow arts and choreographic flair throughout Philadelphia and abroad. Over the past 15 years, she as toured not only as a solo artist but also as founding member/core performer/assistant artistic director with groups like Archedream for HumanKind, Be-Tru Dance Crew among many others. She has also independently released 2 albums of original work with the project Plum Dragoness & the Elements, known for its fusion of multi-media, live world beat musical infusions & spoken word vocals & lyrical poetry. For the past few years her focus has been with the all female performance group trio she helped bring together known as The Femme-Mynistiques, who are soon to release their debut EP "Here She Comes…" Since 2007, Plum has been a resident performance artist, as well as host and organizer for the successful performing arts series known as Poet-tree En Motion at The Rotunda! This has allowed her the opportunity to share her own creative performances (including collaborative projects she initiated) and work created by a plethora of other unique artists with the west Philadelphia community and beyond! 
cdbaby.com/Artist/PlumDragonessandtheElements
GhettoSongBird 
Rock-N-Roll singer/songwriter/guitar goddess from Philadelphia who landed in L.A. in 2002 to record her 1st CD with the help of her mentor Rosa Lee Brooks who wrote & recorded with the Legendary Jimi Hendrix. She took Ghettosongbird under her wings with jam session with musicians who played with Jimi Hendrix, Fishbone, Chaka Khan, Tupac, New Birth, & so many more. She performed in Philly, New York, Delaware, Jersey,D.C., South Carolina, Ohio, with airplay in London, Philly, & New York City, opening up for Veron Reid's new band(Living Colour guitarist), Sonja Sanchez, doing shows with Res & even Santi White of Santigold, playing at Legendary venues including CBGB's, B.E.T.'s 106&Park, The Apollo Theater, to name a few.
reverbnation.com/ghettosongbird
facebook.com/The.Official.GhettoSongBird 
The Garden of Light
The Garden of Light is an LED art installation and performance space that debuted at the Freeform Arts Festival in 2014. The display was even more magical in 2015 at Freeform and the Return to Roots Gathering, thanks to art grants from both festivals. The Garden is growing! The Garden of Light is an enchanting space filled with flickering, ever-changing patterns of lights set to music where artists are welcome to perform. You may sit next to the Buddha under the LED bodhi tree or cavort with the gnomes and fairies during the day. At night, the space becomes a party filled with bubbles, smoke and snow on the dance floor! We aim to bring The Garden of Light to even more festivals and events soon. The Garden of Light is an art installation created by Scott Abbott, founder and engineer of Open Show, which is a company that provides affordable open-source show control to performing artists. Both the Garden of Light and Open Show were created to help artists grow and perform their art in a dazzling way.
facebook.com/The-Garden-Of-Light
facebook.com/BellydancebyLorenda 
7Textures
Light is another beautiful dimension which we feature, as entertainment, media production, and, as always, as art. From solo shows to full-scale circus productions, we love to bring a powerfully bright show to your events. Working everything from weddings & galas to festivals & artist showcases to corporate events & commercial media, we perform with a variety of tools and acts tailored especially for you. Our shows include performers, insurance, trained fire safety, and fire permits for public events. 
Admission is FREE! Donations are encouraged and appreciated! 
Addtional Images