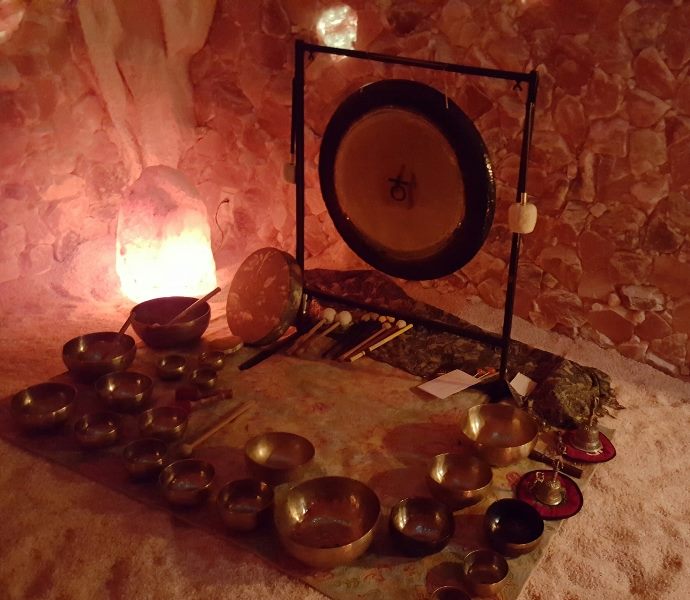 Join Artists Iron Gump, Ashwin Gurung (a.k.a. Sean Hoots) & Gabrielle de Burke (a.k.a. Plum Dragoness) for this Experimental Collaboration between a Shamanic Sound Journey & Yin/Yang Mindful Movement Exploration! 
Iron Gump and Ashwin Gurung invite you into an exploration of the imagination and its landscapes. With Bells, singing bowls, drums, flutes, guitars, gongs, voices and synths…a palette of transporting tones guide into an open soundscape of infinite movement.
Gabrielle will facilitate the Yin/Yang Mindful Movement Exploration, where Yoga & Chi-Kung meet for a dance with the Breath. Expect a movement practice that is a fusion of the Taoist Arts of Qi-gong (Chi-kung) & the Vedic Arts of Yoga in collaboration with the vibrational sound healing instrumentation facilitated by Gump & Ashwin. Engage in the Mindful Movements with your Breath &/or find Stillness as you Bathe in the Shamanistic Sound Journey.
There are options for how you choose to participate in this 1 hr. 45 min. Journey... The first 60 minutes of the presentation will offer an instructor led movement practice, for which you may choose to bring a mat to use for final 45 min. spent in a reclining position. Participants are also welcome to just bring a mat to lie down along the perimeter of the space or just take a seat in a chair if preferred for the duration.
This is a Free Community Event... But Donations are Greatly Appreciated!
https://seanhoots.bandcamp.com, https://soundcloud.com/iron-gump, https://soundcloud.com/plum-dragoness