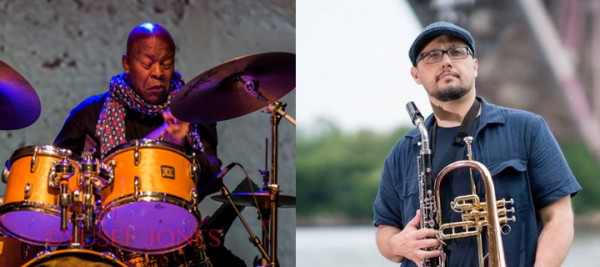 William Hooker
 & 
Matt Lavelle 
duo:
William Hooker (drummer,composer and poet) has created works that range from jazz and "new" music to experimental genres. He has released over 70 CDs as a leader. Mr. Hooker has performed at the Brooklyn Academy of Music, Edgefest Jazz Festival, The Vision Festival, The David Rubenstein Atrium at Lincoln Center, The Wadsworth Atheneum, Queen Elizabeth Hall, The Walker Art Center, the first on MTV, The Kitchen, Roulette, Real Art Ways. He has also presented his work at the JVC Jazz Festival, Montreal Jazz Festival, Vancouver Jazz Festival, CMJ Music Festival,Vilnius Jazz Festival, Experimenta Argentina,The Knitting Factory and the Victoriaville Music Festival.
William Hooker has received commissions and support from the New York State Council on the Arts, Meet the Composer,Tokio Marine Insurance Company, Colleges and Universities such as Oberlin, Fordham, Columbia,New York University, Boston University, Princeton, Dartmouth, Yale and many more. Accompanying musicians have included Billy Bang, David Ware, William Parker, Thurston Moore, David Soldier, Roy Campbell, Zeena Parkins, Lee Ranaldo, Jason Hwang, Sabir Mateen, Elliot Sharpe ,David Murray, Ted Daniel, JD Parren and many more.
"William knows no genre bounds and ceaselessly searches for new forms of music, always with the intent to inspire." New York City Jazz Record.
Matt Lavelle is a trumpet, flugelhorn, bass and alto clarinet player and composer. He began his music career with Hildred Humphries, a swing era veteran who played with Count Basie and Billie Holiday. In 2002 he began performing in ensembles led by Sabir Mateen. In 2005, Lavelle began study with Ornette Coleman. Lavelle was a member of the Bern Nix quartet from 2010-2017. In 2011 Lavelle created the 12 Houses Orchestra. Lavelle has played and collaborated with Ornette Coleman, William Parker, Warren Smith, Henry Grimes, Eric Mingus, Sabir Mateen, Roy Campbell, Daniel Carter, Jemeel Moondoc, Mat Maneri, Ras Moshe, Hilliard Greene, Steve Swell, Matana Roberts, Bern Nix, Jack DeSalvo, Charles Downs, Tom Cabrera, Francois Grillot, Giuseppi Logan, William Hooker and many others. Lavelle published his first book, New York City Subway Drama and Beyond, in 2011. In 2013 he published a second book called The Jazz Musician's Tarot Deck. Lavelle is also the author of the blog No Sound Left Behind.


Terry Lawson, Tenor - Saxophone, Kevin Diehl - Drums
The Instant Arts Two-oh creates music in the moment based on their 20 years of collaboration. Terry Lawson is a venerated Philly institution who has performed with likes of Odean Pope's Saxophone Choir, Jamaladeen Tacuma, Jymie Merritt's Forerunners and many more. Kevin Diehl leads Sonic Liberation Front in which Terry was a founding member. Kevin has collaborated with Oliver Lake, Sunny Murray, Chad Taylor and Joe Chambers among others. Look for their debut album in 2023.


Admission is FREE. Registration is encouraged: https://www.eventbrite.com/e/william-hooker-matt-lavelle-duo-the-instant-arts-two-oh-tickets-516102555637