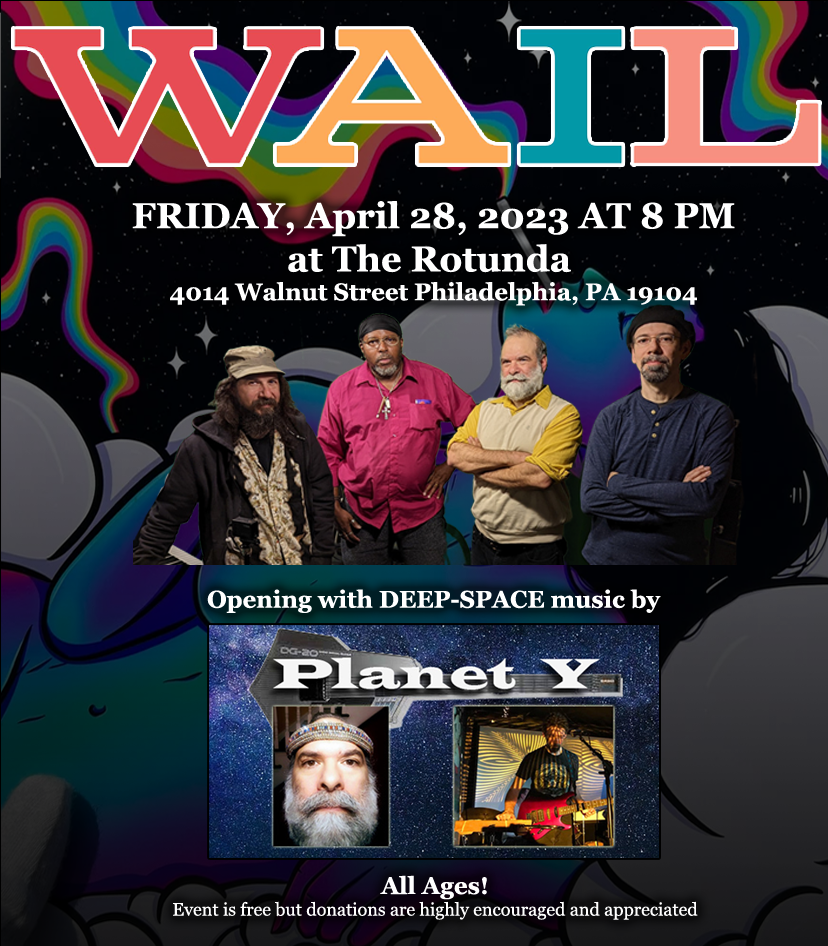 Band bio(s)
WAIL: 
Wail is a Funk/Jazz/Rock band from Philadelphia PA.
The band features drummer G. Calvin Weston, who has had a brilliant career of over 40 years playing with such notables as Ornette Coleman, James Blood Ulmer, John Lurie and the Lounge Lizards, Mark Ribot, Medeski Martin and Wood, and most recently The Free Form Funky Freques, featuring Vernon Reid and Jamaaladeen Tacuma. On guitar and bass, Wail features the Papadopoulos brothers Yanni and Alexi, who's Doomjazz band, Stinking Lizaveta, has been touring the US and Europe for three decades. With eight studio albums in circulation, Stinking Lizavetea has carved out a unique nitch in the Stoner Rock world as an exciting instrumental combo. Also featured on guitar is Pete 
Wilder
 who's decades long work with Philly's own infamous band, EDO, has earned him the respect of many technical guitarists.
Planet Y:
Planet Y is completely improvised space music featuring WAIL members Yanni Papadopoulos and Pete 
Wilder
. Yanni Papadopoulos relies heavily on his Casio DG20 guitar synth and a handful of effects pedals to create the space scape. There is no looping or sampling involved, all sounds are created in real time. Yanni is joined by musician Pete 
Wilder
, who adds to the mix with guitar, Theremin, and a Casio DG20 guitar synth. (yes, sometimes there will be 2 guitar synths!)
Admission is FREE