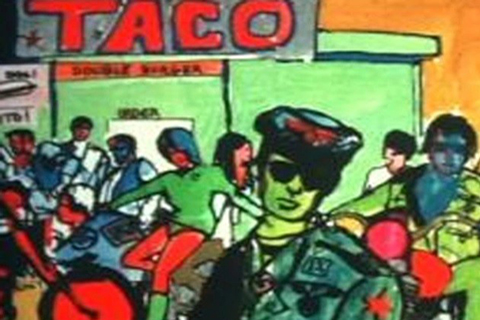 The 1960s were a period when things really changed, not least in pop culture and the arts. Besides revolutions in pop music, painting and theater, underground filmmaking found a large audience, and it's also the time when film production on college campuses really took off. Major universities added or expanded their filmmaking departments, and the star students of N.Y.U., U.C.L.A. and U.S.C. -- like Scorsese, Lucas and Coppola -- would take their places as the leading film directors of the following decades.

By the end of the 1960s there were countless student film contests and festivals. Larger schools, notably U.S.C. (The University of Southern California) -- with one of the best-equipped departments and names like King Vidor and Jerry Lewis on their faculty -- actively distributed their students' work to other campuses and screens.

On Thursday, May 11, the Secret Cinema will explore this era with the program 1960s STUDENT FILMS, featuring several intriguing short films, including many made by students who went on to have long careers in Hollywood.

There will be one complete program at 8:00 pm. Admission is free (as are all programs in the Rotunda's monthly "Bright Bulb Screening Series").

As always -- still -- Secret Cinema programs are shown using 16mm (not video, not digital) film projected on a giant screen. Admission is FREE

A few highlights of 1960s STUDENT FILMS are:

MARCELLO, I'M BORED (1967, Dir: John Milius & John Strawbridge) - Ostensibly a parody of Italian cinema of the day, this combines pop art animation with live action negative footage and comically mannered dialogue of mod pleasure seekers. Sound editing by George Lucas. A prize-winner in the National Student Film Festival.

COCOON (1968, Dir: Khosrow Haritash) - This unusual short was made while the director was at U.S.C., prior to returning to his native Iran, where he made a few feature films before his untimely death at the age of 48. COCOON follows a frustrated young black dishwasher who visits adult bookstores and lives a lonely, meager existence. Filmed against a particularly sleazy (and hippie-filled) late-1960s Hollywood. Kevin Thomas of the Los Angeles Times called COCOON "one of the finest serious short films ever made, right up there with Roman Polanski's TWO MEN AND A WARDROBE."

NIGHTSHIFT (1967, Dir: Matthew Robins) - Menace and paranoia in the world of a an all-night gas station attendant. Great cinematography by Philadelphia native Caleb Deschanel (THE RIGHT STUFF, THE NATURAL). Sound by Walter Murch (AMERICAN GRAFFITI, THE CONVERSATION).

DARRIN (1968, Dir: Basil Poledouris) - The director scored a $450 grant from the Academy of Motion Picture Arts & Sciences to make "a film about a child and his interaction with the environment." The result won a $1000 Edward Dymytrk prize, and then a Samuel Goldwyn scholarship from the American Film Institute to work with producer Lawrence Turman (THE GRADUATE). He ultimately enjoyed a long Hollywood career -- as a composer of film music, often for U.S.C. classmates like John Milius and Randal Kleiser. His scores include those for BIG WEDNESDAY, TV's LONESOME DOVE, CONAN THE BARBARIAN, THE HUNT FOR RED OCTOBER and many more.

GARDEN (1968, Dir: Wayne Wadhams, Gene Mackles) - An animated rumination on Hieronymus Bosch's famous painting THE GARDEN OF EARTHLY DELIGHTS, employing (like many student films) liberal use of presumably unlicensed rock music recordings. Wayne Wadhams, a musical prodigy himself, joined Dartmouth College's student film society after his own successful recording career with the band the Fifth Estate. He later composed jingles and sang the theme for TV's CANDID CAMERA, worked in recording studios, was a longtime faculty member of the Berklee School of Music, and wrote several popular books about music production and composition.

Plus LA DIVINA (1967), VIKING WOMEN DON'T CARE (1968), and more!
Admission is FREE