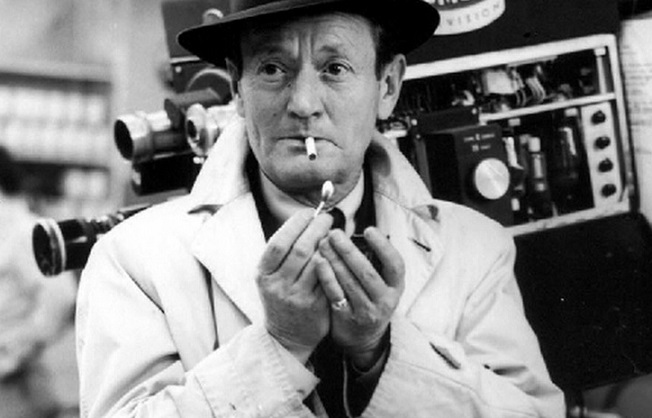 The Secret Cinema to show LOST TELEVISION

The Secret Cinema will return to The Rotunda for the first time since the pandemic, with a brand new program called LOST TELEVISION. The program, to be presented on Thursday, December 9, consists of rare and forgotten shows from the early era of television, which only survive thanks to now-aging 16mm film prints.
The 16mm film format was crucial to early television broadcasters, in the days before videotape was perfected. Filmed recordings of live television, called kinescopes, were made using special equipment. Other programs were originally shot on film -- this was standard procedure for the popular 1950s TV genre of anthology dramas, short stories made with changing casts. And for many years 16mm prints were shipped to local stations as a convenient distribution medium for both programs and commercials. The Secret Cinema archive includes many original prints with examples of all of these uses, and these will be showcased in LOST TELEVISION.
There will be one complete show at 8:00 pm. Admission is free. Seating is limited. Masking and contract tracing enforced. 
All Secret Cinema presentations are projected in 16mm film on a giant screen (not video).
This screening is part of The Rotunda's ongoing Bright Bulb Screening Series which offers free movies on the second Thursday of every month, throughout the year.
Included in LOST TELEVISION will be:
ROCKY KING, DETECTIVE (circa 1954) - This show, a cross between FILM NOIR and soap operas, originally aired on the nine stations of the DuMont network. It starred prolific Hollywood character actor Roscoe Karns as the title police detective on the homicide squad. In an odd (and budget-saving) touch, Karns would banter with his wife, who always stayed off-screen. This episode, complete with commercials, is not known to exist elsewhere.
SCREEN DIRECTOR'S PLAYHOUSE: THE SILENT PARTNER (1955) - This series differed from many other anthology drama showcases in that it was created by the Directors Guild, and used top feature film directors to helm its stories, including John Ford, Rouben Mamoulian, Alfred Hitchcock, Leo McCarey and many more. This example was one of its most memorable episodes -- it stars the great Buster Keaton as a washed-up silent film comedian watching the Academy Awards telecast in a bar. The cast also includes Zasu Pitts, Joe E. Brown, Bob Hope and more. Directed by George Marshall.
ZELDA (1962) - ZELDA was a pilot show for a series that went unsold and unproduced. It was to be a spin-off from the popular THE MANY LOVES OF DOBIE GILLIS. ZELDA starred Sheila James, reprising her role as Zelda Gilroy, a brainy, upbeat, and headstrong tomboy who opens the show by sharing her thoughts and worries to the camera (like DOBIE GILLIS): "My ambition is to find a fella…I'm really not much of a girl." It set an odd mood for an ostensible comedy series, and it's not hard to see why the show never sold, but James has a fascinating screen presence. After appearing in several TV series, she left acting. Under her birth name of Sheila Kuehl she went to law school to fight for women's workplace rights, and in 1994 became the first openly gay person elected to the California legislature. Today Kuehl serves on the Los Angeles County Board of Supervisors.
EXCURSION: ATOMIC ENERGY (1953) - Burgess Meredith introduces the star of this educational program, Princeton University professor Hubert Alyea. The funny and fast-talking academic, nicknamed "Dr. Boom," gives a rapid-fire lecture complete with demonstrations and explosions. Alyea was reportedly the real-life inspiration for the Walt Disney movie THE ABSENT-MINDED PROFESSOR. This show was a production of the TV-Radio Workshop of the Ford Foundation.
SECRET CINEMA WEBSITE: 
http://www.thesecretcinema.com
There will be one complete show at 8:00 pm. Admission is free. Seating is limited. Masking and contract tracing enforced.