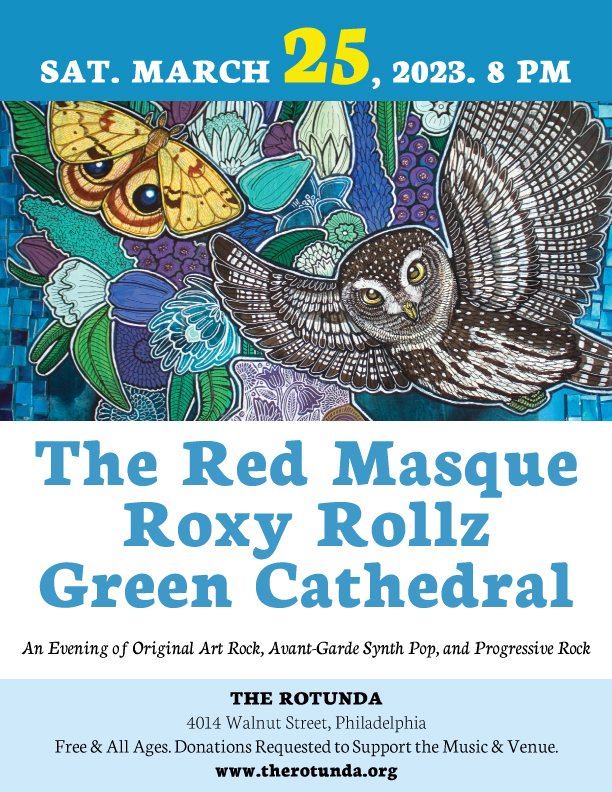 Rescheduled from October 2022

ABOUT THE BANDS
THE RED MASQUE
"From Pennsylvania hails a quartet without limitations to their purposes and without shame regarding norms and dogma within new rock." — Tarkus Magazine
The Red Masque have been performing their unique blend of dark and angular progressive rock since 2001.
Brandon Lord Ross: bass guitar, keyboards
Lynnette Shelley: vocals, lyrics
Severyn Clarke: drums & percussion
Scott Weingarten: guitars
ROXY ROLLZ
Hailing from greater Philadelphia, Roxy Rollz blends a powerful mix of rock & avant-garde synth pop with a punk attitude.
Kym Staloff- lead vocals, keys & guitar.
Mikey Carbone, drums.
Nick Demou, guitar back up vox.
Kevin Waldt, bass back up vox.
GREEN CATHEDRAL
Green Cathedral is an original art-rock band hailing from the Philadelphia area. The band is made up of music industry veterans from the Art-Rock, Post-Punk, Prog and Electronic music worlds, collaborating on a sound that incorporates all of these elements to thrilling effect.
Mark Walsh: bass, vocals, lyrics
Lynnette Shelley: vocals, lyrics
Dean Zigoris: guitar
Joe Paglia: keyboards
Tom Theurer: drums
https://www.green-cathedral.com
Admission is FREE (Donations accepted).