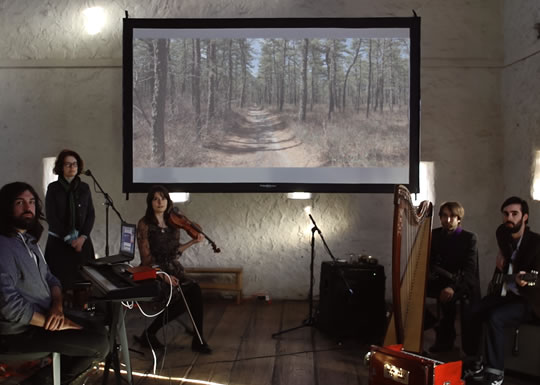 THE PINE BARRENS
screening and live score with The Ruins of Friendship Orchestra
Bowerbird is pleased to present a screening of David Scott Kessler's evolving documentary The Pine Barrens: Whitesbog Edition with a live score performance by The Ruins of Friendship Orchestra. Guiding the viewer through the New Jersey Pineland's winding, rust-colored rivers; its dark, sandy forests and slowly developing towns, The Pine Barrens creates a contemplative, complex, portrait of a place out of time. With the Pinelands as a primary character, the film explores the symbiotic yet sometimes destructive relationship between man and nature. It is believed by many that political forces and negligence may contribute to making this century the Pine Barren's last. 
ABOUT THE RUINS OF FRIENDSHIP ORCHESTRA
Named for the historic Pine Barrens town of Friendship where the band first practiced together as a group, The Ruins of Friendship Orchestra is a collective of electronic and traditional instrumentalists composing the score to The Pine Barrens concurrently to the film's evolving editions. Ruins perform this score, also an evolving and partially improvised work, live at screenings, merging performance and documentary to create a completely unique experience transporting the audience into our interpretation of this fascinating and beautiful place. 
Ben Warfield, synthesizer 
Laura Baird, vocals, flute, banjo 
Gretchen Lohse, viola 
Jesse Sparhawk, harp, bass 
John Pettit, guitar, trumpet, harmonium
FILM TRAILER: https://vimeo.com/158122539
Admission is FREE