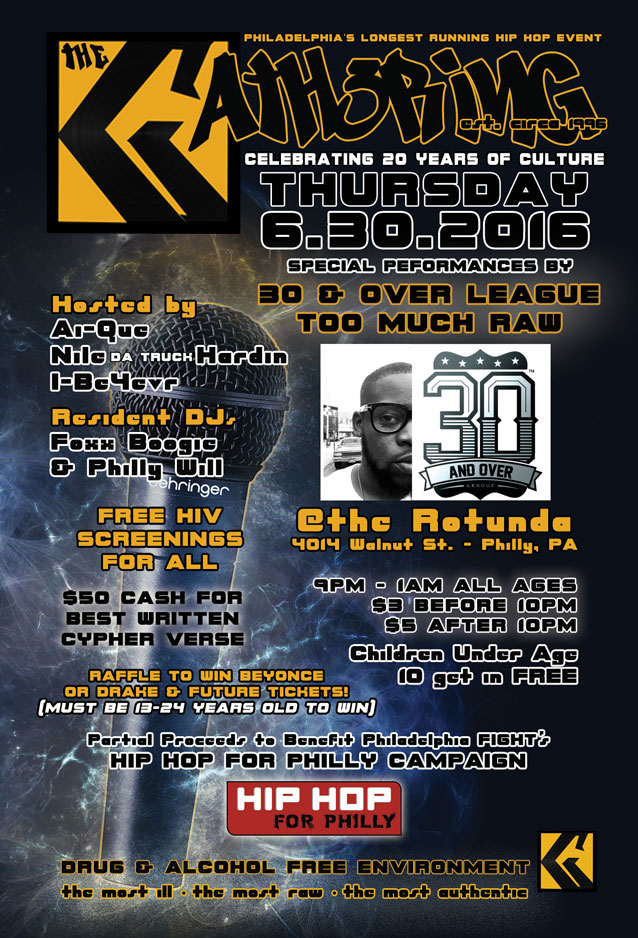 9pm-1am
The Gathering Returns Thursday June 30th. And Every Last Thursday of the month. The Longest Running Hip Hop Event In Philly. Rap Cypher, Breaking, Graff and Turntablism. Open to All Ages at The Rotunda 4014 Walnut St. Philadelphia, PA 19104 9pm-1am $3 cover before 9pm. $5 After 10pm. This Month 30th & Over League Will Be The Feat. Act. Also FREE HIV SCREENINGS FOR ALL. $50 Cash for best cypher verse written. RAFFLE TO WIN BEYONCE, DRAKE AND FUTURE TICKETS. MUST BE 18-24.

 Established in 1996, The Gathering is the longest/strongest-running truly Hip Hop event in Philly. 
The 
Gathering
IS b-boys/b-girls, pop-lockers, emcees, graffiti writers, 
DJs, men,
women, and children of all ages enjoying an organic, 
community-based
celebration of The struggle, the Love, and the culture 
of Hip Hop.