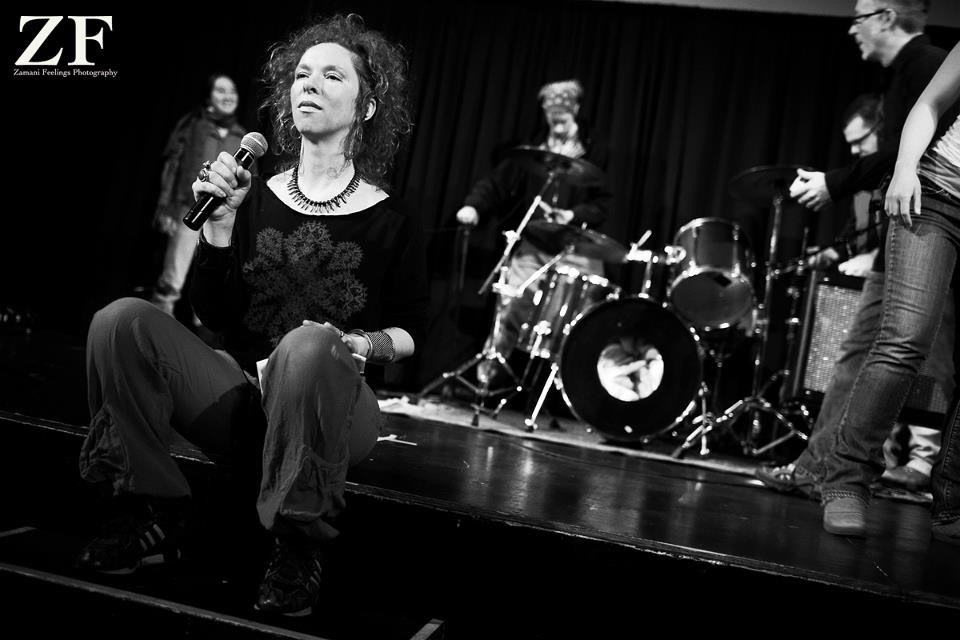 Poet~tree EnMotion
Presents
The 2016 Summer Solstice Sound Salutation!

Wednesday, June 22nd, 7-10:30pm (Doors @ 6:30pm)!

This ongoing seasonal series features a variety of multi-disciplinary performance, arts & culture presentations… This event will be a bit different from the previous… Doors open @6:30pm to find a spot for your yoga mat (Chairs will be present too) & the event begins @ 7pm with a Yoga/Chi-kung Fusion Flow workshop to invoke a sacred space of stillness for flowing meditations, while steeped in a practice amidst dynamic Sound Healing Vibrations… then Words will be Spoken to honor rituals that cannot be broken…calling fourth the fierceness of festivity inspiring the Tribal Dance Ceremony…Finally, the Music "Selecta" moves us in to a dance-floor rhythm to celebrate the community!!!

A FREE community event (donations suggested at the door in benefit of GreensGrow)…
 THANKS FOR YOUR CONSIDERATION & SUPPORT!  

June 22nd: The 2016 Summer Solstice Moving Meditations, Sound Vibrations & Tribal Dance Salutation!

•    Teknacolor Ninja
DJ artist bringin' Afro-Caribbean rhythms & bass for seasoned dance floors… highlighting the underground, female MC's & producers w/ bootyshaking, high energy music balanced w/ sassy, fingerlicking good vibes.

•    Plum Dragoness (a.k.a. Gabrielle de Burke)
Resident Performance Artist, Event Organizer & Arts Educator, known for her "unique style" of performance & skilled work as a healing arts instructor. In collaboration with Iron Gump & his hOMies, she'll facilitate a Yin/Yang Flow of Yoga/Qi-gong with vibrational sound healing to balance mind, spirit & body!  

•    Setu Tribe
Founded by Geri Vanore ("Lady Omni"), the Tribe is inspired by the Tribal qualities of the The Philadelphia Experiment Phamily. By creating their own movements/costumes, each Tribes Woman connects the community to these powerful moments through the stories being told in the dance.

•    Iron Gump & fellow hOMies
Our local sound traveler "Gump" will be facilitating a vibrational sound healing "Jam" session style featuring some crafty community characters working to create a landscape of dynamic chill-out instrumentation to guide the healing arts workshop experience into sacred space & in the spirit of connecting w/ intentions & fellow beings (or creatures that may be occupying it with them).

Upcoming Event September 21st, 2016!

*Go to the Poet-tree En Motion Event on FB*
facebook.com/events/586718418171282
*Join the Poet-tree En Motion Group on FB*
facebook.com/groups/116980678334215

ARTIST BIOS

Iron Gump
Iron Gump is a sound traveler that follows the wind/breath and listens to its teachings. Allowing the instruments to guide him through the spaces he roots his spirit in, he fully connects with the intentions of those beings or creatures that may be occupying it with him. With this awareness and connection of the environment he creates an optimal spaces for people to experience their own breath and feel their own wind blowing through the trees of life.
#irongump
facebook.com/irongumpmusic
be1being.wordpress.com (blog)
facebook.com/igump
soundcloud.com/iron-gump (music)

The Teknacolor Ninja
The Teknacolor Ninja is a genre-bender and experimentalist. A Virginia
born Venezuelan-American, she identifies as a third culture kid having growing up in Panama, Italy and Puerto Rico. Her musical selections draw from her international upbringing, spinning multi-genre sets that feature a strong undercurrent of Afro-Caribbean rhythms and bass music. Ninja's sets are curated for seasoned dance floors, charming fellow deejay mates and producers alike. She keeps it underground, highlighting female MC's and producers with bootyshaking, high energy dance music balanced with sassy, fingerlicking good vibes. She co-produces Tropic of Bass, a dance party headquartered in NE Wash DC, alongside her deejay soul mates Mettabbana (DC) , DJ BEATrix (DC) and Illexxandra (NYC), showcasing global-influenced music. Based in Philadelphia, you can find Teknacolor Ninja spinning at events up and down the Northeastern shore in DC, Philly and Brooklyn.
Follow Teknacolor Ninja on…
soundcloud.com/teknacolorninja

facebook.com/teknacolorninja

instagram.com/teknacolorninja/
twitter.com/teknacolorninja

mixcloud.com/teknacolorninja/
heyninja.net

Gabrielle de Burke (a.k.a. The Plum Dragoness)
Native to West Philadelphia, Plum is a multi-talented thespian, dancer, martial artist, instructor, poetess and writer who has been involved with performing arts since childhood. She is known for her poetic style, vocal performance, fire dance, flow arts and choreographic flair throughout Philadelphia and abroad. Over the past 15 years, she has toured not only as a solo artist, founding member/core performer/assistant artistic director of Archedream for HumanKind among many others. She has also independently released 2 albums of original work with the project Plum Dragoness & the Elements, known for its fusion of multi-media, live world beat musical infusions, spoken word vocals & lyrical poetry. She has also helped bring together the all female performance group trio known as The Femme-Mynistiques, who will officially release their debut EP "Here She Comes…" in the summer of 2016. Since 2007, Plum has been a resident performance artist, as well as host and organizer for the successful performing arts series known as Poet-tree En Motion at The Rotunda! This has allowed her the opportunity to share her own creative performances (including collaborative projects she initiated) and work created by a plethora of other unique artists with the west Philadelphia community and beyond! Gabrielle's work as a healing arts practitioner and instructor continues to intersect with her work as an inter-disciplinary performance artist through the incorporation of Internal and Martial Arts forms in combination with Dance, Poetry and Theater presentation. Gabrielle has been teaching in, around the Philadelphia area & abroad since 2000.
If you dig It…then follow:
(Healing Arts)
DragonSpiritArts.com
facebook.com/dragonspiritarts
facebook.com/4plumdragoness
(Performing Arts/Music & Words)
ThePlumDragoness.com
soundcloud.com/plum-dragoness
cdbaby.com/Artist/PlumDragonessandtheElements
http://www.tunecore.com/music/plumdragoness

Setu Tribe
The Setu Tribe consists of: the Warrior Goddess, Connection, Fire Lotus, Men At Work... these are just a few of the movements created by Setu Tribe, a growing group of women (currently 21 and counting), led by Geri Omni, who come together to perform a collectively choreographed dance. Each movement is derived from a single, memorable experience belonging to each woman, making the dance into a series of pivotal moments that each Tribes Woman shares. In addition to creating their own movements, each Tribes Woman also crafts their own costume. Setu Tribe connects us all to these powerful moments as it heals and uplifts through the dance.

The Tribes founder, Geri Vanore ("Lady Omni") has been inspired by the Tribal qualities of the Phamily known as The Philadelphia Experiment, the amazing, strong and beautiful women and men of the community, and the uplifting creations and music of the artists.
facebook.com/setu.tribe
facebook.com/groups/136211769890796
setutribe.com

A FREE community event (donations suggested at the door in benefit of GreensGrow)…
 THANKS FOR YOUR CONSIDERATION & SUPPORT! 

Addtional Images