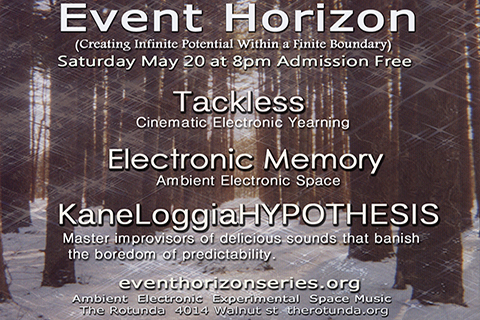 Event Horizon
presents
Tackless, Electronic Memory and KaneLoggiaHYPOTHESIS
More info: eventhorizonseries.org/
The Event Horizon concert series takes place at The Rotunda and features Electronic, Avant Garde, and Experimental music along with the work of live video projection artists.
Electronic Memory is a duo consisting of Ken Palmer (PYXL8R, Brainstatik) and Mike Hunter (Ombient, Proteus-3, Mayakara, Black Thujone, Brainstatik and host/ producer of the WPRB radio program, Music WIth Space.) They utilize various electronic and electro-acousti instruments to take the listener on an aural journey through endless soundscapes.
Close your eyes and surf the waveforms…
Tackless is the music of John Piatkowski, a composer and keyboardist from New Jersey, USA. Often electronic and at turns, orchestral, there is no route untaken to arrive at the destination of exalted emotion within a given soundscape. John Piatkowski draws from years of genre-crossing playing with groups such as The Roadside Graves, Fun Machine, and Ari Why and the Invisible College.
These interactions have generated multiple albums, recordings and tours which further inform the sonic areas that Tackless seeks to access. Currently, Tackless is performing live on upcoming dates through 2023 in the northeastern US as work on the new, debut album is underway.

KaneLoggiaHYPOTHESIS are an experimental duo of master improvisors burning through the realms of noise, psych, free jazz, and avantgarde, bringing you out of your brain and into your heart where the sound is felt and does it's most needed work…
Their electrifying music can rock like crazy, making you dance and giving you what you need…like a slice at midnight….
The glorious joy of their music can send your spirit soaring, and it's endlessly deep textures will challenge your ears to stay alert and inquisitive.
The concerts are always FREE and open to all.