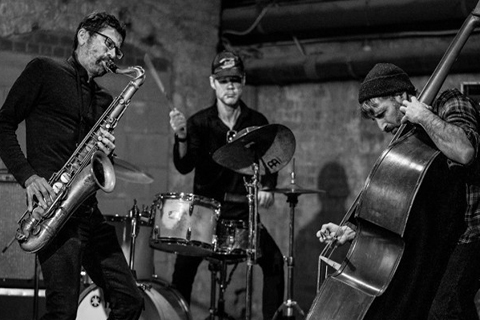 Fire Museum Presents: 
Stephen Gauci, Adam Lane & Kevin Shea Trio:
Stephen Gauci is recognized as one of the most strikingly original saxophonists on the New York City improvised music scene.
Stricken by a childhood illness that has left him with a profound hearing loss, Gauci was drawn to the clear, deep, tone of the tenor saxophone. This was the first step in a lifelong relationship with, and investigation of tone, timbre, and especially.. voice. The nature of Gauci's hearing loss are that outer sounds require of him the utmost level of concentration and focus. The flip side, however, is that inner sounds,  and the inner voice, are magnified… crystal clear and singing. The intense outward focus developed as a result of Gauci's hearing impairment has been turned inward like a laser to illuminate, and manifest,  the inner voice.
Gauci has performed and recorded with many of the leading improvisers of our time, including Cooper Moore, Joe Morris, Nels Cline, Karl Berger, Kenny Wessel, Kris Davis, Tyshawn Sorey, Daniel Carter, George Garzone, Nate Wooley, William Parker, Steve Swell, Mike Bisio, Adam Lane, Kevin Shea, William Hooker, Ingebrigt Haker Flaten, Dave Rempis.
Gauci runs the popular Bushwick Improvised Music Series, where he has presented over 600 concerts featuring many of New York's greatest improvisers, as well as many international touring musicians.  At two years and counting, the Bushwick Series is the longest running weekly avant jazz series in Brooklyn. Gauci also performs at the Bushwick Series every Monday with his working quartet featuring guitarist Sandy Ewen, bassist Adam Lane, and drummer Kevin Shea. Having performed every Monday for over two years, this is arguably one of the longest running avant jazz sets in New York City history.
By combining a disparate set of influences into a unique improvisational voice, Adam Lane has become recognized as one of the most original creative voices in contemporary jazz. His 2006 recording New Magical Kingdom, was recently featured in the Penguin Jazz Guide 1001 Best Records Ever Made, and his most recent recording, Ashcan Ranting received a myriad of critical praise including four stars in Downbeat.
His current projects include his Full Throttle Orchestra, a nine piece ensemble formed to realize his extended jazz orchestral compositions, The Adam Lane Trio, featuring legendary reedist Vinny Golia, Four Corners, a co-lead ensemble with reedist Ken Vandermark, and an ongoing solo project that combines unique processed double bass improvisations with Lane's original story telling. As a sideman he has performed with an eclectic mix of musicians, from tenor great John Tchicai, to alto iconoclast Richard Tabnik, to rock legend Tom Waits. Lane's compositions have been praised for their audacity and originality.
Kevin Shea is best known for his work with the band Mostly Other People Do the Killing, he has collaborated with numerous other avant-garde and jazz musicians and composers, including Storm & Stress, Rhys Chatham, People (with Mary Halvorson), Peter Evans Quartet, Barr Shea Dahl, Micah Gaugh and Alan Wilkinson. During the course of his twenty-plus year career, Shea has recorded on over eighty albums and has performed in more than forty countries. He has also performed with the Armitage Gone! dance company, and was lauded as New York City's best drummer of 2012 by the Village Voice.
venue is wheelchair accessible
Admission is FREE and advance registration is encouraged. Please register HERE