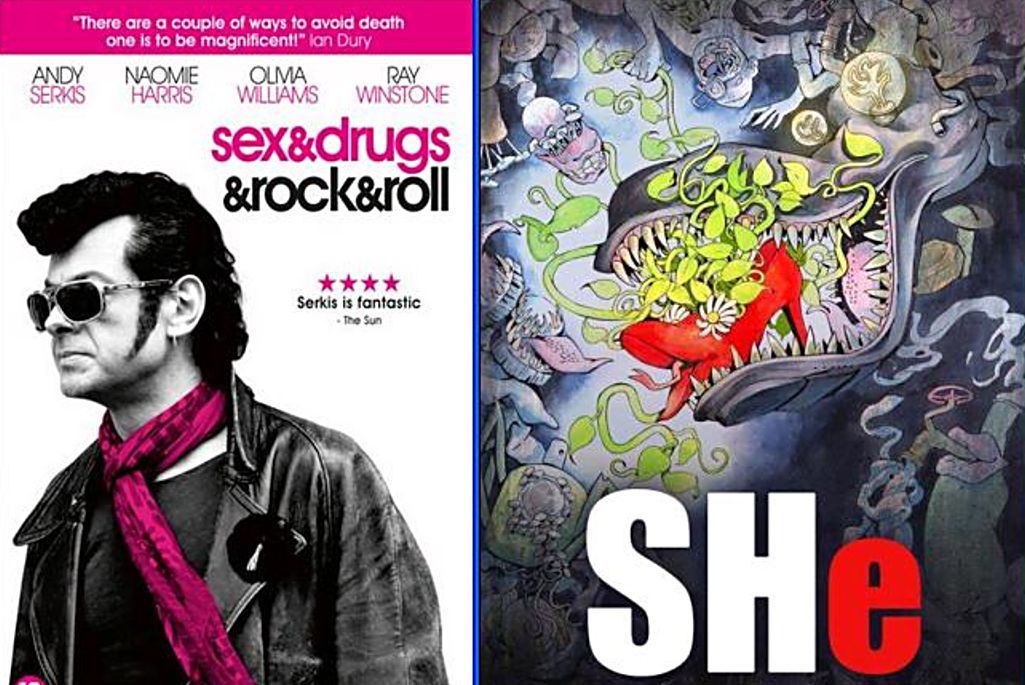 Rescheduled from June 8
BRIGHT BULB SCREENINGS, Free Double Features Every Second Thursday of the Month
Follow Bright Bulb Screenings on Facebook, Instagram
Celebration of Outsiders Double Feature!
SEX & DRUGS & ROCK & ROLL (2010, directed by Mat Whitecross, 113 minutes, U.K.)
S/HE (2018, directed by Shengwei Zhou, 95 min., China)
- - - -
With SEX & DRUGS & ROCK & ROLL Andy Serkis, legendary for his motion capture performances as Gollum in LORD OF THE RINGS and Caesar in PLANET OF THE APES, breathes life into the biopic genre with a very very human performance as the iconoclastic English rocker Ian Dury. Stricken with polio and sent to a ghoulish institution as a child, Dury would remake himself as a take-no-prisoners new wave rocker in a music career that would make him a star and an international hitmaker.
Director Whitecross (co-director of scathing documentary THE ROAD TO GUANTANAMO) doesn't neglect Dury's chaotic life and durable catalog of tunes, showing the demonic carnival barker & the band giving birth to songs like "Hit Me With Your Rhythm Stick" "Reasons To Be Cheerful Pt. 3" and the timeless title cut. Even when it dips into melodrama, it is with a top-rank cast including Olivia Williams (RUSHMORE), Ray Winstone (SEXY BEAST), Naomie Harris ("Moneypenny" from the James Bond series), and a villainous Toby Jones. With Dury's son Baxter forging his own impressive musical career in Europe, their father/son relationship takes on an added resonance.
"Tackling the rise and fall of bolshy proto-punk gobshite Ian Dury, Sex & Drugs & Rock & Roll is a riot of clattering noise and kaleidoscopic colour, off-kilter imagery and foul language, all the good things the title promises and much more,"
- Tom Huddleston, TIME OUT
"The film is a full-throttle rifle through the life of a fiercely chaotic figure, a man whose disability was clearly not nearly so terrifying to him as the prospect of an ordinary existence."
- Ben Child, GUARDIAN
trailer:
https://www.youtube.com/watch?v=3tUR7EisSl4
- - - - - -
Shengwei Zhou's 2018 animated feature S/he (alternately listed as "S He") evokes the work of offbeat animators Jan Svankmajer and The Brothers Quay although with his own visual aesthetic as his spins his dark, dark fable of a red high heel forced to disguise herself as a tough leather boot to raise to daughter in this dystopic, clothing-centric world of work and toil.
Spending six years in production, Zhou's visual imagination never flags as we learn all the ghastly details of commerce in this fantastical world, that somehow resembles our own. To list the details would be to suggest I'd lost my senses, it's best to come and witness this one-of-a-kind triumph of wordless storytelling for yourself.
"If the midnight movie circuit still existed, this would be a natural addition to its repertory. As is, 'SHe' will have to find champions among adventuresome viewers of adult animation — within which subgenre, this accomplished curiosity constitutes a major event."
- Dennis Harvey, VARIETY
"'S He' is a blistering commentary on systemic sexism. You will never look at cherries the same way again. Please watch this movie."
- George Kapaklis, Rough Cut Film-dot-com
Admission is FREE
Follow brightbulbscreenings on Instagram, Facebook