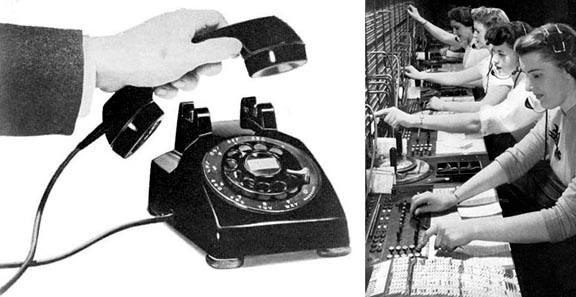 The Secret Cinema
presents
TOTALLY WIRED: THE FILMS OF BELL TELEPHONE at the Rotunda
On Thursday, September 13, the Secret Cinema will present an evening of short films from one of the major motion picture producers of the 20th century -- the phone company! It will screen at University City's Rotunda, as part of their monthly free film series.
For 99 years, until its breakup in 1984, the Bell System (aka A.T. & T.) enjoyed an unprecedented monopoly of the telephone communications business in America. And one of the ways it consolidated its strength was by utilizing movies to their fullest potential as a shaper of attitudes: of its employees, its business customers and the general public.
TOTALLY WIRED: THE FILMS OF BELL TELEPHONE is a varied collection of short, non-theatrical films produced by the Bell System, covering all of these uses. As the largest corporation in the world, Bell had unlimited resources, producing corporate films more skillfully and more entertainingly than most companies could. They spared little expense, with frequent use of color, animation, and expert talent, on both sides of the camera. 
We will show an assortment of rare Bell sales films, in-house training films, commercials and public relations films. As they depict the various missions and agendas of one business throughout the years, the movies also provide a revealing look at mid-century America in general. Many of these reels were never meant to be shown to the general public.
As with all Secret Cinema presentations, TOTALLY WIRED will be shown using real 16mm film (not video) projected onto a giant screen.
There will be one complete show, starting at 8:00 pm. Admission is free.

Just a few of the highlights of TOTALLY WIRED: THE FILMS OF BELL TELEPHONE will be:
TELEPHONE HIGHLIGHTS (1947) - Using the lively techniques of the classic theatrical newsreel (quick editing, enthusiastic narration, peppy background music), this action-packed one-reeler details post-war news and accomplishments of the New York Telephone Company. Shown are the top-to-bottom construction of a new (pre-electronic) phone exchange in midtown Manhattan, and the connecting of the one-millionth telephone in upstate New York. Producer Leslie Roush was a veteran director of short subjects for Paramount in earlier years.

WHAT'S IN A NAME? (1950s) - This rare business office training film uses a dramatized story to explain the potentially snowballing impact of getting just one character of a customer's phone listing incorrect.

DIAL "O" FOR OPERATOR (1965) - A peculiar and possibly frightening short, using dramatic scenes from the Sidney Poitier film THE SLENDER THREAD to demonstrate the advancements made in the technology of...tracing phone calls.

INVISIBLE DIPLOMATS (1965) - This humorous look at business telephone etiquette, made in gorgeous Technicolor, tells its message through the perspective of two cheerful but harried PBX (private branch exchange, or in-house switchboard) operators. The familiar cast includes not only THE HONEYMOONERS' Audrey Meadows, but also ONE DAY AT A TIME's Bonnie Franklin and Harold Peary of radio's THE GREAT GILDERSLEEVE (he was also a character actor in countless TV and voiceover credits). Directed by prolific Hollywood choreographer Leroy Prinz.

OPERATOR (1969) - Director Nell Cox, with help from documentary pioneer Richard Leacock (working here for Maysles Films) uses the CINEMA VERITE techniques Leacock helped invent to show the challenging but rewarding work of a telephone operator, in an effort to recruit young women into the profession. With psychedelic music provided by the New York Rock and Roll Ensemble.

PICTURE PHONE (1970) - This demonstration film shows off the enhanced business capabilities of an updated version of the Picture Phone, famously demonstrated at the 1964 New York World's Fair.  It was sadly to remain one of Bell Telephone's greatest failures.

This Secret Cinema program was previously presented in 2007 at Moore College of Art, and in 2012 at New York's Anthology Film Archives.

SECRET CINEMA WEBSITE: http://www.thesecretcinema.com
Admission is FREE