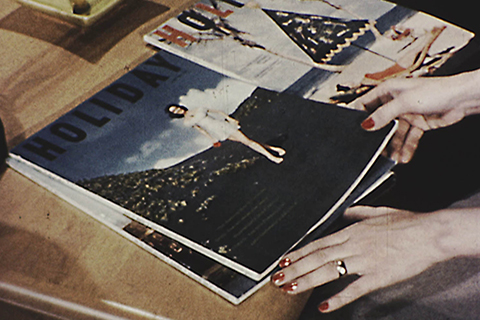 The Secret Cinema
will return to The Rotunda on Thursday, February 10 with another brand new program. MID-CENTURY LEISURE IN CLOSE-UP features three amazing films highlighting the power and ingenuity of two American industries at the height of postwar prosperity: The mighty Wurlitzer jukebox factory and Philadelphia's Curtis Publishing Company (home to the Saturday Evening Post, Ladies' Home Journal and other iconic magazines).
The films, in black & white and gorgeous Kodachrome color, provide detailed looks at the complex inner workings of huge, industry-dominating companies that seemed essential and eternal in their time, yet neither would survive the 20th century.
There will be one complete show at 8:00 pm. Admission is free.
Masking and contract tracing enforced. Seating is limited.
All Secret Cinema presentations are projected in 16mm film on a giant screen (not video).
This screening is part of The Rotunda's ongoing "Bright Bulb Screening Series," which once again offers free movies on the second Thursday of every month, throughout the year.
Included in MID-CENTURY LEISURE IN CLOSE-UP will be:
A VISIT TO WURLITZER (1940s?) - This detailed trip through the sprawling headquarters of the Rudolph Wurlitzer Company in North Tonawanda, New York examines every painstaking step in the making of the legendary Wurlitzer jukeboxes. Seemingly no part of their manufacture used outside suppliers, as the many steps in constructing the cabinetry and machining precision parts were all done in house by expert hands. Meanwhile, the executives meet to discuss changes and check on progress. The well-maintained exterior of the plant, complete with flower gardens, is reminiscent of favorite (and perhaps overshown) Secret Cinema film THE STORY OF BUBBLEGUM (which provides a similar tour of Philadelphia's Fleer Bubblegum plant).
WURLITZER JUKEBOX ADVERTISING (1947) - This rare film appears to have been made for internal use, to teach Wurlitzer's field representatives how best to convince bar and restaurant owners to take full advantage of the many wonderful promotional materials the company provided to establishments hosting their jukeboxes (they must have employed an army of salesmen to justify the making of this color film). And what materials -- Wurlitzer decals, Wurlitzer three-dimensional posters, even Wurlitzer cocktail stirrers! Where are these collectable treasures today? Includes priceless views of a typical late-'40s taproom…and a lesson in hard-sell technique.
MODERN MAGAZINE MAGIC (1956) - This colorful promotional film looks at the many skilled workers who are needed to produce the magazines we read, from the paper plant to the writers, editors, photographers, layout designers, illustrators, cartoonists, advertising salesmen, pressmen, and even typists of Braille editions. Made in vivid Kodachrome, the short film resembles a stock-footage company's "Fifties Lifestyles" demo reel, as we also glimpse families reading at home and shopping for groceries, not to mention artist Norman Rockwell at work in his studio. The film was sponsored by, and made in the various facilities of, Philadelphia's Curtis Publishing Company, perhaps the most important producer of periodicals in the 20th century. The company's eventual collapse is legendary and the subject of multiple books, though founder Cyrus Curtis' legacy endures today through his former real estate: the company's mammoth Independence Square headquarters building, and Curtis Arboretum in Wyncote, once the site of his palatial estate. His daughter founded the Curtis Institute of music.
All of the rare 16mm film prints in this program will be making their Secret Cinema debuts. One title, MODERN MAGAZINE MAGIC, was shown 14 years ago using a damaged print. We have since acquired another copy in perfect condition.
Admission is FREE. There will be one complete show at 8:00 pm. Masking and contract tracing enforced. Seating is limited.