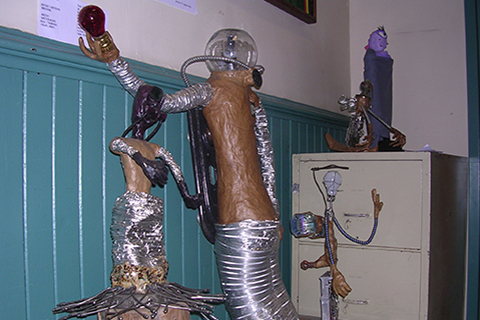 Recycled Art • Found Object Sculpture, a 3-part class taught by Brujo de la Mancha
Moder Alejrifes
"Reincarnations from the Future"
Recycled Art • Found Object Sculpture
3-part class taught by Brujo de la Mancha
Class will take place on Zoom, on Saturdays July 25, August 1, and August 8, from 3pm until 5pm. Please commit to attending ALL THREE classes. This registration page may make it look like you are just registering for a class on July 25 but you are expected to attend all three!
Registration is required. A Zoom link will be sent to registrants on the first day of class. Please register HERE 
From Brujo: Alejrifes are brightly colored Oaxacan-Mexican folk art sculptures of fantastical creatures. The inspiration for my artwork comes from Alebriges, a traditional art form adopted by the Mexican indigenous of Southern Mexico after the Spanish came. Now famous in the regions of Oaxaca, Veracruz, Tabasco, and Chiapas, Alebriges were originally whittled as toys for children. The wooden and paper maché sculptures depict illusionary creatures: demons, trolls, animals-mystical and mythological beings from the dream world. These fantastical beings, mutated characters from the other world, tap into the fears of our time. Why do I call my pieces Reincarnations from the Future? Trash is predominant in Western culture, and one day it will take on a life of its own and mutate into new forms. All of these machines in our society are taking away life, taking the place of our bodies and minds. All of these unnecessary objects, this trash, are morphing into living creatures themselves. My sculptures are made from objects found in the trash, from my own house, and throughout the city of Philadelphia. A piece of broken computer gains arms, horns, tongues, and wings from my imagination. Imagine for a moment that all of our trash could somehow pull itself together and recycle itself into another life form. That is what I want you to see in this 3-part class.
So grab an old radio, a computer or just some parts, and random old or broken objects. We will transform all this into pieces of art.
other materials that you will need:
5 pounds white flour
50 yards of galvanizing wire and 1 gallon of varnish (These are optional; you can use wire hangers, and any kind of sealer. In place of sealer, plain paper will do! 
Extra materials: wire cutters, tweezers, plastic containers, screwdrivers, junk to be used for art.
Class will take place on Zoom, on Saturdays July 25, August 1, and August 8, from 3pm until 5pm. Please commit to attending ALL THREE classes. This registration page may make it look like you are just registering for a class on July 25 but you are expected to attend all three! Registration is required. A Zoom link will be sent to registrants on the first day of class. Please register HERE