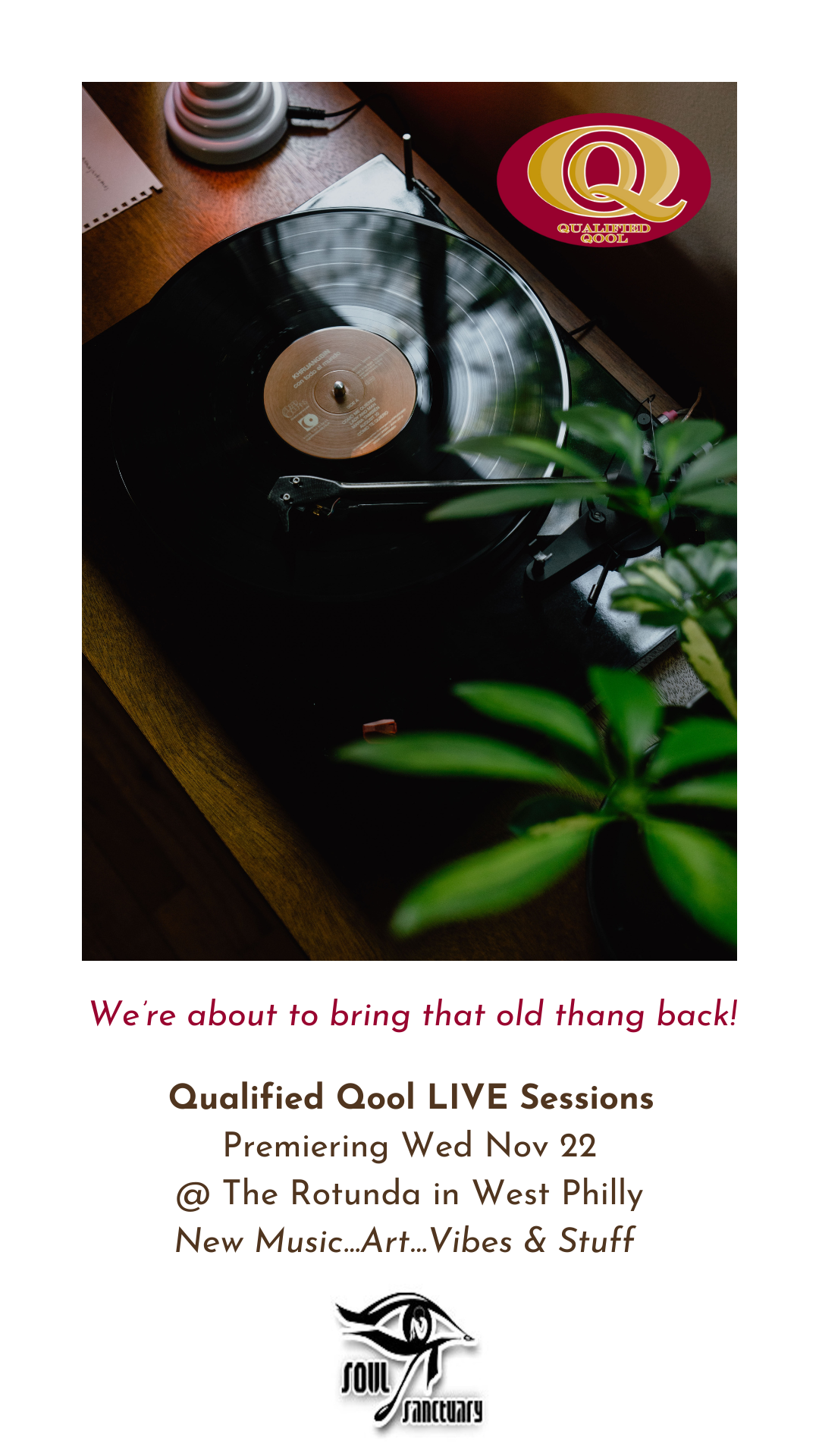 Soul Sanctuary presents Qualified Qool LIVE!

Prepare to join us for an evening of deep listening and fellowship. We'll be showcasing albums, and inviting some of our friends to sell their wares in a warm, groovy setting. No cover charge either. This is a Pay What You Wish Affair, and everyone is welcome.
Kick off the holiday season with us, in a family-friendly venue with good people and great sounds.
More details coming soon.

Soul Sanctuary was first conceived by founder/manager Stephanie Renée as a lounge/performance venue and opened its doors for business at 722 Arch Street in Philadelphia on Wednesday, April 10, 2002 in what previously was known as The Red Room of dance club Brave New World.
At that time, Soul Sanctuary maintained a weekly schedule with the following themes:
THE GROOVE – Wednesday night open mic session for poets, MCs, vocalists & musicians
SPIN CYCLE - Thursday night dance party featuring music by Lil Dave and the Ill Vibe Collective
TESTIFY – Friday night poetry and spoken word gathering
INNER CITY LIVE - Saturday night performance showcase featuring up-and-coming independent artists, hosted by Tiffany Bacon of Power 99 FM (WUSL) Philadelphia
XFAD (Crossfade) – Sunday night hip-hop DJ night featuring music by DJ Razor Ramon

During its initial months of operation, Soul Sanctuary hosted an impressive number of performances and special events, drawing very supportive crowds and hosting such stellar talent as:
EGOT-winning singer/songwriter John Legend [Stephens], Jazmine Sullivan, Raheem DeVaughn, Anthony Hamilton, human turntablist Scratch, rapper Flo Brown, trombonist Jeff Bradshaw, Def Poetry Jam on Broadway star Black Ice, Rick Tate Jr. (saxophonist, Musiq), Erik Tribbett (music director for Vivian Green and former drummer for Jill Scott), Renee Neufville (former member of R&B duo Zhane), improvisational orchestra Burnt Sugar, Maya Azucena, Yewande, Chinua Hawk, Rob Murat, Stori James, and Grammy Award winner Alicia Keys, who played a private acoustic set to kickoff the 2002 SISTAHS Celebration of Women. Read more at https://www.soul-sanctuary.net/about