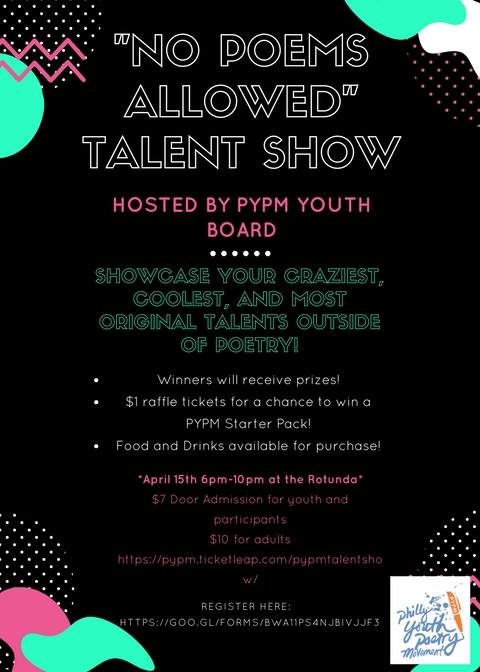 Join us for a special Youth Night at The Rotunda on Saturday, April 15th from 6-10pm! We know Philly Youth Poetry Movement (PYPM) is known for their lit poetry slams and amazing youth performers...BUT we want to show you another side of our community of talents! 
Our PYPM Youth Board will be hosting their "FIRST EVENT EVER" Talent Showcase with a 1st, 2nd, and 3rd place prize winner in the spirit of friendly celebration! 
If you cannot make it and would still like to support please consider purchasing a donation ticket for $10 to help us reach our goal of raising $1000 at this event! 
The money raised at this event will help us get our team that will be representing the entire city of Philadelphia to BNV - Brave New Voices International Poetry Competition in San Fransisco, California in July 2017. 
Thank you so much for supporting your local youth organization! 
Doors open at 5:30pm - Talent Showcase starts at 6pm sharp. Sign up to perform here: https://docs.google.com/forms/d/e/1FAIpQLSeF_YLDwyZMH0jqFKDTc3hFpiwavvVM3uatxWxpGWTDchi-lA/viewform?c=0&w=1