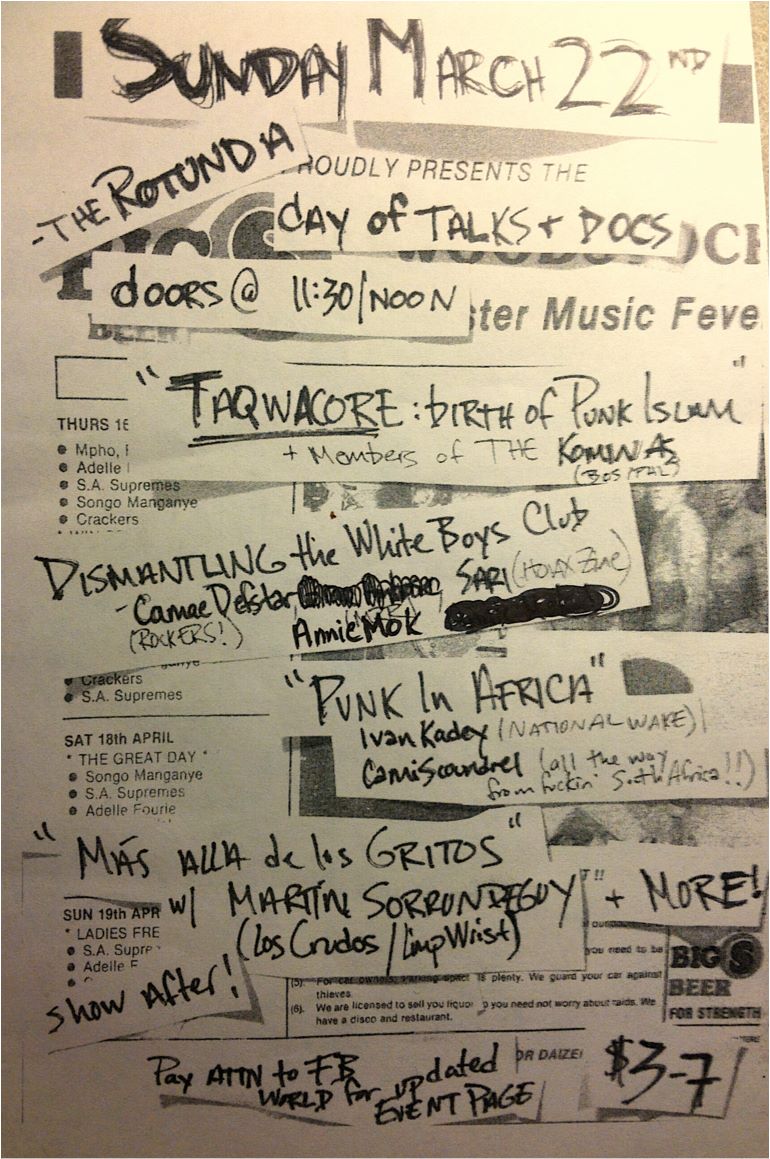 doors open around 11:30/noon
This event is hosted by the Africa Center at the University of Pennsylvania, funded primarily by the Provost for Arts and Culture. Many thanks to our co-sponsors the Gender, Sexuality, and Women's Studies, Alice Paul Center for Research on Women, Gender, and Sexuality, Music Department, Perry World House, Center for Africana Studies, and Middle East Center for their support!
-------------------------------------------------------------------
Doors open around 11:30/noon!
Coffee and snacks as you browse around the different displays
Noon: Day starts with zine readings from local 'n regional zinesters/writers/illustrators
Sari and Rachel from Hoax!
Annie Mok!
Joyce Hatton!
12:30-1:30 TAQWACORE: the Birth of Punk Islam
-screening of some of the documentary and discussion on Taqwacore with members of The Kominas, moderated by Zubeyda Muzeyyen (DJ Haram, Wallah Bros United, Oriental Rug Punx)
1:35-2:35 Dismantling the White Boys' Club: Talking Race and Gender in Punk with Camae Defstar (Rockers), Annie Mok (cartoonist/writer, See-Through Girls), Sari (Hoax zine), Monika Estrella Negra (founding member of Black and Brown Punk Show Collective, moderated by Melanie Adley (Associate director of Gender, Sexuality and Women's Studies Program at Penn)
2:40-3:25 "Punkademia"?: Discussing and Critiquing Punk Studies within Academia with David Ensminger (punk archivist/historian, Professor of English and Humanities at Lee College, author of Visual Vitriol, Left of the Dial) and Kelley Tatro (Assistant Professor of Music at North Central College, ethnographic fieldwork within Mexico City punk scene), Ed Avery-Natale, Jamie Varriale
3:30-4:20 Screening of MAS ALLA DE LOS GRITOS: a U.S. Latino Hardcore Punk Documentary followed by Q&A with Martin Sorrondeguy (Los Crudos/Limp Wrist)
4:30-6:50 Screening of PUNK IN AFRICA followed by presentation on punk in post-apartheid SA by Cami Scoundrel (all the way from SA!) and then discussion with both Cami and Ivan Kadey (National Wake)!
7-8 Talking Punk and Politics with Martin Sorrondeguy (Los Crudos/Limp Wrist), David Ensminger (Visual Vitriol, Left of the Dial), Brent Luvaas (Assistant Professor of Anthropology at Drexel University), and Nila Nokizaru, moderated by Rachel Hoax
8:30-10 small show with
CAMI SCOUNDREL
THE KOMINAS
$3-5 suggested donation