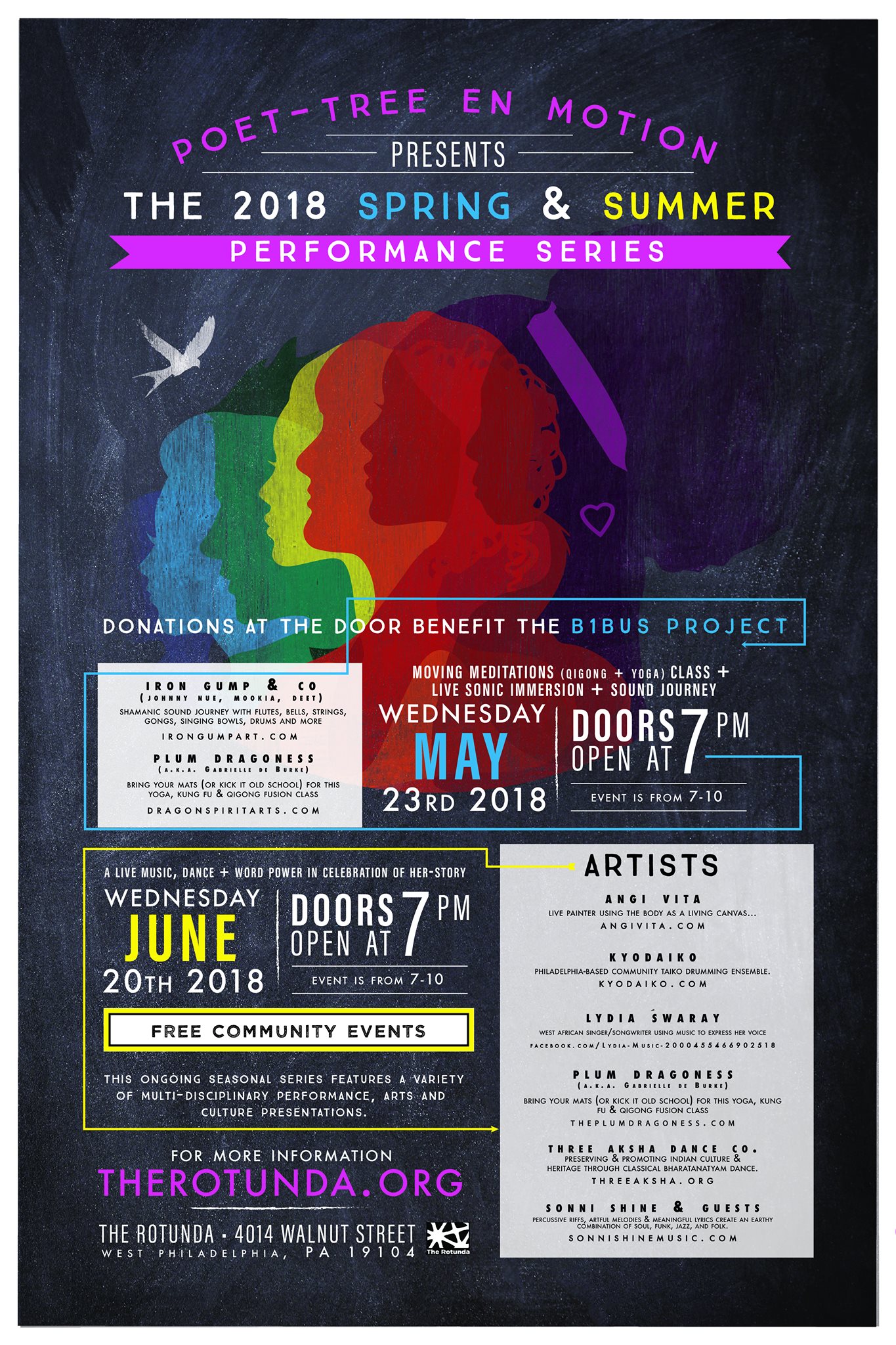 Poet~tree EnMotion Presents The 2018 Summer Solstice in Celebration of Women! 
Our March Event was postponed due to winter weather conditions so the date of the event is now scheduled for Wednesday, June 20, 7-10pm (Doors @ 7pm)!
This ongoing seasonal series features a variety of multi-disciplinary performance, arts & culture presentations… Doors open @ 7pm & performances begins shortly after featuring, a Fierce Female Lead Lineup of Artists ranging from Live Musical Acts to Spoken Word Flowetry to Folkloric Infused Dance Movements. 
A FREE community event … but Donations are Appreciated!

A Live Music, Movement & Dance Celebration in Honor of Her-Story!}
• Angi Vita: Live Painter using the body as a living canvas… angivita.com
• KyoDaiko: Philadelphia-based community Taiko drumming ensemble. kyodaiko.com
• Lydia Swaray: West African Singer/Songwriter using music to express her voice. facebook.com/Lydia-Music-2000455466902518
• Plum Dragoness (a.k.a. Gabrielle de Burke): Resident Performance Artist, Event Organizer & Arts Educator. ThePlumDragoness.com / DragonSpiritArts.com 
• Three Aksha Dance Co.: Preserving & promoting Indian culture & heritage through classical Bharatanatyam dance. threeaksha.org
• Sonni Shine & Guests: percussive riffs, artful melodies & meaningful lyrics create an earthy combination of soul, funk, jazz, and folk. SonniShineMusic.com
PRESS RELEASE for march date below (UPDATED PR COMING):
LIVE MUSIC, MOVEMENT AND DANCE CELEBRATION TO HONOR 'HER-STORY'
Poet-Tree En Motion Hosts Artists' Showcase at West Philly's the Rotunda for Women's History Month
PHILADELPHIA – Women's History Month in March shines a light on the talents and contributions of women that have been historically overshadowed in our patriarchal society. The Poet-tree En Motion multidisciplinary arts showcase – ongoing seasonally for more than 10 years and supported by the University of Pennsylvania – provides a venue for regional artists to exhibit their work. The annual March installment of the showcase is an opportunity for each featured woman artist to express "her-story."
Attend the FREE Poet-tree En Motion "In Celebration of Women" event 7-10 p.m. Wednesday, March 21 at The Rotunda in West Philly to celebrate the spring equinox and women artists! All of the acts come from diverse cultural backgrounds and work in a variety of media and disciplines. 
Be transported to India with a classical dance performance by Three Aksha Dance Company. Feel the rhythms of the Japanese "taiko" drumming ensemble Kyo Daiko. Angi Vita is a live painter who will use the body as a "living canvas." Singer-songwriter Lydia Swaray will create music influenced by West African folk traditions. Modero Dance Company will perform a fusion of traditional and modern dance disciplines based in Indonesian culture. Sonnie Shine and musical guests will provide an earthy combination of soul, funk, jazz and folk. And Poet-tree En Motion's founder and artistic director Gabrielle de Burke, who goes by the stage name Plum Dragoness, will perform a unique presentation of spoken-word "flowetry" and movement arts.
There is always an open mic and open stage portion to the Poet-tree En Motion events. Everyone is welcome to sign up and perform at the "In Celebration of Women" event regardless of one's gender identity. All types of performance arts are also welcome.
"I'm trying to do something different that's not just an open-mic night," de Burke says. "I like when there's a range of performances at the events, not just someone playing with a guitar – but that's cool too. I want there to be more than people just people doing poetry. One lady comes and does a puppet show.
"The whole thing is a ritual: the coming together of the performers and the audience. I am down with everyone coming together and participating the way they feel. Throughout all of the events, there is an engagement in the community."
Poet-tree En Motion's "In Celebration of Women" showcase is scheduled for 7-10 p.m. Wednesday, March 21 at The Rotunda, located at 4014 Walnut St. in West Philadelphia. Please note the change that doors open at 7 p.m. now and performances begin shortly after. Admission is free. Suggested donation is $5-$20. Sign up at 7 p.m. for a spot on the open mic.
The next Poet-tree En Motion event is scheduled for June 20 and will feature multidisciplinary artists celebrating the summer solstice.
For information about Poet-tree En Motion, email de Burke at plumdragoness@gmail.com and visit Poet~Tree enMotion. For information about The Rotunda, log on to www.TheRotunda.org.
ABOUT POET-TREE EN MOTION: Poet-tree En Motion works to inspire both artist and audience to connect and work together toward cultivating the arts community in Philadelphia, welcoming artists of all kinds to experience performances local to the neighborhood, and offering the opportunity at each show for community participation to sign up in the all-genre open mike/stage and jam session component of the events.
ARTIST BIOS:
ANGI VITA: Angi Vita, a graduate of Richard Stockton University, has a bachelor's degree in interdisciplinary fine arts. Her degree and life experiences are utilized to connect to viewers through various avenues of art such as oil painting, body painting, sculpture, dance, mixed media and performance art. She has been active in the artistic community for more than 10 years. She is inspired by various cultures and mentalities that fuel her desire to reach a wider audience for the purpose of human growth. angivita.com
LYDIA SWARAY: Lydia Swaray is a singer-songwriter who was born in Liberia in West Africa. Her influences derive from old folk and her grandfather. Her unique instrumental of guitar and expressive voice brings a sense of calm to her audience. She wishes to help people through music therapy. facebook.com/Lydia-Music-2000455466902518 
MODERO: Modero started in Philadelphia with only four dancers, including Sinta, Amelia Laytham, Whitney Postman and Katherine Antarikso. Modero performed in many different community gatherings, Philadelphia events, Andrea Clearfield's legendary salon, Laura Cohn's From Bali to Bala Annual Gift Show and a few local Latin showcases. Modero has grown over the years and now consists of 20 dancers as young as 4 years old and as old as 67 years young. Modero is recognized as the Indonesian cultural torchbearer in the City of Brotherly Love, and the dancers have performed in many prestigious events such as the World Festival of Families during the Papal Visit in September 2015, Philadelphia Phillies games in 2015 and 2016, a Ted@UPS Talk on Sept. 15, 2016 in Atlanta, Ga. (SCAD SHOW) and more. With high demands in bringing more quality event planning and entertainment to the Indonesian community, Modero has grown and provides a broader service to the community. With many years of event planning under her belt from weddings, community events with as many as 1,500 people in attendance, Sinta is now joined by DJ Storms and DJ RAH on Modero's entertainment division. These services are available for the community as well as private events. moderocompany.com
KYO DAIKO: Kyo Daiko is a Philadelphia-based community "taiko" drumming ensemble. All members are volunteers who perform for love of the art and the energy that the great drums bring to them. Kyo Daiko performs regularly at a wide range of venues: from school and community events, to Phillies baseball games, Japanese festivals (including Washington D.C.'s National Cherry Blossom Festival), to more unusual settings such as roller derbies and museums. In 2013, Kyo Daiko was showcased during the Philadelphia International Festival of the Arts (PIFA) in a commissioned piece with Kaoru Watanabe, performed both at the Settlement Music School and at Shofuso Japanese House and Garden.  The group was founded in 2005 and originally led by Kristopher Rudzinski, who studied and performed with Marco Lienhard's group Taikoza in New York. The group's membership comes from a wide variety of backgrounds, and continues to grow with new students and continuing players. Members attend regular classes throughout the year and participate in workshops with master teachers from around the world. Kyodaiko.com
PLUM DRAGONESS: Native to West Philadelphia, Plum Dragoness (a.k.a. Gabrielle de Burke) is a multi-talented thespian, dancer, martial artist, instructor, poetess and writer who has been involved with performing arts since childhood. She is known for her poetic style, vocal performance, fire dance, flow arts, and choreographic flair throughout Philadelphia and abroad.  Over the past 15 years, she has toured as a solo artist, founding member/core performer/assistant artistic director of Archedream for HumanKind among many others. She has independently released two albums of original work with the project Plum Dragoness & the Elements, known for its fusion of multimedia, live world-beat musical infusions, spoken-word vocals and lyrical poetry. She has also helped bring together the all-female performance group trio The Femme-Mynistiques, who released their debut EP "Here She Comes…" in the summer of 2016.  Since 2007, Plum Dragoness has been a resident performance artist, as well as host and organizer for the successful performing arts series Poet-tree En Motion. This has allowed her the opportunity to share her own creative performances (including collaborative projects she initiated) and work created by many unique artists within the West Philadelphia community and beyond. Her work as a healing arts practitioner and instructor continues to intersect with her work as an interdisciplinary performance artist through the incorporation of internal and martial arts forms in combination with dance, poetry and theater presentation. She has been teaching in the Philadelphia area and abroad since 2000. ThePlumDragoness.com, facebook.com/4plumdragoness , soundcloud.com/plumdragoness, cdbaby.com/Artist/PlumDragonessandtheElements, tunecore.com/music/plumdragoness 
SONNI SHINE AND GUESTS: Sonni weaves together percussive guitar riffs, artful melodies and meaningful lyrics to create an earthy combination of soul, funk, jazz and folk. Her music has drawn comparisons to Amy Winehouse, Hiatus Kaiyote, Erykah Badu, Ani Difranco and Norah Jones. Sonni has been performing in the tri-state area for more than 10 years as a vocalist and guitarist, and is proud to call West Philadelphia her home. 
After attending Drexel University to study the music industry, Sonni transferred to Temple University in 2010 where her band, The Underwater Sounds, became one of the first artists to join with the university's record label Bell Tower Records. During their time together, The Underwater Sounds recorded four studios albums and played more than 600 shows throughout the northeast United States. In 2014 The Underwater Sounds won PHL Live's Best World Music award, and the band has shared the stage with such prestigious acts as Snarky Puppy, The Easy Star All Stars, The English Beat, John Brown's Body, and Groundation. A producer and songwriter at heart, she collaborates frequently with different musicians. She has written music for Kuf Knotz, goldenspiral, C-rayz Walz, Money Fame and Love, Impressionist, and Predator Dub Assassins. Her compositions have been featured on WKDU, WXPN, WMMR and Radio 104.5. 
As a yoga teacher, Sonni firmly believes in the healing power of music and sound and is enthusiastic about eventually incorporating elements of Nada Yoga into her classes. The act of performing a song and becoming like "one vibration" with her audience members is a feeling she lives for and believes is profoundly sacred.  SonniShineMusic.com
THREE AKSHA DANCE COMPANY: Three Aksha was founded in Philadelphia in 2003 by Artistic Director Viji Rao and is based at Girard College, where she has been an artist-in-residence since 2008. Three Aksha seeks to preserve and promote Indian culture and heritage through classical Indian Bharatanatyam dance choreography in the Philadelphia area and in other ethnically diverse regions of the world. Three Aksha has performed in major cities across the United States, the United Kingdom, Europe and India.
Three Aksha has been recognized for its development of new choreography within the realm of classical Indian tradition, and for its work in the Kalakshetra style of Bharatanatyam, which is renowned for its focus on the body. The company's dancers have trained in Kalakshetra Bharatanatyam under Viji for a minimum of six years, and have also studied under teachers in India.
In addition to its active performance and touring schedule, Three Aksha shares its expertise in Indian dance in workshops and lecture-demonstrations throughout the Delaware Valley. As a complement to the socially conscious themes that frequently play into the company's performance work, Three Aksha engages with social issues by working with youth and with fundraising programs.
Many of Three Aksha's students have pursued Bharatanatyam to its fullest, completing arangetrams (debut performances) and receiving support for apprenticeships from the Philadelphia and New Jersey Councils on the Arts. www.threeaksha.org
###

MEDIA CONTACTS:

Gabrielle de Burke (artist Plum Dragoness), Founder/Event Organizer Poet-tree En Motion, 484-557-9605, plumdragoness@gmail.com
FOR EVENT LISTINGS:
Poet-tree En Motion Presents "In Celebration of Women" Arts Showcase 7-10 p.m. Wednesday, March 21 at The Rotunda, located at 4014 Walnut St. in West Philadelphia. Doors open at 7 p.m. and performances begin shortly after. The free community arts event will feature spoken-word poetry, dance and movement arts, drumming, live music, body painting, an open mic and more. For information, email plumdragoness@gmail.com. 

This is A FREE community event … but Donations are Appreciated!