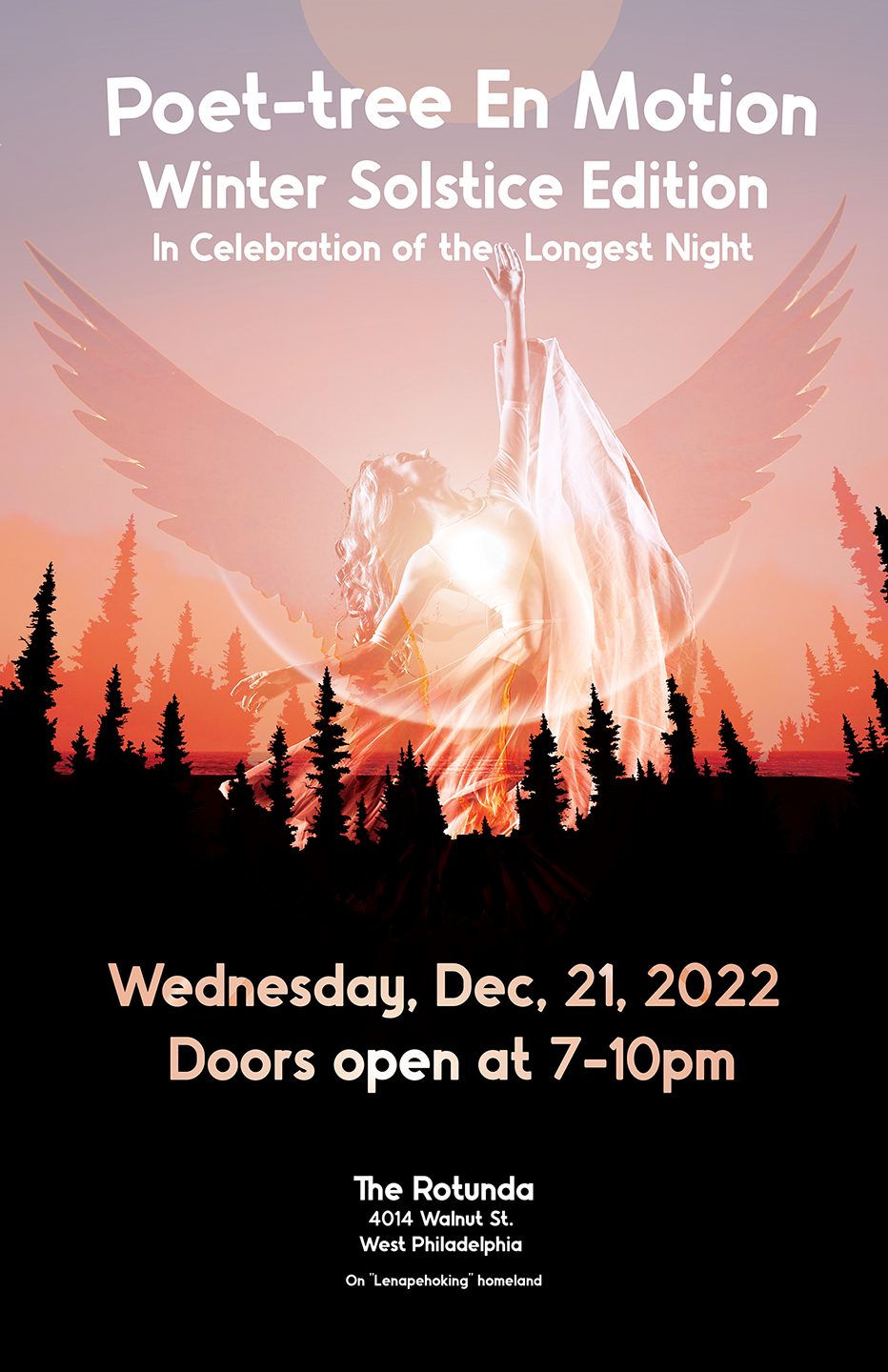 Poet~tree EnMotion 
In Celebration of the New Moon Winter Solstice 
(longest & darkest night of the year)
Featuring Live Music, Spoken Word/Poetry, Dance/Movement, DJ Dance Beats, Shamanic Sound Journey, Live Painting + Fire/Flow Festivities! 
Wednesday, December 21st, 7-10pm ish (Doors @ 7pm)!
A FREE COMMUNITY EVENT
Donations are Suggested/Appreciated to Benefit the Lakota Law (www.lakotalaw.org)  & Survival international (www.survivalinternational.org)
This ongoing seasonal series features a variety of multi-disciplinary performance, arts & culture presentations… the Event begins with a Shamanic Sound Journey shortly after doors open (Bring a mat or blanket to lay upon or just sit on one of the chairs provided)… Transitions into Spoken Words/Lyrical Poet-tree & body-mind Dance Art Meditation + Singer/Songwriter Live Music set intended to generate healing for all those who listen… then Marinating the audience with Dance entranced Dj'ed musical soundscapes that pay homage to the Ancestors… & Culminates with a procession of Flow Arts outdoors to behold a Fierce Fire Show Finale!
Plum Dragoness / aka Gabrielle de Burke 
Theatrical Dancer/Lyrical Poetess & Mindful Movement Instructor/Arts Educator
(+ on IG : @plumdragoness @dragonspiritarts @authentic.eccentrics)
·      Iron Gump & Guests (Shamanic Sound Journey)… 
A Collaborative Experience where the healing resonance of seed shaking sounds meets the reverberation of Flutes, Bells, Strings, Gongs, Drums, Vocals & More…
·      B.A.D. Blaze (a Philadelphia based fire troupe) 
Melling their Flow Arts stories through movement and fire dancing that sets the stage ablaze with a nice variety of props ranging from and acrobatics!
·      Cvgebird 
Singer, Songwriter, Actor, Producer, Creative Director, Artist . Her music has a purpose and her projects have a mission to generate healing for all those who listen.
A FREE COMMUNITY EVENT
Donations are Suggested/Appreciated to Benefit the Lakota Law (www.lakotalaw.org)  & Survival international (www.survivalinternational.org)