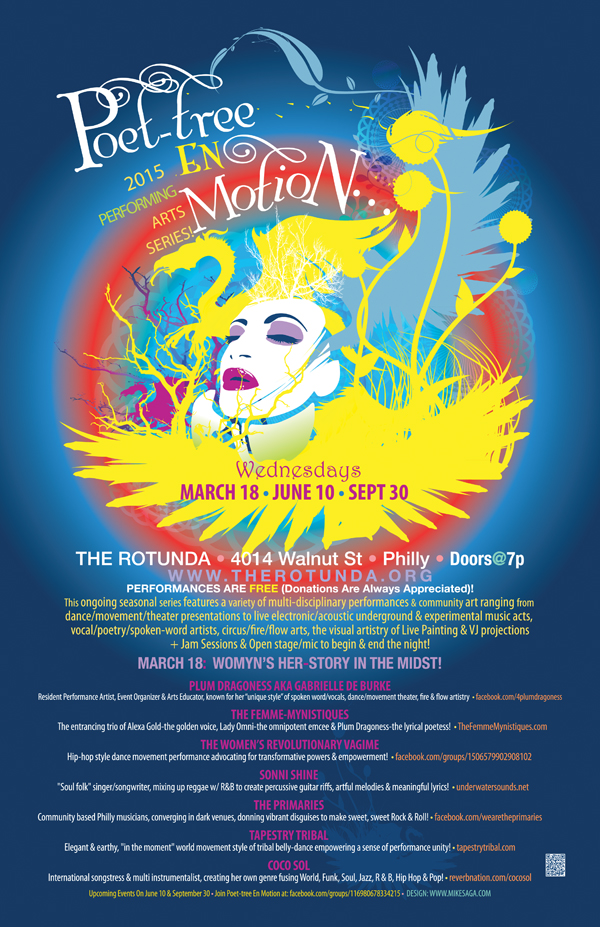 Poet-tree En Motion Showcases Local Women Artists with Free Event

'Womyn's Her-story in the Midst!' March 18 at West Philadelphia Venue
Women's History Month in March is the time when we recognize the strengths and talents of women, which have historically been underrepresented since patriarchal civilization began.

Philadelphia and regional women artists will shine their talents in celebration of Women's History Month when the seasonal art event Poet-tree En Motion presents "Womyn's Her-story in the Midst!" Wednesday, March 18 at The Rotunda.

The free event will feature artists hailing from many different genres, ages and backgrounds, showing the diversity in all women. The acts will include singer-songwriters, hip-hop artists, belly dancers, theater, a rock trio group, solo acts, spoken word, and movement arts.

Poet-tree En Motion is the brainchild of multi-award-winning Philadelphia performance artist and poet Gabrielle de Burke, whose stage name is Plum Dragoness. Her events, ongoing since 2007, present local artists with multidisciplinary backgrounds whose works capture a sense of movement and "flow."

"Poetry in motion is a lot of different things," de Burke says. "It's not just stuck on a page. It's not just stuck on a stage. It's moving in time. I want the event to be an expression of the many different ways in which poetry is present in our lives, whether it's music, dance, art, or life, or visual performance."
Poet-Tree En Motion has featured events for Women's History Month every year since 2007 and they always bring a diverse crowd.
"The point of the events is to raise consciousness about women's issues, but it's also to bring people together," de Burke says. "As it's grown, it's had some really great turnouts and a mixed bag of people. And it's not women only. It's pretty even men to women. Men have said that they've really enjoyed the shows and the different styles of performances."
The title of this year's event,"Womyn's Her-story in the Midst!," alludes to the fact that the feminine "is intertwined within the fabric of everything." 
"She's in the midst of all these different stories," de Burke says. "She's present. She has a voice. Whether it's traumatic or romantic.  … The creation stories are all connected to women. Even though they're often perceived as patriarchal, they were actually conceived through the matriarchal. Her stories are a part of his stories. Women have been a backbone of communities and societies for as long as we've been here. It's ironic that the creation stories come from a male point of view, but her stories are his stories as well. It's important to acknowledge women's role."
"For me the feminist perspective includes men," she added.
The Poet-Tree En Motion events always feature an open mic before and after the performances to encourage community participation in the arts. Women and men are invited to explore any topic during the March 18 event; they don't have to pertain to women's issues.
The lineup of artists at "Womyn's Her-story in the Midst!" will include the following:
Plum Dragoness (a.k.a. Gabrielle de Burke) 
A native of West Philadelphia is a multi--talented thespian, dancer, poetess and writer who has been involved with the performing arts since childhood. In 2000, she graduated with a Theater degree from Temple University (Philadelphia, PA), with an exploratory concentration in African Dance, World Music & Jazz Voice. She has become well known for her poetic style, vocal performance and choreographic flair throughout the Philadelphia area & abroad. In addition to her solo work, Gabrielle has collaborated with many other artists including the theater company ArcheDream, the music & poetry project "Plum Dragoness & the Elements & The Femme-mynistiques. In 2007, she began a performing arts residency at the Rotunda, where she books artists, organizes & performs in the ongoing seasonal performance series "Poet-tree en Motion." soundcloud.com/plum-dragoness

The Femme-Mynistiques 
THE FEMME-MYNISTIQUES IS A PERFORMANCE TRIO THAT SPECIALIZES IN BRINGING FORTH OUR GODDESS-GIVEN GIFTS THROUGH MOVING MUSIC, THEATRICAL CHOREOGRAPHY AND DANCES WITH WORDS. WE WISH FOR WOMEN (& MEN) TO FIND STRENGTH, HEALING, LOVE, FREEDOM AND MAGIC THROUGH OUR WORK AS ARTISTS. THOUGH WE ARE EACH INCREDIBLE SOLO PERFORMERS, TOGETHER WE ARE A RIGHTEOUS STORM, DESTROYING THE IDEAS THAT KEEP US SPIRITUALLY IN CHAOS, AND IT IS THROUGH THE POWER OF OUR UNITY THAT WE HAVE MANAGED TO RE-BUILD FOR OURSELVES AND OTHERS, A PLACE TO BEGIN ANEW.... We ARE… the FEMME-MYNISTIQUES! Watch the  Video for "She Walks Among Us"


The Women's Revolutionary Vagime (Melanie Cotton-Choreographer/Director)
This piece comes out of my continuing frustrations with the injustices that women and girls continue to face everyday. Sexual assault, young girls being kidnapped for wanting to be educated, politicians deciding what we do with our bodies, being treated like second class citizens of the world. I am an artist and have always wanted to combine my advocacy with my Art. For many years I've worked with young women and girls to use hip hop/ dance movement as a tool for empowerment and just recently worked on some projects that helped me to see the transformative powers that comedy has on people, especially women. I wanted to create something that would bring women together in a fun, positive atmosphere to get us moving our bodies and connecting with each other cause lets face it we are stronger if we stick together. I want to see us stand up for ourselves and say, "I deserve better."  youtu.be/vvd0J0CpQ0E 

The Primaries 
This Philly based trio, consisting of Red, Yellow, and Blue (Michelle Armour, Morgan Pinkstone & Susan Rosetti). These three rad colors have joined forces to push their limits and get you singing and dancing along to fun songs. They often welcome guests to join them on stage, as long as they are secondaries and tertiaries.

Sonni Shine 
Sonni Shine has been performing throughout the Tri-State area for 10 years and is proud to call Philadelphia, PA her home.  She describes her style as "soul folk," mixing reggae and R&B to create percussive guitar riffs, artful melodies, and meaningful lyrics.  She enjoys collaborating with all different types of musicians and producers equally as vocalist, guitarist, and songwriter, drawing comparisons to Erykah Badu, Ani Difranco, India.Arie, and Amy Winehouse.  The act of performing a song and becoming like "one vibration" with her audience members is a feeling she lives for. Her full time gig is serving as front woman for the reggae-funk-soul band The Underwater Sounds. youtube.com/watch?v=Z5oaCzdwHdU

Tapestry Tribal 
The women of Tapestry Tribal love to dance together! We perform a unique style of belly dance that has affectionately been called "Old School Tribal." It is a structured non-verbal language created in America, which blends traditional Middle Eastern dance with influences from around the world, including Indian, North African, Spanish, and Modern dances. There is no choreography. The dancers exchange lead and follow roles in a unique group improvisational format, supported and enhanced by the exotic traditional rhythms and haunting melodies of their live musicians. Tribal Belly Dance is an elegant and earthy " in the moment " style, which celebrates connection and support among women. 
Tapestry's dancers were originally members of Philadelphia Tribal Bellydance. PTB was the first Tribal Style Bellydance troupe founded in the Philadelphia area. Fleur Frascella began the troupe in Center City Philadelphia in 1999. Fleur left the troupe in July, 2007, and the remaining dancers created Tapestry.

Coco Sol 
Coco Sol "Chocolate Sun"from Montreal is an international songstress, multi instrumentalist now living in Philadelphia. Since her arrival 10 years ago, she has collaborated on vocalguitar and congas with multiple artists and genres on Main Stages and in studios all over including, Philadelphia Classical Symphony Family Program, Owen "Fidla" Brown (Jive records), Steven Wise (Wiseworld Entertainment), Xande Cruz (Brazilian Icon) and Son's of Ace (Reggae All Star, Jamaica).  Now involved with her new creation, Sowelu (Performing/Producing/Publishing Co) and Sowelu Music School on Wheels. Coco Sol apart from teaching is currently recording her first original album with Franz Richards of BMR Entertainment in Philadelphia. Her music is a funky, spirited blend of catchy hooks and licks, fiery rhythms and longing melodies with a message. A personal call for love. She's Created her own genre fusing World, Jazz, R & B, Hip Hop and Pop. Coco Sol and her band have been on the Philly scene for the past 15 months, playing shows at The Troc, Tin Angel, at The Black Lily and Clark Park Festival.

Britt Gen
Britt Gen is a Philadelphia-based multi-medium artist blurring the lines of industry's standards of acceptance. With a background of fine art ranging from painting, illustration, pottery, sculpture and photography she basks in the realm of film; working behind-the-scenes in fabrication, special FX makeup, set design and coordination. Her life inspirations lead her to portray elements of trauma, masked by society's endless ploy of divine beauty. Creating worlds where such tables are turned, her art threads chaos with structure, fantasy with reality, and yearns to bind the falsities between science and spirituality.
 Barbara Zanelli
Barbara graduated with a B.F.A. from Syracuse University in 1999, and then moved to NYC.  She met success in shows at Figureworks and Get Real Art, but felt drawn to study classical painting in Florence, Italy. She lived there for one year studying drawing under Mario Pachioli. In 2004 she moved to Philadelphia, on a full scholarship, to study at Studio Incamminati with master painter Nelson Shanks.  She left the atelier in 2005 to work on a series of large paintings. After travelling and painting extensively, Barbara has returned to Incamminati to finish the Professional Program. While studying, Barbara continues to show her work and take on commissions. Continuously challenging herself to find new expressions through painting and drawing and the combination of the two, Barbara has been working on all different types of approaches from gestural, alla prima to slowly developed realist painting.  She currently paints plein air, figure paintings, portraits and combined paintings from life, photo and imagination.  She also works on traced monotypes, a drawing technique used by many painters of the past including Gauguin and Degas. Barbara strives to merge intuitive feeling and gesture with a studied, trained or cerebral approach, but never too much of either. Being an artist, for Barbara, means not being afraid to create the ground she is about to step on, taking risks and following instinct.
The next Poet-tree En Motion events are scheduled for June 10, with a summer solstice theme, and Sept. 30, with a fall harvest theme, at The Rotunda. 
ABOUT POET-TREE EN MOTION:
Poet-tree En Motion works to inspire both artist and audience to connect and work together toward cultivating the arts community in Philadelphia, welcoming artists of all kinds to experience performances local to the neighborhood, and offering the opportunity at each show for community participation to sign up in the all-genre open mike/stage and jam session component of the events.
###
PHOTO CAPTIONS:

Her-stories1:
The Femme-Mynistiques multidisciplinary performance trio comprises, from left, Plum Dragoness, Lady Omni and Alexa Gold. The group will perform at the next Poet-tree En Motion event "Womyn's Her-story in the Midst!" along with many other local women artists in celebration of Women's History Month Wednesday, March 18 at The Rotunda in West Philadelphia.
Her-stories2:
The Woman's Revolutionary Vagime, a hip-hop-style dance movement troupe, will entertain while advocating for women's empowerment during the art event "Womyn's Her-story in the Midst!" Wednesday, March 18 at The Rotunda in West Philadelphia.
Her-stories3:
The Tapestry Tribal bellydance troupe will perform along with many other local women artists in celebration of Women's History Month at the Poet-tree En Motion event "Womyn's Her-story in the Midst!" Wednesday, March 18 at The Rotunda in West Philadelphia.
###
Addtional Images