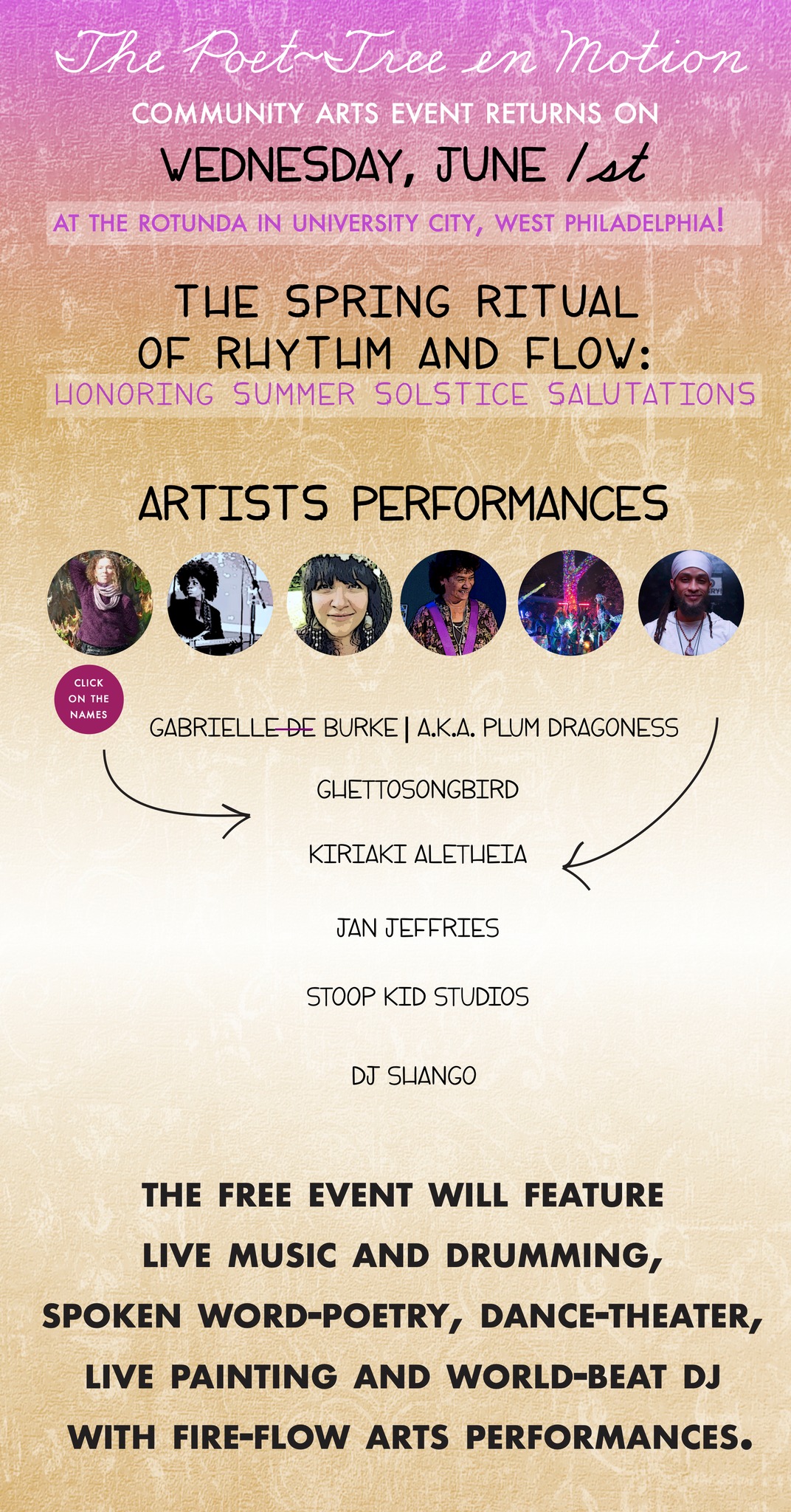 The Poet~Tree en Motion community arts event RETURNS on Wednesday, June 1st from 7-10pm (doors @7pm) at The Rotunda in University City, West Philadelphia!
The Theme is "The Spring Ritual of Rhythm & Flow: Honoring Summer Solstice Salutations"


The free event will feature Live Music & Drumming, Spoken Word/Poetry, Dance/Theater, Live Painting & World-Beat DJ with Fire/Flow Arts Performances!
Donations are suggested and appreciated.
Live Painting, Percussion and Music, Sound Journeys, Spoken-Word and Poetry, Dance/Movement Meditations, Ritual Theater + Fire and Flow Arts!
ARTIST BIOS:
Gabrielle de Burke/ a.k.a. Plum Dragoness
An Performance Artist featured on international & local stages that raised her and shaped her into the mama she is today bringing together her work as a Theatrical Dancer/Lyrical Poetess/Mindful Movement Instructor/Arts Educator, MC & Event Host curating this series.
DragonSpiritArts.com
ThePlumDragoness.com
Kiriaki Aletheia
An artist, poet, māmā & bodywork therapist raised to be actively involved in her Indigenous Heritages and Ancestral Relations, who's passionate about ways that heal, protect & clean our earth through activism, sustainable living, prayer and practicing a daily eco-friendly lifestyle.
www.instagram.com/anatolia.manati.healing.arts
Jan Jeffries
Philly-based Percussionist Extraordinaire and Drummer bringing the soul-full ancestral beatz and rhythms + Spearheads M.O.M. (Music Over Matter)
www.facebook.com/jan.jeffries.58
Stoop Kid Studios
A trio of fire artists presents "the Fire that Feeds My Soul" in service of mind, body & soul with the healing power of fire & self-expression.
www.facebook.com/StoopKidStudios
DJ Shango
Founder of The Organic Mindz Tribe (The OM Tribe) consisting of spiritual healers, energy workers, Dj's, and volunteers, all in sympathetic resonance, journeying towards one aligned purpose: healing themselves in order to heal the world.
www.soundcloud.app.goo.gl/7rn3U
Admission is FREE
Masks Must be Worn when Inside the Venue (Check-in Required for Contact Tracing).