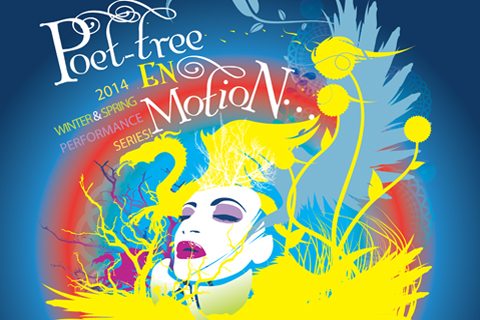 Poet-tree En Motion
Presents

The Fall 2014 Performing Arts Series!

Wednesday-October 1st - Doors at 7pm
Sunday-October 19th - Doors at 6pm
Friday-November 7th - Doors at 7pm
This ongoing seasonal series features a variety of multi-disciplinary performances & community art ranging from dance/movement/theater, live electronic/acoustic music, vocal/poetry/spoken-word presentations, circus/fire/flow arts, the visual art of live painting & VJ projections.

Doors Open @ 7pm (except 10/19 @ 6pm)!!! 
October 1st: Harvest Moon Seasonal Kick-Off Event! 
• Plum Dragoness (a.k.a. Gabrielle de Burke)-Resident Performance Artist, Event Organizer & Arts Educator, known in Philly & abroad for her "unique style" of spoken word/vocals, dance/movement theater, fire & flow arts. 
• Kerstenbrug-shares her original music with an extra stitch of "a love less hypothetical" in a mixture of older, newer, & maybe a cover or two. 
• Get Lucid- this Philly based artist/activist collective brings innovative music, sounds, performance & visual art for communities & connections. 
• Illian Village-the town of strange sounds & noising ranging from the smooth to the scary, here to spit rhymes for the art of shaking butts.
• Setu Tribe- the Setu Tribe is a collection of Tribeswomen through their dances derived from personal experiences within the PEX community.
• Steve Shorts-artistic vision combining mixed-media muralism w/ social sculpture, blending fine art, restoration construction & community service. 
• VJ Spooky-this Philadelphia based VJ enhances events w/ a multimedia experience! 
*Join the Facebook Group for Poet-tree En Motion (see "Events" for more info): facebook.com/groups/116980678334215