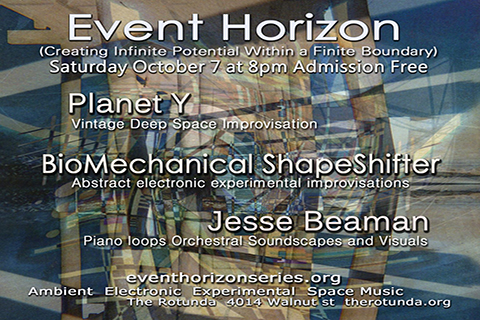 Event Horizon
presents
Planet Y / BioMechanical ShapeShifter / Jesse Beaman

Planet Y is completely improvised space music. Yanni Papadopoulos (Stinking Lizaveta, WAIL) relies heavily on his Casio DG20 guitar synth and a handful of effects pedals to create the space scape. There is no sampling involved, all sounds are created in real time. Yanni is joined by Pete Wilder (EDO, WAIL), who also adds Casio DG20 guitar synth, as well as electric guitar and Theremin.
BioMechanical ShapeShifters (or BioMeSS for short) is the project of Floyd Bledsoe from Ewing, New Jersey. He has been using this name for his electronic experimentations since the early 1990s. Starting in 2010, BioMeSS began releasing works on the internet and now has over 100 albums available on the Bandcamp website with many of the releases containing several hours of material each. Mainly experimental in nature, the sound of BioMechanical ShapeShifters covers a broad spectrum stylistically. Genres from such diverse categories as harsh noise to ambient drones and many other territories are explored. There is an aim to showcase various electronic devices and fully explore their capabilities and features. Floyd is also a member of The Melting Transistor group and has recorded several dozen albums with them as well as many live appearances. BioMeSS has performed previously at the Cosmic Crossings Concert Series, as well as several festival appearances and various radio programs. Currently, the focus is a DAWless setup incorporating semi-modular synthesizers and other unique devices in an improvisational setting.
Austin, Texas experimental musician, composer, artist and record label owner Jesse Beaman has more than a decade of performing under his belt starting at an early age of 20 years old, Jesse toured across 25 countries in Europe, Latin America, Australia and North America. He has shared the stage with important acts such as Kazu Makino of Blonde Redhead, CocoRosie, This Will Destroy You, Julianna Barwick, White Denim, Efterklang and Silver Mt. Zion. In 2021 Jesse released his brilliant album 'MIRA', produced by Brandon Curtis of Interpol / The Secret Machines. In 2022 he toured Europe, Mexico and the US while releasing singles off his 2022 Mixtape. Known for his cult followed project My Empty Phantom, Jesse now performs under no moniker while recording and taking the stage with a more minimal approach resulting into something more blissful and more impactful. His journey in music continues with him exploring orchestral, classical piano, ambient, electronic and percussion in his new solo works.
INSTAGRAM: https://www.instagram.com/jessebeamanmusic
FACEBOOK: https://www.facebook.com/jessebeamanmusic
SPOTIFY: https://open.spotify.com/artist/2Al104ourQIJ2giG2jozYp
BANDCAMP: https://jessebeaman.bandcamp.com/music
The Event Horizon concert features Electronic, Avant Garde, and Experimental music along with the work of live video projection artists. The concerts are always free and open to all.
Admission is FREE