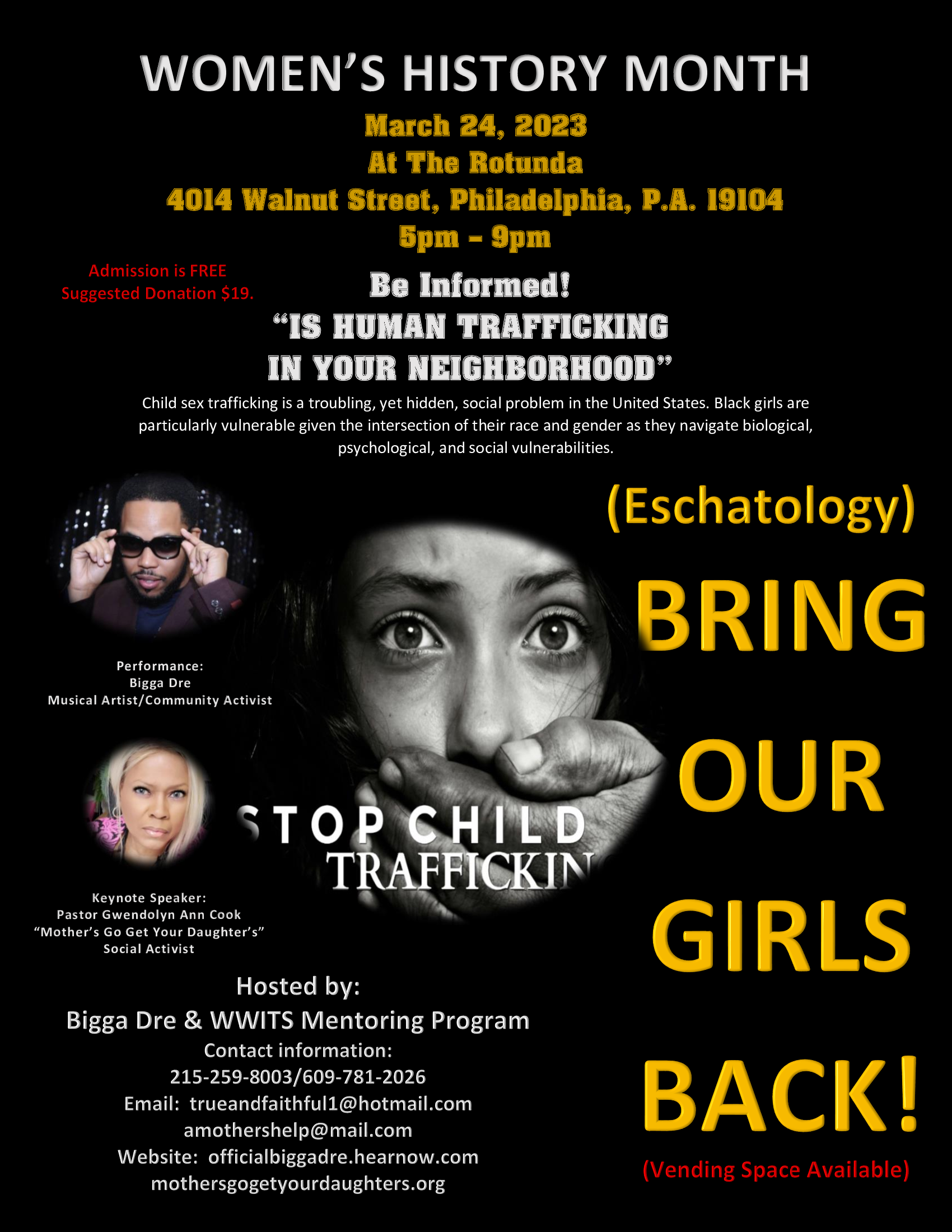 Bigga Dre
presents
Philadelphia " WOMEN'S HISTORY MONTH" Human Trafficking Awareness Event "Bring Our Girls Back"
Throughout history, women have driven humanity forward on the path to a more equal and just society, contributing in innumerable ways to our character and progress as a people. In the face of discrimination and undue hardship, they have never given up ! During Women's History Month, we remember the trailblazers of the past, including the women who are not recorded in our history books, and we honor their legacies by carrying forward the valuable lessons learned from the powerful examples they set. During this month we also take the time to highlight the continuous struggle of African American women through out the diaspora who are being targeted and trafficked at a young age. 100,000 –300,000 children in America are at risk for sex trafficking each year.
Hundreds of thousands of teenage girls, and others as young as five (5) become victims to the sex trade.
A prostituted child is forced to serve between 100 to 1,500 clients per year, per child. According to statistics 57.5% of all juvenile prostitution arrests are Black children. Through a two-year review of all suspected human trafficking incidents across the country, 40% of sex trafficking victims were identified as Black women. The Center on Poverty and Inequality stated The sexualization and "adultification" of Black girls contributes to a school to prison pipeline. While it is necessary to create legislation to combat sex trafficking, it is equally important to identify the negative policies which systematically discriminate and exclude Black women and girls from systems which are supposed to protect and include them.
ESCHATOLOGY (Bring Our Girls Back) is a Prevention/Awareness PSA (Public Service Announcement) Campaign geared to provide solutions for melanated people who have been disproportionately affected by Human Trafficking through what is called "THE MAAFA" . Over 75000 Black Women are currently missing but the mainstream media fails to bring immediate attention to the general public. In recognition and observation of "Womens History Month" JOIN US Friday March 24, 2023 from 5pm-9pm at The Rotunda Hosted by
Bigga Dre
(Amun Sen Hotep Re) with special invited guest Gwendolyn Ann Green-Cook (
WWITS Mentoring Program
) for a Community Outreach Presentation, Film screening, Q&A discussion, Food, Refreshments, Resources, & Wholistic Counseling for those in need!
ADMISSION IS FREE; Suggested DONATION $19
(Vending Space Available)
Email: trueandfaithful1@hotmail.com
amothershelp@mail.com
Call: 609 781 2026