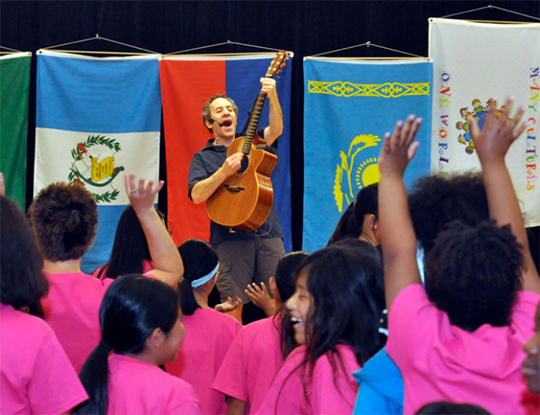 Join Jay Sand, founder and lead teacher of All Around This World, a unique global music and world cultures educational program, online, from the comfort (and safety) of your own home, on Saturday, August 1st at noon, for a participatory world music jam featuring songs and rhythms from several countries and continents. Sing and drum with Jay as he takes you on a melodic and rhythmic tour of the world. Be "in the room" with Jay on Zoom, or watch on Facebook Live. 
Jay's All Around This World (http://www.AllAroundThisWorld.com) is an interactive global music program for children and their families that encourages kids to meet the world by enjoying international melodies, rhythms and movement. In All Around This World concerts and experiential learning events kids and their grown-ups sing, dance and play together while meeting different languages, cultures and traditions.
This event is FREE! If you want to participate in the jam, please make sure you have Zoom, and that you register HERE: https://www.eventbrite.com/e/jay-sand-world-music-jam-with-songs-rhythms-from-several-countries-tickets-112371135090. Registration is required for the Zoom link, which will be sent to all registrants the day of the event. 
If you would prefer to just watch the jam, that is fine too! It will be streaming live on All Around this World's Facebook at https://www.facebook.com/AllAroundThisWorld/