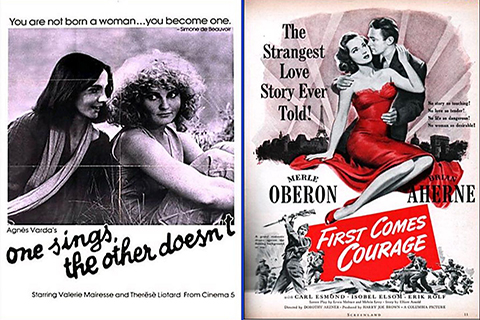 ONE SINGS, THE OTHER DOESN'T (1977, directed by Agnes Varda, 116 min., France)
Director Agnes Varda's (VAGABOND, THE GLEANERS & I) beautifully-crafted tale of a friendship between two very different women (played by Valérie Mairesse of Tarkovsky's THE SACRIFICE and Thérèse Liotard) whose friendship is forged as activists in France's movement for abortion rights. The film is a showcase for Varda's endlessly creative way with conjuring narrative and Varda herself wrote the lyrics for the '70s folk pop tunes Mairesse and her band perform throughout the film.
Followed by a screening of:
FIRST COMES COURAGE (1943, directed by Dorothy Arzner, 88 minutes, U.S.)
With a plot that unfolds like a twist on Hitchcock's NOTORIOUS, the elegant Merle Oberon plays woman in WW2's Norwegian resistance who is in deep cover as the Nazi commander's lover. When suspicions about her arise, her former lover (Brian Ahern) is sent in to kill the commander and whisk her to safety.
Arzner was a gender non-conforming trailblazer of early cinema, one who for decades the only women in the director's guild. Arzner made successful films at most of the major studios, retiring young after helming FIRST COMES COURAGE, her final feature, with twenty titles to her credit. This wartime melodrama contains many of her signature touches, including the special camaraderie between women and a stubborn refusal to proclaim that loves conquers all. Watching such integrity bring a Nazi down is a pleasure that seems less old-fashioned than ever.
THE BRIGHT BULB SCREENINGS SERIES
Specially curated double features, the 2nd Thursday of each month
@ The Rotunda (40th & Walnut, Philly)
follow us on Facebook, Instagram
Masking and contract tracing enforced. Seating is limited.
COVID POLICY
- 75 people MAX will be permitted in the venue during an event. This includes audience and staff.
- Everyone over the age of 2 will be required to wear masks indoors, regardless of vaccination status.
We will engage in contact tracing. We will register attendees and ahead of time or at the front desk, depending on the event, and will require them to alert us if they become sick after the event

Follow brightbulbscreenings on Instagram, Facebook
Admission is FREE