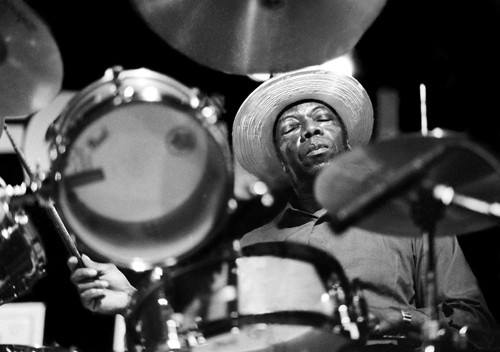 Odean Pope + Andrew Cyrille
Odean Pope, tenor saxophone
Andrew Cyrille, drums
Ars Nova Workshop is pleased to present a return performance by Philadelphia saxophonist Odean Pope and Brooklyn drummer Andrew Cyrille, two avant-garde jazz giants who played their first duo together at an Ars Nova Workshop concert in 2013.
Odean Pope, who has lived in Philadelphia since he was 10-years-old, began his career performing with Marvin Gaye, Stevie Wonder, and James Brown, frequently at Philadelphia's Uptown Theater. He then went on to work with jazz artists such as Jimmy McGriff and Max Roach, and, in the late-1970s, he formed Catalyst, a funk-infused jazz quartet with Philadelphia-based musicians Eddie Green, Sherman Ferguson, and Al Johnson. He is the leader of the Odean Pope Saxophone Choir and the Odean Pope Trio.  About his most recent album,Odean's List, All About Jazz writes that it "is a compelling reminder of Pope's relevance as a composer and improviser, one whose talent deserves greater recognition."
Andrew Cyrille, a Brooklyn-born drummer with Haitian roots, has worked with Coleman Hawkins, Milford Graves, Anthony Braxton, David Murray, Reggie Workman, and Marilyn Crispell. Cyrille was a member of the Cecil Taylor Unit, and he played on Taylor recordings such as Unit Structures and Conquistador, as well as other essential free-jazz albums, like Charlie Haden's Liberation Music Orchestraand Marion Brown's Afternoon of a Georgia Faun. In January, Cyrille's 21st Century Big Band, a 12-piece ensemble that performs its leader's compositions, played for the first time at Lincoln Center, in New York City.
Admission is FREE