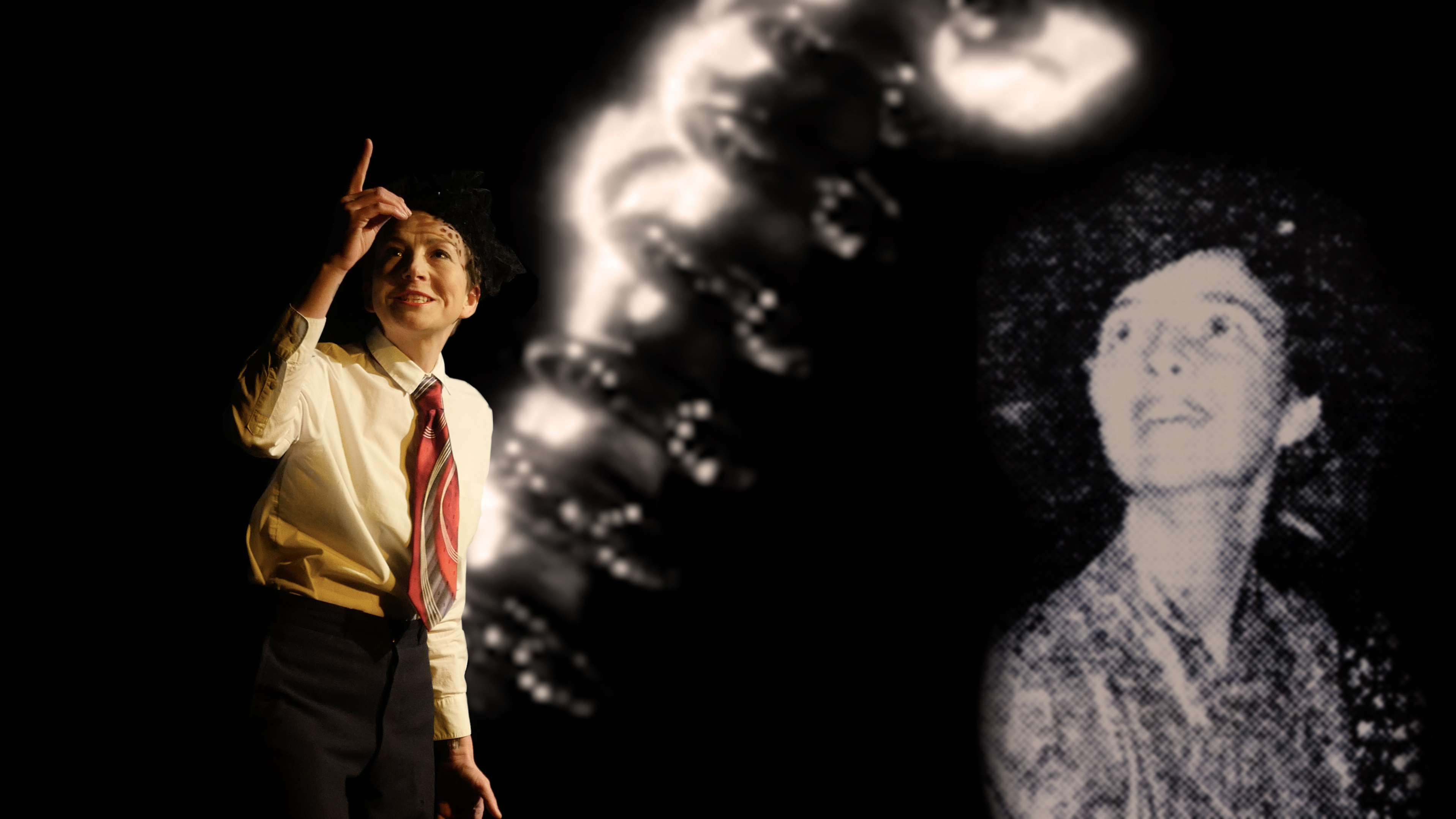 Artist Makes Environmental Justice a Family—and Collective—Obligation

Philadelphia, PA For Immediate Release
Part storytelling, part lecture, and part live documentary film, Sarah Kanouse's solo performance "My Electric Genealogy" explores the shifting cultures and politics of energy in Los Angeles and the West through the lens of her own family. The performance will take place November 11th at The Rotunda as part of a tour of the East Coast.
"For nearly forty years my grandfather worked for the Los Angeles Department of Water and Power, designing, planning, and supervising the network of lines connecting the city to its distant sources of electricity," Kanouse explains. "The grid was his second family: when he died, he left behind boxes of snapshots that mixed birthday parties and family Christmases with portraits of power plants and transmission towers. Years later, I learned his legacy also included some of the most polluting fossil fuel infrastructure in the country—much of it located out of state, on Indigenous land. As these power plants finally and belatedly come down, what is owed the communities long harmed by this infrastructure?"
Combining storytelling with moving images, movement, and an original score, the 75-minute performance examines the "infrastructures of feeling" supported by the electric grid, including assumptions of perpetual growth and closely held beliefs about nature, gender, race, and progress. Sarah Kanouse weaves together signal moments in Los Angeles history, episodes of her grandfather's life, anxious fantasies about a climate-challenged future, and stories of resistance and reinvention in the face of extraction. "My Electric Genealogy" is an essayistic working-through of energy as a personal and collective inheritance at a moment of eco-political reckoning.
LA-based musician and sonic artist Jacob Ross contributed original music and sound design for "My Electric Genealogy." Ross has worked with wide variety of filmmakers and performers including Lucky Pierre, Terri Kapsalis, Deke Weaver, Deborah Stratman, and Califone.
Sarah Kanouse is an interdisciplinary artist, writer, and filmmaker whose solo and collaborative work has been presented at the Haus der Kulturen der Welt, Documenta 13, the Museum of Contemporary Art-Chicago, The Cooper Union, The Smart Museum, and numerous festivals, academic institutions and artist-run spaces. Raised in Los Angeles, she is now based in Boston, where she teaches at Northeastern University.
My Electric Genealogy" will be performed at 6pm on Saturday November 11th as part of curator Daniel Tucker's new Eco-Social Salon, Site-Seeing & Screening Series or ESSSSSS which is co-sponsored by ecological arts organizations The Green Sun Symposium and RAIR Recycled Artist In Residence and will take place at The Rotunda in West Philadelphia (4014 Walnut St, Philadelphia, PA 19104). More details on ESSSSSS are at https://ecosocialseries.wordpress.com/2023/01/07/essssss-begins/
Contact info
Sarah Kanouse (artist) – sarah.kanouse@gmail.com
Trailer: https://vimeo.com/283307068
Please register for the event HERE