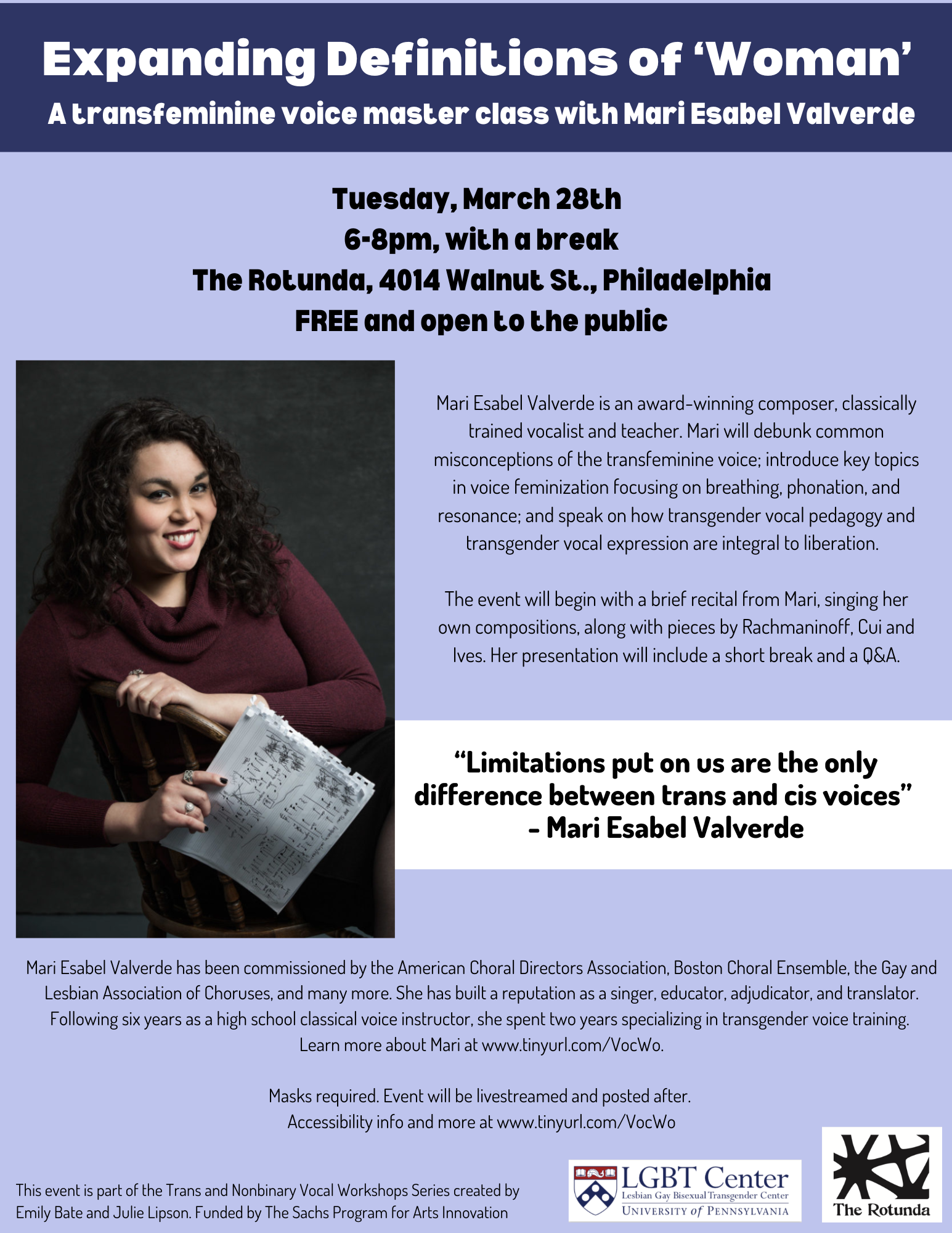 Master Class on Transfeminine Voice with Mari Valverde
Tuesday, March 28th, from 6-8pm, with a break. Free!
"Limitations put on us are the only difference between trans and cis voices" – Mari Esabel Valverde
Mari Esabel Valverde is an award-winning composer, classically trained vocalist and teacher. Join her for a master class focused on transfeminine voice. 
In this presentation, Mari will debunk common misconceptions of the transfeminine voice; introduce key topics in voice feminization focusing on breathing, phonation, and resonance; and speak on how transgender vocal pedagogy and transgender vocal expression are integral to liberation. 
The event will also be live-streamed on YouTube. More info: tinyurl.com/vocwo
Rotunda Accessibility: The entrance that we use most often is on the left side of the building toward the back. There are six steps up into the building. 
The building is equipped with a ramp for wheelchairs, strollers, and other devices. The ramp is on the right side of the building toward the back. Take the concrete path from Walnut Street and you'll find the ramp. Once inside, make a right into the hallway and then make a left at the restroom. This entrance is kept locked except during events. The venue has a ramp onto the stage as well as an ADA accessible restroom on the first floor. This restroom serves one person at a time and is also equipped with a changing station. All of our restrooms are gender-neutral. 
We are asking all attendees to wear a mask for the duration of the event. 
Funded by The Sachs Program of Arts Innovation