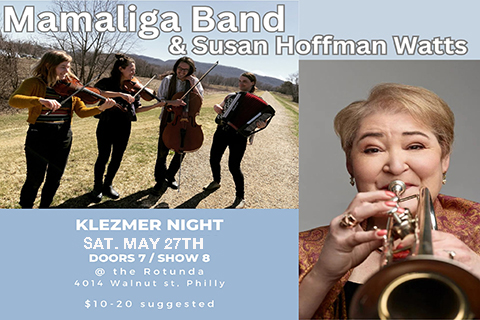 In-person! MAMALIGA KLEZMER BAND and SUSAN HOFFMAN WATTS & THE FABULOUS SHPIELKES
7pm doors/8pm show



MAMALIGA KLEZMER BAND
Mamaliga is a critically acclaimed Klezmer band based in Boston MA, and Brooklyn NY. After the 2021 release of their debut full-length album, Dos Gildn Bletl, Mamaliga has performed at Yiddish New York, KlezKanada, and was awarded best original Klezmer composition at the 2021 Bubbe Awards in Sao Paulo, Brazil. The band is comprised of Rebecca Mac and Rachel Leader on fiddles, Raffi Boden on cello, and Mattias Kaufmann on accordion.
Boisterous and driving, lilting and elegiac, Mamaliga melds the klezmer melodies of old country Yiddishland with new era sensibilities, crafting intricate arrangements of original and traditional tunes to make you dance, laugh and cry – perhaps all at once!


SUSAN HOFFMAN WATTS & THE FABULOUS SHPIELKES
Fourth and 5th generations of the Hoffman klezmer dynasty , Susan Watts, trumpet and vocals and drummer Bradley Siegel, bring the Joseph Hoffman klezmer collection(1923) to life. The Fabulous Shpielkes are Rob Curto, accordion, Jay Krush, tuba.
Susan Hoffman Watts represents the youngest generation of an important klezmer dynasty that reaches back to the Jewish Ukraine of the 19th century, beginning with her great-grandfather, musician, composer, cornet-player, and poet, Joseph Hoffman. Susan is the sole living purveyor of the family's traditional klezmer-style trumpet sounds which electrified audiences for decades. Susan and the Hoffman family are the features of several televised documentaries.
"Susan Watts, the phenomenal trumpeter, has clearly internalized the cantorial voice and found unique ways to replicate them on her instrument. Watts' playing was the revelation of the evening…" — Seth Rogovoy
7pm doors/8pm show/$10-20 encouraged donation
Co-sponsored by Moishe House Philly