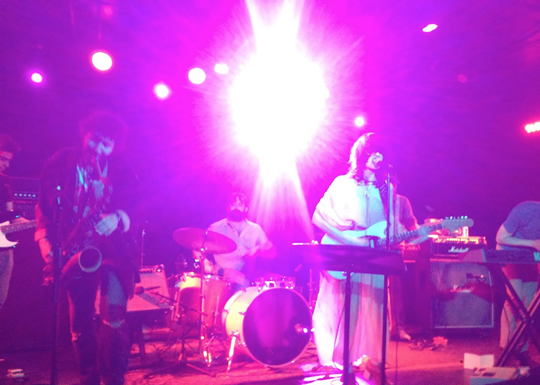 Bowerbird is pleased to present the duo of Loren Connors and Chris Forsyth and a performance by Philadelphia's Taiwan Housing Project 
LOREN CONNORS has improvised and composed original guitar music for over four decades. His music - which embraces the aesthetics of blues, Irish airs, blues-based rock and other genres while letting go of rigid forms - has been recorded on Family Vineyard, Northern Spy, Drag City, Table of the Elements, Recital, RoadCone and other labels. 

Connors, who names abstract expressionist painter Mark Rothko his most important influence, has performed with Thurston Moore, Keiji Haino, Jim O'Rourke, John Fahey, Alan Licht, Jandek, and Kim Gordon. Suzanne Langille has often appeared on Connors' recordings as vocalist, lyricist and arranger. Connors also on occasion performs with an avant blues band called Haunted House, together with Langille, guitarist Andrew Burnes and percussionist Neel Murgai. 
In July 1979, Cadence Magazine noted that Connors, who had recently emerged in the scene, was "similar to others in the Advanced Guard of improvising guitarists in that he is trying to extend the boundaries of sound and pitch of acoustic guitar, but he is unique in the utilization of Blues in his work, one could almost say this is Avant Garde Blues. He's swimming in new waters and beginning to make his own environment." 
In recent years, Connors has focused mostly on live recordings of extended blues abstractions, with occasional performances in a more avant blues rock vein from time to time through the Haunted House band and collaborations with other artists. 
CHRIS FORSYTH is a lauded guitarist and composer whose work assimilates art-rock textures with vernacular American influences. Long active in underground circles, he's recently released a string of acclaimed records of widescreen guitar rock, and in 2013, he assembled The Solar Motel Band, who have quickly developed a reputation as an incredible live act, provoking ecstatic comparisons to visionary artists such as Television, The Grateful Dead, Popol Vuh, Neil Young & Crazy Horse, and Richard Thompson. 
His newest release with The Solar Motel Band is the double album The Rarity of Experience (No Quarter), released in March 2016. Raves have been universal. Pitchfork called it "a near-perfect balance between 70s rock tradition and present day experimentation," NPR Music named Forsyth "one of rock's most lyrical guitar improvisors," and the New York Times calls him "a scrappy and mystical historian..." His music humanizes the element of control in rock classicism (and) turns it into a woolly but disciplined ritual." 
In addition to Forsyth's work as a solo artist and bandleader, he has been an inveterate collaborator with a diverse range of artists, including singer/songwriter Meg Baird, trumpeter Nate Wooley, analog synthesist Koen Holtkamp, and choreographer Miguel Gutierrez. He is a recipient of a 2011 Pew Fellowship in the Arts and resides in Philadelphia. 
TAIWAN HOUSING PROJECT began as a weird lo-fi fake pop recording project between Kilynn Lunsford (Little Claw, Tyvek) and Mark Feehan (Harry Pussy, Trash Monkeys). After a while of playing exclusively as a duo in a bedroom with two cats they enlisted Pat Ganley (Casual Viking, Dan Melchior) and Adam Cooper (Tickley Feather, Hanging Tounges) and started playing in a basement with three cats. Taiwan Housing Project's hip shaking white hot noise has been met with drunken enthusiasm and dismissive shrugs from friends and foes alike.
Admission is FREE