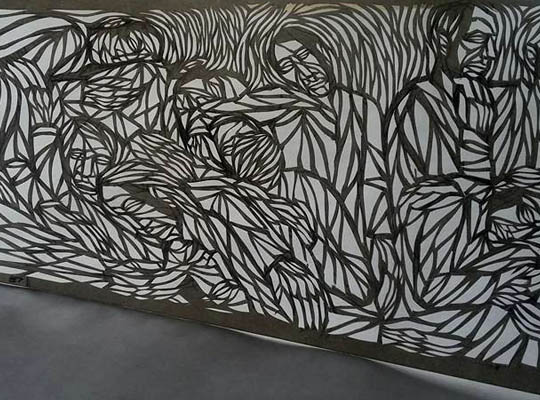 LONG/GONE



Erik Ruin, shadow puppets and projections

Ominous Cloud Ensemble, live soundtrack
ABOUT THE EVENT
Currently over 100 feet in length, LONG/GONE is a single intricately-cut piece of paper which flows freely from image to image. Narratives and scenarios (often drawn from classic works of literature from Homer to Dante) emerge and collapse and spill over into each other. In performance, Erik scrolls the paper-cut continually across the surface of an over-head projector, creating an epic and immersive shadow-show. His musical group, the Ominous Cloud Ensemble, will provide a live soundtrack. 
ABOUT THE ARTISTS
Erik Ruin is a Michigan-raised, Philadelphia-based printmaker, shadow puppeteer, paper-cut artist, etc., who has been lauded by the New York Times for his "spell-binding cut-paper animations." His work oscillates between the poles of apocalyptic anxieties and utopian yearnings, with an emphasis on empathy, transcendence and obsessive detail. He frequently works collaboratively with musicians, theater performers, other artists and activist campaigns. He is a founding member of the international Justseeds Artists' Cooperative, and co-author of the book Paths Toward Utopia: Graphic Explorations of Everyday Anarchism (w/ Cindy Milstein, PM Press, 2012). 
Erik Ruin's Ominous Cloud Ensemble is an ever-evolving, collectively-improvising large ensemble for projections and music, led by visual artist Erik Ruin. Erik manipulates intricate paper-cuts and painted films on overhead projectors to create abstract landscapes and fragmentary scenes that are nonetheless charged with meaning, merging with music that ranges from dark atmospherics to ecstatic peaks of dissonance. Members of the ensemble include a rotating cast of Philly's finest musicians, who have collaborated with everyone from Anthony Braxton to the Sun Ra Arkestra, Chris Forsyth to Bardo Pond. 
Admission is FREE
Addtional Images