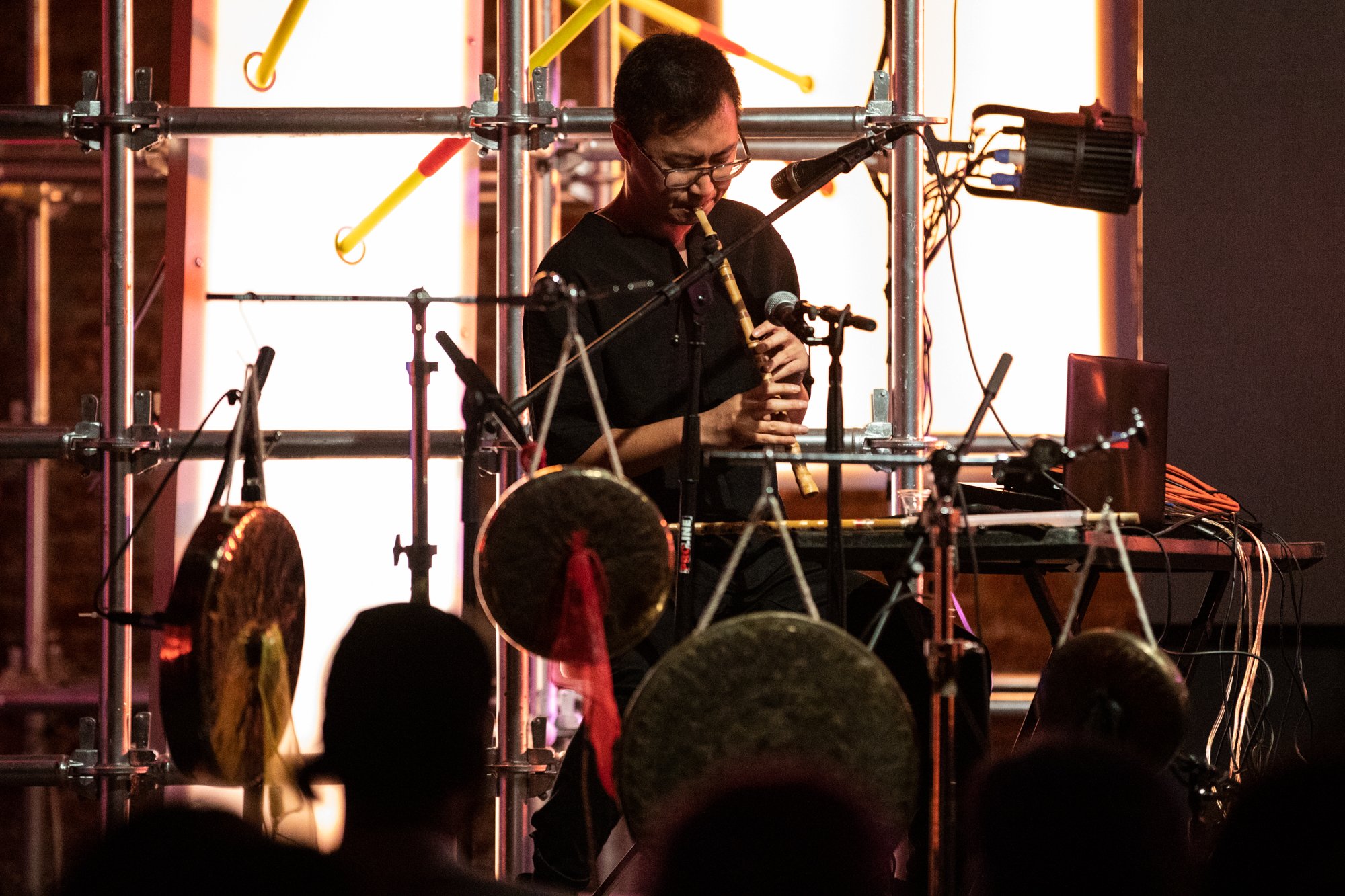 Fire Museum

presents
LEO CHANG'S NAKJI 낙지 樂知 & Uriol Korean Percussion Ensemble
Leo Chang's Nakji: Nakji are a Korean diaspora collective led by Leo Chang. Nakji is a type of small octopus native to Korea, known for its ability to adapt quickly to foreign environments. The hanja characters chosen carry additional meaning for this name: nak (樂) means joy and at times music itself, ji (知) means knowledge. So within the name Nakji, there is intention to understand the various layers of joy more deeply. The music of Nakji weaves stories from the Korean diaspora into songs and improvisations--at once complicating, contextualizing, clarifying by undefining Koreanness.
Leo Chang (he/him) is a Korean improviser, composer and performer of avant-garde music currently living in Brooklyn. Born in Seoul, Leo lived as an expat in Singapore, Taipei, and Shanghai, and then moved to the United States in 2011. Needing to assimilate to various cultures and thereby cultivating an irreverence towards rules and norms from a young age, Leo expresses rootlessness and multiplicity within identities through his music. Leo traces the origins of his fractured identity-formation to colonial legacies that continue to this day. His art is an act of home-making inspired by various musical and ideological movements that have sought to question power dynamics and imagine egalitarian possibilities. His primary methods are improvisation, written text, graphical notation, and electronic processing.
Leo frequently performs as/with VOCALNORI, which amplifies vocal sounds through gongs via electronic instruments. He also plays Korean double reed instruments (piri and taepyungso) in untraditional ways, often processing his piri playing using electronics.
Leo's various performances and collaborations have been with William Parker, gamin, DoYeon Kim, eddy kwon, Vong Pak, Chris Williams, Lester St. Louis, Miriam Parker, Alex Zhang Hungtai, Erin Rogers, Lucie Vítková, Jason Nazary, Jeonghyeon Joo, Adrianne Munden-Dixon, S.E.M. ensemble, the Rhythm Method, and the JACK quartet. From 2017 to 2021, Leo organized Ensemble Consensus, a collective of experimental artists who transformed creative prompts into music by designing rehearsals that center playful co-creation. Leo is a 2024 Jerome Commission artist for Roulette Intermedium, and holds a PhD in Electronic Arts from Rensselaer Polytechnic Institute.
DoYeon Kim is a traditionally trained Korean artist who plays the gayageum, a traditional Korean string instrument, and has developed a uniquely broad approach to music, which incorporates Korean music, jazz, and improvisation, among other influences. Importantly, she introduced the gayageum into the improvisational music scene worldwide. Her recent collaborative projects have broadened to include dancers, actors and visual artists.
During her traditional Korean training, she won numerous international competitions for her gayageum performances, including the Dong-A Ilbo Traditional Music Competition (Gold Prize, 2009), and the On-Nala Korean Music Competition (Gold Prize, 2011). DoYeon is also a graduate of the Contemporary Improvisation Department at the New England Conservatory of Music, where she was the first student ever admitted to the school playing any kind of Korean traditional instrument. She joined the faculty at her alma mater (2022).
DoYeon has performed throughout the world leading the Kim Do Yeon Band, and alongside many improvisers, including Tyshawn Sorey, Joe Morris, Agusti Fernandez, Tony Malaby and Anthony Coleman. Her first album, GaPi (2017), intimately combined traditional Korean music and jazz, and was nominated for a 2018 Korean Grammy Award in the crossover album category. The same year, DoYeon released the free improvisation album Macrocosm with Joe Morris, and performed on Jim Snidero's Korean themed jazz album Project-K (2020), alongside Dave Douglas, Orrin Evans, Linda Oh and Rudy Royston.
Che Chen is a creative musician and multi-instrumentalist interested in the overlapping fields of intuitive music, improvisation and tuning theory. In addition to the solo and collaborative projects, he also plays guitar in the band 75 Dollar Bill, which he founded with percussionist Rick Brown in 2012.
Uriol Korean Percussion Ensemble: Hyunjin Cha leads this traditional Korean percussion ensemble. Percussionist Hyunjin Cha is a solo and Korean ensemble musician. She began her career in Korea at the famous Korean music band DULSORI. During her 1998-2016 career in DULSORI, Hyunjin performed at many festivals, concerts and collaborations such as WOMAD, Edinburgh Fringe Festival, and Roskilde Rock Festival with international music and dance artists in multi-disciplinary projects. She is also active in various fields such as festival workshops and lectures on traditional culture education. Since 2010, she has also been involved in traditional Korean cultural planning. She has organized a variety of repertoire performances and invited overseas world music artists to organize residency programs, as well as hosting Jeonju So-ri Festival, Seoul Street Festival, and Ulsan World Music Festival in Korea.In 2017, she moved in the US and has been continuing her music works, teaching, managing and directing events.