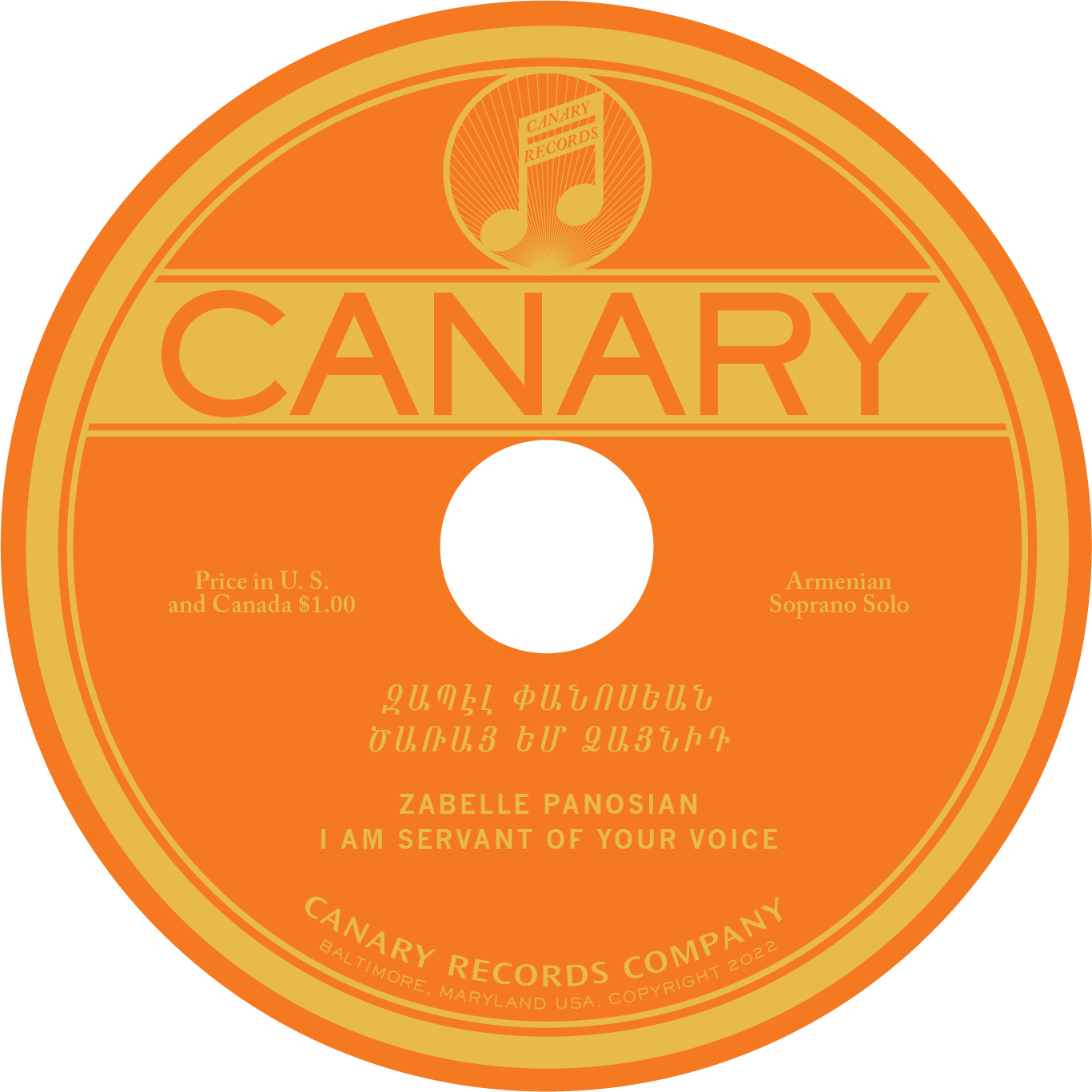 THE CURATORS OF THIS EVENT REQUIRE THAT EVERYONE IN ATTENDANCE SHOW PROOF OF VACCINATION AT THE DOOR. MASKING AND CONTACT TRACING ENFORCED. SEATING IS LIMITED FOR PURPOSES OF SOCIAL DISTANCING, ADVANCED REGISTRATION IS STRONGLY RECOMMENDED. Please register HERE
Ian Nagoski: Zabelle Panosian: I Am Servant of Your Voice (talk & listening session)
Fire Museum Presents
Musicologist Ian Nagoski will present his latest project in the form of a talk and listening session.


Among the most significant Armenian singers in the early twentieth century, Zabelle Panosian made a small group of recordings in New York City in 1917-'18. Unaccountably, she was then largely neglected as an artist for more than half a century. This volume by three dedicated researchers is the first effort to reconstruct the life and work of a woman who had an exceptional and cultivated voice — who toured the world as a performer and made a significant contribution to the cultural lives of the Armenian diaspora, the elevation of Armenian art song, and the relief of survivors of the Armenian genocide.
Panosian's music is derived from a syncretic experience of the Western Armenian village near the sea of Marmara where she was born and a passion for the coloratura sopranos she encountered in Boston. As an immigrant carrying the traumas of dislocation and the loss of her home, she transformed her grief into action, dedicated her life to an expression of the greatest art she could imagine, both from her former life and her new life in America, and she created a path in her wake for her daughter to become a renowned dancer.
Tracing her story from the Ottoman Empire to New England, from the concert halls of Italy, Egypt, and France to California, Florida, and South America through two World Wars, the story of Zabelle Panosian is that of a serious talent recognized and celebrated, dismissed and forgotten, year by year, waiting only to be known and loved again.
Ian Nagoski is a music researcher and record producer in Baltimore, Maryland. For more than a decade, he has produced dozens of reissues of early 20th century recordings in languages other than English for labels including Dust-to-Digital, Tompkins Square, his own Canary Records, and others. His enthusiastic talks have been hosted at the Library of Congress in Washington D.C., the Onassis Cultural Center in Athens Greece, the University of Chicago, and New York University, and he has presented his work in installation at the Museum fur Naturkunde in Berlin Germany, the Wellcome Center in London England, and the Peale Center in Baltimore Maryland. A fragment of his work is included on the MoonkArk, the first object to be permanently installed on the moon, in 2020.
"A carefully crafted and detailed, yet succinct biography. Many of us were introduced to Armenian-American singer Zabelle Panosian's soul-jolting rendition of "Groung" via the 2011 release of To What Strange Place, but here, in Zabelle Panosian: I Am Your Servant, for the first time, we travel with Panosian from her birthplace in Bardizag to her home in New York. We are there in the studio with her at Columbia Records for her historic recordings in lower Manhattan, and we stand with her in the radio studios of WEAF. We become readers of reviews of Panosian's concerts both celebrated and scathing. We accompany her on performances, minuscule and grand from Waterford to Providence and San Francisco to Fresno, eventually recrossing the Atlantic with her to sing in France, Italy, and Egypt. More than a singer or performer, we learn of Zabelle, the estranged sister, the loving aunt, and the mother who passes the baton to her daughter, Adrina Otero, completing what will be the starting point for future historians or ethnomusicologists wishing to explore Zabelle Panosian and her legacy."
-Richard Breaux, Associate Professor of Race, Gender, and Sexuality Studies, University of Wisconsin-La Crosse
Zabelle Panosian – I Am Servant of Your Voice book & CD
to be published April 7, 2022 by Canary Books & Records, Baltimore MD
80 pages. 21 tracks. Over 50 images.
by Harout Arakelian, Harry Kezelian, and Ian Nagoski
designed by John Hubbard. printed by die Keure. distributed in the U.S. by Forced Exposure
venue is wheelchair accessible, please contact us for more information
THE CURATORS OF THIS EVENT REQUIRE THAT EVERYONE IN ATTENDANCE SHOW PROOF OF VACCINATION AT THE DOOR. MASKING AND CONTACT TRACING ENFORCED. SEATING IS LIMITED FOR PURPOSES OF SOCIAL DISTANCING, ADVANCED REGISTRATION IS STRONGLY RECOMMENDED.