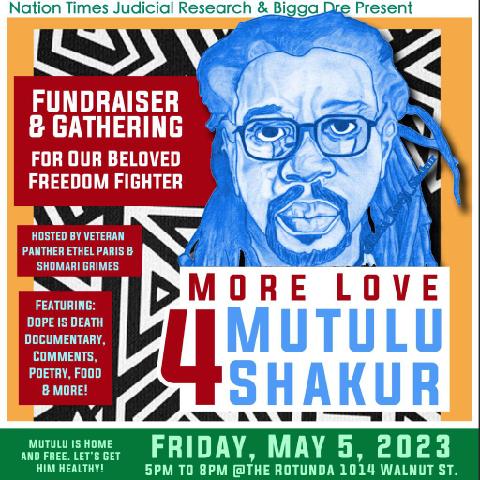 Bigga Dre (Amun Sen Hotep Re) Presents....
"MaMa Pam" & Razakhan Shaheed 
FUNDRAISER AND BENEFIT For Dr.Mutulu Shakur 
Friday May 5, 2023 from 5pm-9pm
JOIN US for a Special Event and Address from Dr. Mutulu Shakur, Mumia Abu-Jamal Hosted by: Bigga Dre (Amun Sen Hotep Re) with Special Invited Guest Fred Hampton Jr. Moderated by: Dr. James McIntosh (Committee To Eliminate Media Offense to African People) & Zayid Muhammad (Malcom X Grassroots Commemoration Center) other guest and Features include Mama Pam (Uncompromising International Concerned Family & Friends Of Mumia Abu Jamal) Razakhan Shaheed (Nation Time) United Sabaeans Worldwide (Dr. Malachi Z. York ) Dequi Kioni- Sadiki, (Spirit Of Mandela Coalition) Dr. Regina Jennings, U.N.I.A. Basiymah Bey, Sekou Odinga Sis. Empress Phile' Chionesu (Dr. Phile Million Woman March) Ras Jondhi Harrell (Center For Returning Citizen T.C.R.C.) 
Enjoy a night of VEGAN FOOD, Vendors, Live Lectures, Special Presentations, Special Community Address, Visual Documentation,
Eschatology (Bring Our Girls Back) Human Trafficking Film Screening and much more. This event is a BENEFIT & FUNDRAISER for Dr. Mutulu Shakur whose primary work has been in the area of health. He is a doctor of acupuncture and was a co-founder and director of two institutions devoted to improving health care in the melaninated community.