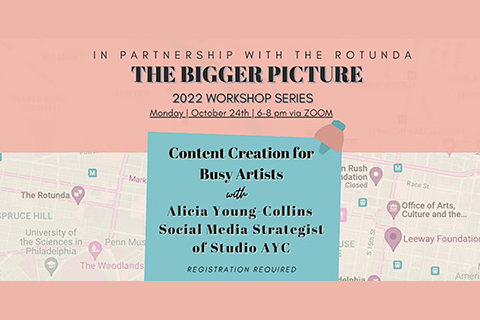 Content Creation for Artists with Alicia Young-Collins
Part of the The Bigger Picture 2022 Workshop Series collection
Learn how to create content that connects to your audience
Are you a busy artist ready to make content that generals sales? Are you an artist overwhelmed with the idea of creating content and unsure of where to start? Do you have a Canva basic membership and want to level up your skills to become a Canva pro?
If so, this workshop is just for you! Workshop take aways include:


Canva Basics



Creating Your Content Avatar



Creating effective content pillars



Creating content that's engaging, relevant and authentic



The Bigger Picture (TBP) is a new workshop series in partnership with The Rotunda, offering free monthly resource workshops for artists and art organizations, facilitated by local artists and creative entrepreneurs.
Registration is required. Access to workshop replays will be available to attendees only.
Please register at https://www.eventbrite.com/e/content-creation-for-artists-with-alicia-young-collins-tickets-419323085637