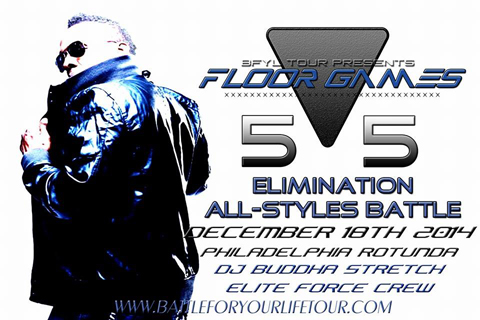 This is a special edition of The Gathering!!
Floor Games 5 VS 5 Elimination All-Styles Battle 
$25 per member to battle | $10 to watch and Party


Here are the RULES, PLEASE READ:
-Each battle will last 5-7 min or Until each member of the losing team is eliminated

-(Tag Team)2 man routines will only be allowed once per battle
-5 person routines will be allowed once per battle teams that make it to the semi finals and finals will have to start the round with a 30-60 sec routine
-Crews will have one member battle at a time (EX.club style or like You Got Served), the judge will then eliminate the losing member from the entire battle, the team with the most crew members left by the end of the time limit will be declared the winner. Or once the winning team can eliminate their opponent.
-In the event the judge ties the dancers that just battled, both dancers stay in the battle. And another member may go.
-Dancers can only be revived into the battle if the last surviving member can eliminate two members from the opposing team consecutively,if successful only one member will be allowed to re-enter the battle
-All Crews MUST sign up through our website, No sign ups at the DOOR! Sign up at :http://www.battleforyourlifetour.com/#!crewbattle-registration/c1m76or Email: entries@battleforyourlifetour.com 
-Only accepting a max of 16 teams, All crews must be signed up in full by Nov 30th deadline on our WEBSITE. Facebook does not count.
-$25 Per member to Enter | 1st Place $1000 Cash Prize winner takes all. 
Judges: Gator, Ynot, Diddy, Tiger B,TBA, TBA
DJs: Lou Nitro Green and Emilio Austin Jr Full aka Buddha Stretch of Elite Force Crew and MOP TOP
Dec 18th 2014 | The Philly Gathering 
Registered Crews:
1.The Expandables
2.Project positive
3.1080p
4.Underforce fam
5.Battlefest 
6.Studio 860
7.Side Street
8.Rep Ya Style
9.EC Fam
10. Alphas
11.Alien Mob
12.Hall of Fame 
13.BIA CREW
14.X-Men
15.Dynamic Rockers
16.