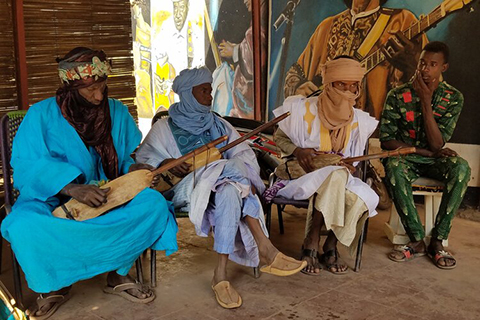 Fire Museum Presents: Al Bilali Soudan
Proof of Covid 19 vaccination status and mask wearing required.
Al Bilali Soudan:
Al Bilali Soudan - an ancient name for the city of Timbuktu - present an improvisational tour de force of traditional rhythms and scales. Their style is Tehardent, the Tamasheq name for their traditional stringed instrument. A precursor of the modern banjo, the Tehardent has accompanied griots, bards, dancers and vocalists for centuries. They hail from a well-known Tuareg family which has performed this music for generations. Abellow Yattara, a master of the instrument, is the group leader. His uncle, Aboubacrine Yattara plays the bass tehardent. Other members of the group include Mohamed Ag Abellow, Tchiale Ag Aboubacrine, Mohamed Dicko and Abdoulaye Ag Mohamed. Their ease with one another is obvious in the verve of their relaxed performance. Their work represents cultural preservation renewed.
This genre of music has been performed from at least the 16th century by Tuareg griots to celebrate the end of harvest and the changing seasons, heroic warriors, and noble families. In contrast to Tuareg contemporary acts like Tinariwen and Bombino, Al Bilali Soudan take an acoustic approach to Tamashek folk music traditions.
Admission is FREE. Advance registration is strongly encouraged. Please register at https://www.eventbrite.com/e/al-bilali-soudan-tickets-399642390147
Proof of Covid 19 vaccination status and mask wearing required.