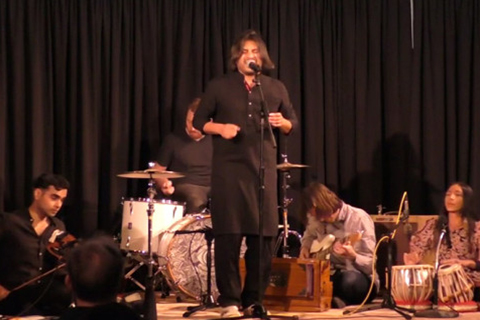 Falsa
:
Falsa is a New York based Sufi music ensemble that began in Philadelphia in 2013 and has since established a strong following on the East Coast. The instrumentation of vocal, harmonium, electric bass VI, Spanish guitar, drum set, tabla, Carnatic violin, and trumpet brings traditional melodies into a modern context in a way that is at times meditative and, at others, explosive. The lyrical content comes from the likes of classic poets Amir Khusrau, Rumi and Hafez, who touched on something essential to human existence in their writings, something that becomes even more palpable to the audience as singer Umer Piracha offers brief, soulful translations between songs. The overall feeling of a Falsa performance is that of virtuosity and transcendence.
Umer Piracha on Vocals, accompanied by Siddharth Ashokkumar on Carnatic Violin, Tom Deis and Paul Arendt on Guitars/Harmonium, Adam Hershberger on Trumpet, Roshni Samlal on Tabla, and Greg Foran on Percussion.


Iranian multi-instrumentalist Kamyar Arsani and Indian-born drummer/electronic music producer Sunken Cages create their own brand of digital folk music that draws on Sufi mysticism, traditional Persian Music, street rhythms from Mumbai and contemporary electronic music at once. Momin accompanies Arsani's vocals and daf (frame-drum) with a masterful blend of electronic and acoustic percussion, including live-looping via his unique drum-loop performance system. 
Kamyar Arsani is an Iranian multi-instrumentalist, singer and songwriter based in Washington DC. Through his solo work and numerous collaborations, Arsani creates music across an array of styles, ranging from classical Persian music to genre-defying electronic experimentation. A teacher, performer and scholar of the daf (the Iranian frame drum). Arsani has been a featured artist at the Kennedy Center, the Library of Congress, Voice of America, Georgetown University and numerous other stages throughout the region. Along with his solo work and collaborations, Arsani is also the singer and lyricist of Time is Fire, a pan-cultural punk band.
Sunken Cages is the moniker of drummer/electronic music producer Ravish Momin, who studied with US Jazz master-drummer Andrew Cyrille.  He has worked as a sideman with a wide array of musicians including US avant-Jazz legend Kalaparush Maurice McIntyre (AACM/Chicago.)  In addition, he has also led his own Jazz/global group Tarana on international stages for the past 14 years.As Sunken Cages, Momin plays electronic and acoustic drums. He layers loops while manipulating them in real-time to blur the lines between composition and improvisation. While rooted in Indian and Black Music traditions, he is also influenced by the street sounds of underground dance music from Sao Paolo to Durban to Mumbai and beyond. He is signed to OnTheCorner Records (UK). 
Admission is FREE. Registration is encouraged: eventbrite.com/e/falsa-kamyar-arsanisunken-cages-duo-tickets-516666071127