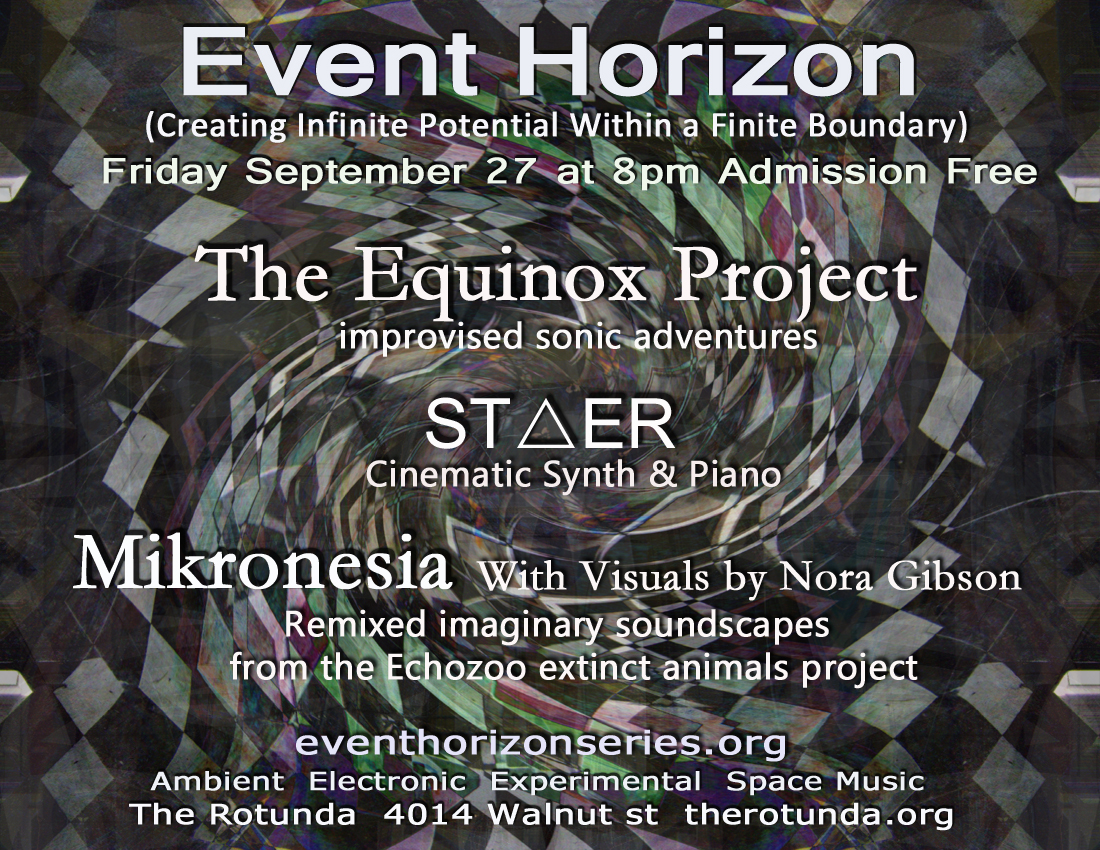 The Event Horizon concert series is a Philadelphia, PA based concert series featuring Ambient, Electronic, Experimental and Space Music. 
Upcoming Events:
September 27th - ST∆ER, Mikronesia, The Equinox Project
ST∆ER is the solo project of Philadelphia-based electronic musician Ian R. Staer. From the debut of the project in 2014, ST∆ER has enjoyed strong support from fans and critics alike: multiple live-to-air FM radio performances (including Star's End on WXPN FM and Music With Space on WPRB FM) and well-received concerts including an appearance at The Gatherings have rapidly cultivated a following for this independent artist, whose releases have regularly found their way to the top of the Bandcamp charts -- sharing top-5 positions with (and even occasionally surpassing) luminaries like Carbon Based Lifeforms and Tycho.
Inspired equally by the classic "Berlin School" material of early Tangerine Dream and by contemporaries such as Chuck Van Zyl, Erik Wøllo, and Jason Sloan, ST∆ER performances take the audience on a meditative, hypnotic journey. Percolating, shimmering sequences intertwine within swirling clouds of chorused strings, themselves bound within the gravity of deep, powerful drones. Gentle piano lines drift throughout, imbuing the synthesized atmospheres with an organic familiarity.
ST∆ER releases are available in physical and digital format at http://staer.bandcamp.com
Visit http://www.facebook.com/staer.us for live clips, photos, news updates
Mikronesia - Composer and teaching artist Michael Reiley McDermott has created music for video, dance, theater, concerts, gallery installations, smartphones, multi-speaker arrays, kinetic sculptures, wishing wells, and sleeping/dreaming across the spectrum of listening consciousness. His practice explores the relationship between present moment awareness, deep time and humanity's personal connection through listening.  Much of his work integrates a daily practice of meditation, Deep Listening and textured sound worlds through a process he calls "sonic photography". This process involves site-specific recordings of physical spaces re-imagined using photographic development and collage techniques. His aim is to reframe the everyday world as both a grand statement that stretches out in both directions of time and as an ephemeral instant of precious connection. In 2016 he completed a certification program in Deep Listening studying with Deep Listening pioneer Pauline Oliveros. 
He was recently Artist in Residence at <fidget>, Composer in Residence for Temple University's BEEP Ensemble and Composer in Residence at Village of the Arts and Humanities.  Over the past four years, he has been traveling at artists residencies around the world in Brazil, Iceland, Germany, Mexico, Costa Rica, Thailand, and India working on a sound design project of extinct animal sounds called Echozoo and teaching with his Deep Listening and Somatic based workshop called Listening Bodies. Michael is currently a teacher at the Center for Deep Listening at Rensselaer Polytechnic Institute and studying to become a certified therapeutic musician with the Music for Healling and Transition Program. Mikronesia will be joined by visualize Nora Gibson for this performance.
The Equinox Project is: David Berends - Piano, Organ, various keyboards. Karl Fury- Guitars, mutant stringed instruments, Linnstrument, synths. Juan Garces- Moog, Behringer, Korg and Roland synths, keyboards,  sequencers and a laptop. Their various backgrounds range from Classical, Jazz, Folk, Rock, Blues and World to Electronica. Their music is a synergistic melding of acoustic, electronic and digital instruments into an evolving improvisational audio journey.
Admission is FREE
 And then… 
November 2nd - Guitar Pilots, Steve Horelick, Simon Lomax
Guitar Pilots (Art Cohen & Harrison McKay) was formed to perform electronic space music on guitars. Their music consists of long structured improvisational pieces which transport the listener to the depths of space while focusing on each precious unfolding moment. Art Cohen's sequencer-like echoed guitar figures provide rhythmic propulsion while Harrison McKay's synthetic pads and loops build a foundation for both guitarists to soar in melodic flights. Singing glissando blends seemlessly with plucks and twangs and blasts of interstellar beam. Following the trail blazed by Pink Floyd, The Grateful Dead, Prog, and the Berlin School, Guitar Pilots carve out their own unique sonic territory that is both organic as the ground underneath and as far-reaching as a distant pulsar. 
Art Cohen has been a fixture in the Philadelphia music scene for over 30 years as both a performer and an audio engineer. Fluent in guitar, bass, keyboards and harmonica, he has performed at concert venues and radio studios throughout the Delaware Valley and brought his music to Toronto, New York and other cities in the Northeast. He has released CD's with Guitar Pilots, The Ministry of Inside Things, Delicate Monster, CubiZm, Lessick & Lincoln & Cohen, Waves of Violet, Men from When, and as a solo artist. His music ranges from electronic space to ambient to folk-rock to psychedelic rock to traditional folk to experimental to spoken word and beyond - sometimes within the same performance. Art has cultivated a unique guitar style drawing on influences including Garcia, Gilmour, Hendrix, Gottsching, Fripp, and Pinhas.
Harrison McKay is perhaps best known as the guitar half of The Tangent Project, the Philadelphia area synth & guitar duo who
over the past decade have graced the stages of all the region's important electronic spacemusic venues. He coaxes an extended pallet of sounds from his guitar through the use of synths, effects processors and loopers. In addition to his work with The Tangent Project and as a solo electronic musician, McKay has performed extensively with local pop and progressive rock bands.
Steve Horelick: Steve Horelick's immersive, surround performances have entranced audiences from San Francisco to Berlin. His music with its glistening harmonies, evolving textures and echoing rhythms is influenced by waves, eddies, spirals, harmonigraphics and Fibonacci ratios. It swirls around and through the audience involving them in a 3D sonic journey. Steve's main instruments are the ones designed by the great instrument maker Donald Buchla who designed Steve's first "Buchla" in 1976. He sends his variety of Buchla instruments and ZenDrum into his proprietary Logic Pro X surround/quad 3D panning environments and processing algorithms, creating rich audio soundscapes filled with intricately shifting timbres and cascading rhythms. 
Simon Lomax is a producer of electronic ambient space music who, through his unique and involving music expresses a personal global intuition. His work possesses an unparalleled sense of sonic depth and universal scale whilst exhibiting a remarkably lucid grasp of texture." Star's End Review
It's little wonder with reviews like this that UK based Simon is best known for his unique style of deep and contemplative ambient and atmospheric music. Writing under his own name and formerly under the moniker Maitreya. In addition to a series of successful album releases you may well have heard Simon's work on Television or Radio having received airplay the World over; from nationally sated radio in the US, to BBC Radio 1, Sky Movies, BBC 1's 'The One Show', and the award winning ITV crime drama 'Wire in the Blood' to mention but a few. Simon is currently working on a number of exciting new projects including a limited edition album which is planned for release later this year. As well as this he has also provided music for the multi-award winning US feature film 'Ink & Steel' by Lone Shark Studios, which won Best Film when it was premièred at the Soho Film Festival in New York, and for the hit US TV show Rectify. Simon's music has been championed by DJ Mary Anne Hobbs, receiving airplay on both her BBC 6 Music and 6 Music Recommends shows." 
Website address: www.simonlomax.com
Admission is FREE