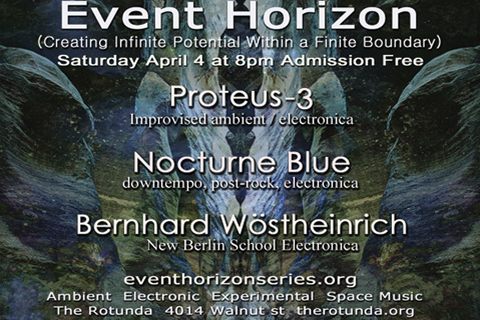 IN TAKING STEPS TO SLOW THE SPREAD OF COVID-19, THE ROTUNDA HAS BEEN ORDERED TO SHUT DOWN. CURRENTLY, WE ARE CLOSED UNTIL MAY 31, 2020. HOWEVER, THIS CLOSURE COULD BE EXTENDED DEPENDING ON THE PROGRESS OF THE VIRUS, SO PLEASE STAY TUNED! 

Event Horizon Series
presents
Proteus-3, Nocturne Blue, Bernhard Wöstheinrich

Proteus-3 is a trio consisting of multi-instrumentalists Juan Garces (The Melting Transistor, The Equinox Project, Black Thujone), George Bley (Jersey shore-based solo artist, best know for behind-the-scenes tour work for such artists as Berhard Wöstheinrich and Markus Reuter), and Mike Hunter (Ombient, Black Thujone and host of the WPRB radio program Music With Space.)
 
Nocturne Blue - Nocturne Blue is an art rock band led by Emmy-winning singer/songwriter Dutch Rall which incorporates elements of downtempo, post-rock, and German-leaning electronica. The group began as a long distance, lo-fi recording project via Los Angeles and Berlin between Dutch and U8 Touch guitarist Markus Reuter, but has since developed into a fully formed band with live shows utilizing Rall's video art projection. Studio recordings continue to include music legends such as Trey Gunn, Tony Levin, and Julie Slick.
Currently performing in support of their latest release 'The True Sparrow' with Mark Cook on Warr guitar, Nocturne Blue is often compared to Massive Attack, Bowie, Daniel Lanois, Sylvian's work with Fripp, or on a good day, The Blue Nile.
 
Bernhard Wöstheinrich is a sound artist, improviser and painter living in Berlin. Bernhard elicits meaning from abstraction in electronic music and painting. He has studied graphic design and has created an eclectic body of work in both graphics and music. In addition to being a renowned solo artist, he is also a member of the pioneering experimental group, centrozoon.

Admission is FREE

AND THEN ON FRIDAY MAY 8:
Event Horizon Series
presentsBeard Farm, Axon Defecto, Don Slepian

Beard Farm - d/a73 impresario Wright Lagrone has said, "Beard Farm is both the best and the worst name for a band that d/a73 has ever encountered". Players Tom Bruce and Karl Fury play stringed instruments, hardware and software synthesizers, Linnstrument controllers and iPads. Beard Farm has appeared at electro-music festivals and other venues throughout the Northeast and in Asheville, NC. Karl Fury is a multi-instrumentalist and composer from central New Jersey. His musical background ranges from rock and blues to jazz-rock, world music, ambient, electronic and free improvisation. Karl performed and recorded for several years in the world music duo Near East with Mahan Rishi Singh Khalsa. Karl continues to collaborate and record with Dr. Brad Garton, head of the Columbia University Computer Music Center in New York City, and with The  A founding member of The Equinox Project with Juan Garces and David Berends, Karl also continues to record and perform solo instrumental music. Thomas R. Bruce is a musician and sound designer living in Ithaca, NY. Along with Beard Farm, he performs as a solo artist and in two other collaborations: DFLT (with James Spitznagel, and WPS (with Charles Shriner). At different points in a varied and checkered career, he has been hailed as an artistic vandal by Opera News, lauded as a leading innovator and visionary in the American legal profession by the American Bar Association Journal, and found eminently suitable for employment by Fluegel Brothers' Dog and Pony Circus by leading theatrical critic Leonard Simons, who declared himself willing to put in a call to Colonel Fluegel on his behalf.
Links to their recorded works are here and their SoundCloud page is here.
 
Axon Defecto - Bass underscorred Ambient Looping Soundscapes. Axon Defecto is a project created to explore the ambient textures that are possible of the six string electric bass used with pedals, filters and loopers combined with synthesizer sequencing.
 
Don Slepian - Don Slepian, Electronic Classical Keyboardist, combines unique skills in musical electronics with a lifetime of electronic music performance. He was originally known for his innovative 1980 Ambient Electronica release, "The Sea of Bliss", used in the early '80's in the NPR program "Music from the Hearts of Space". "His music is already at the level of sonic and musical integration which few achieve — simultaneously stimulating and effervescent and soothing and profound." — "Hearts of Space" Music Guide
 "… one of the genre's major talents…" — Rolling Stone Magazine
Born into a scientific family, music technologist Don Slepian showed both musical and technical talent early in life. He was a tester on the early internet as a member of the Defense Advanced Research Projects Agency (DARPA), Synthesizer Soloist with the Honolulu Symphony and Musical Director of the Honolulu Theater For Youth. He has been presented by WNYC's "New Sounds" in New York's Lincoln Center and performed at the Pompidou Center in Paris. He is currently living in the Pocono Mountains of Pennsylvania where he writes and builds instruments.

Admission is FREE

IN TAKING STEPS TO SLOW THE SPREAD OF COVID-19, THE ROTUNDA HAS BEEN ORDERED TO SHUT DOWN. CURRENTLY, WE ARE CLOSED UNTIL MAY 31, 2020. HOWEVER, THIS CLOSURE COULD BE EXTENDED DEPENDING ON THE PROGRESS OF THE VIRUS, SO PLEASE STAY TUNED! 

Addtional Images