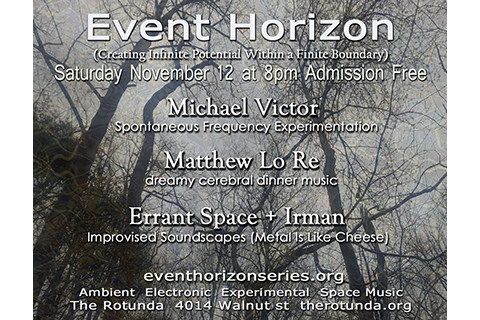 Event Horizon
presents Michael Victor, Matthew Lo Re, Errant Space + Irman
Michael Victor
 – Since the early 1980's he has been creating spontaneous improvisational electronic  and experimental noise and ambient music Performed as a member of Fringe Element from 2003 to 2008 at the electro-music festivals in Cheltenham PA and Huguenot NY among other spaces.
Matthew Lo Re – A creator on a quest of self progress. Designing , soldering , constructing my own instruments. In a few words, dreamy cerebral dinner music.

Errant Space
 is a project of composer/recordist Craig Chin from Beacon, NY. Its goal is spatio-temporal dilation through sound. Performances are site-specific, spontaneous compositions influenced by both the physical characteristics of the space they are performed in and the occupants of that space.  Recent Errant Space projects include the soundtrack for the documentary 
Baato
, and a soundtrack for the tabletop adventure card game 
Dark Venture
. Craig has also produced the monthly 
Errant Space Podcast
 for over seven years, which often features interesting experimental and electronic musicians. Additionally, Craig has curated several music series, including a 
monthly electronic and experimental night
 and the 
Space Out, Outside
 series. He also has a weekly radio show, The Space Program, on Vassar College's Station WVKR.
Irman Peck – is a conceptual cellist/bassist/improvisor from Philadelphia, PA. A 40 + year Improvisor/Composer/Performer, Irman is a veteran of various East Coast Underground, No Wave and experimental music scenes. I. Peck plays both electric and acoustic Bass and Cello as well as other Strings, often using electronic processing. Irman is a founding member of Greg Weaver's Los Dominos, Brian Kelly's Suns and Wormhole Superette with Tracy Lisk. Irman also presently performs in the duo Fronds & Fringe with R. Waleski.
Admission is FREE. Masks required.