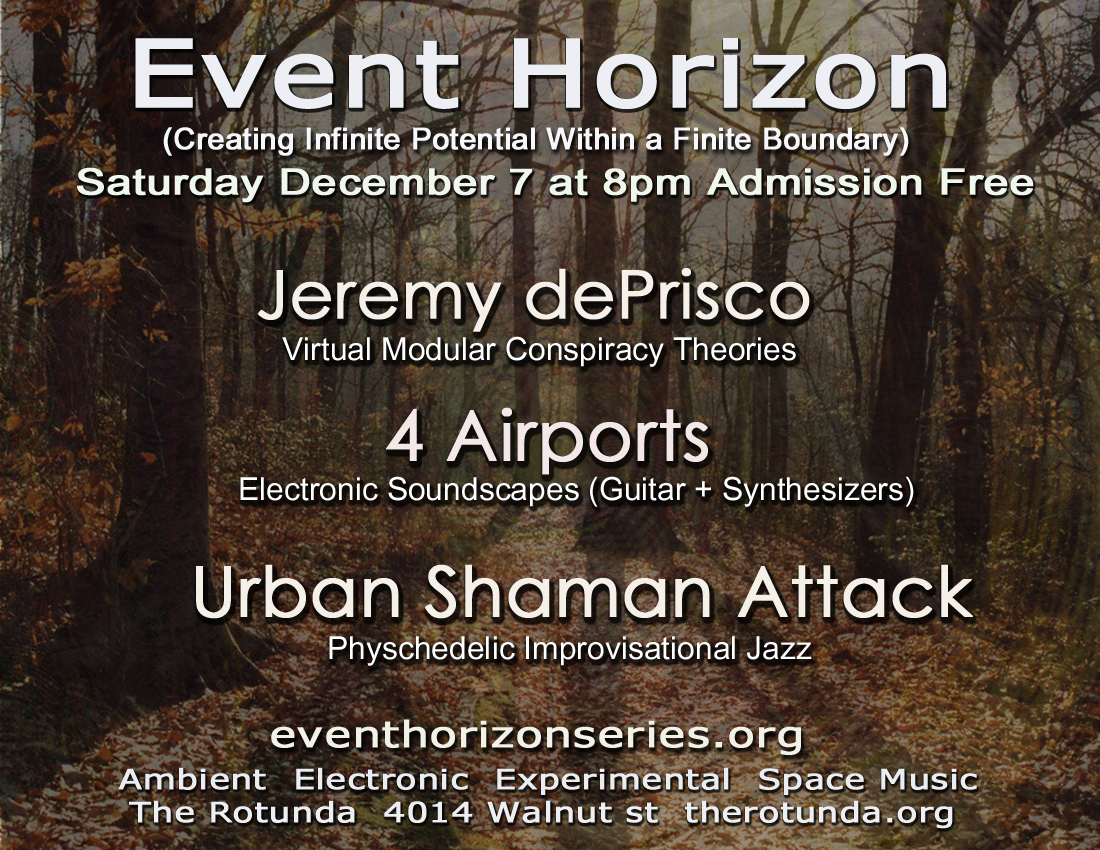 Event Horizon Series 
Presents 
December 7th -  Jeremy dePrisco, 4 Airports, Urban Shaman Attack
Jeremy dePrisco (aka Shivasongster) is a Pennsylvania musician and sound artist. Jeremy uses improvisation, collaboration, and noise to examine and recontextualize the alienation inherent in media influence, socially constructed reality, conspiracy, and myth. Source materials for Jeremy's performances might be anything from field recordings, guitar, synthesizers, radios, found sounds, home-made gadgets, and processed video. Since 2010, Jeremy has performed at festivals presented by the Electro-music.com community in NY, NC, NJ, and MD. After moving to Philly in 2019, Jeremy has performed at the Philadelphia Mini Maker Faire and also plays with the improv group Sonic Sandbox.
4 Airports is a collaboration between guitarist Craig Chin and synthesist Nathan Yeager. Together they create improvised electronic soundscapes, exploring weird sonic terrain and deep ambient textures.
 Urban Shaman Attack plays American Futurism, from Wilmington Delaware. USA brings multiple genres and styles into concrescence.. moving thru phrases and themes in an effort to bring to light the obscure. We feature active tonal oscillation in a live, real time presentation. They are Rich Todd on Drums and percussion, Bob Danyo on horns and indigenous flutes, Elijah Smith on guitar, and Dwayne Todd on Synthesizer/ Chaossilator. 
They will feature the live video art of VJ Jim Tuite for this performance.