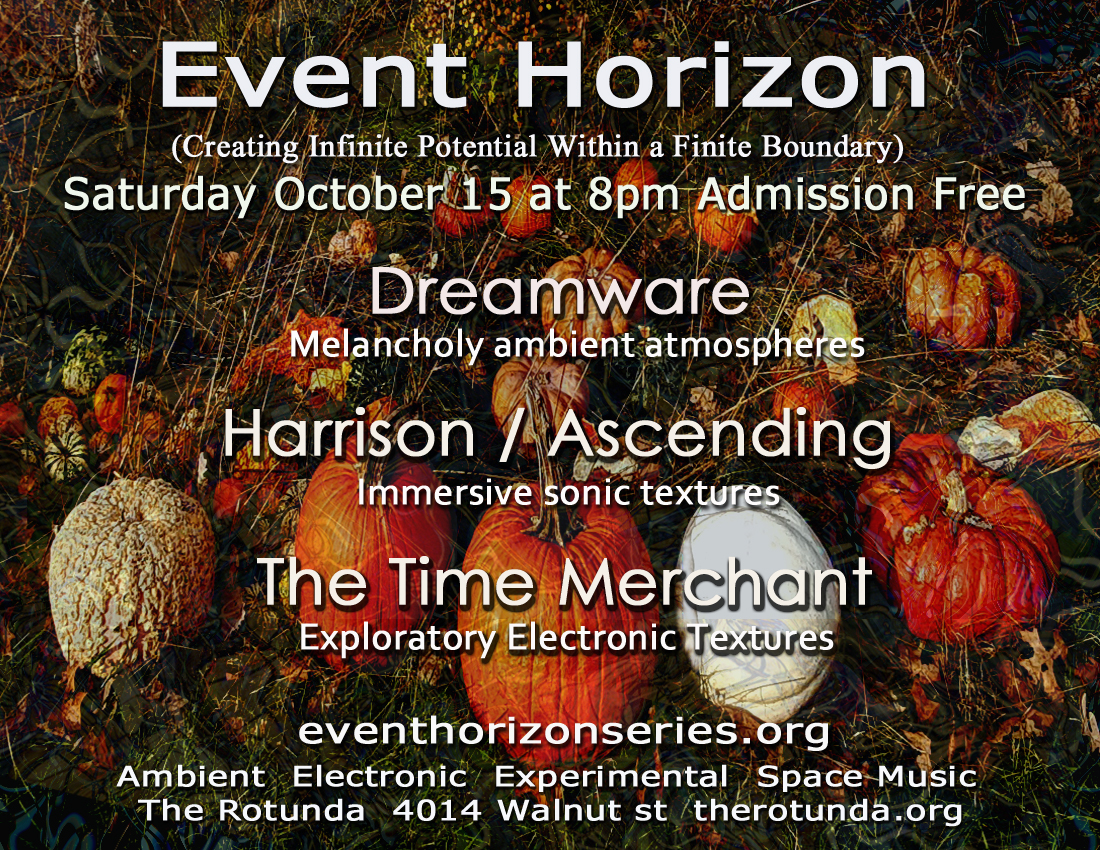 Event Horizon presents Harrison McKay/Ascendant Sound, Dreamware and The Time Merchant
Harrison / Ascending – A collaboration from Philadelphia based father/Son duo of Harrison McKay (Tangent Project, Guitar Pilots) on Guitar, Looping & Electronics and Kyle McKay (Ascending Sound) on Himalayan Singing Bowls, Flute & Electronics. Together they weave darkness and light into a haunting and familiar ambient landscape.


Dreamware 
is the ambient music project of Todd Skinner in Alexandria, VA. He is interested in creating atmospheric soundscapes that are both intimate and melancholic, often incorporating organic elements such as his own field recordings and tape loops. He draws inspiration from a diverse range of artists including Steve Roach, William Basinski, Hotel Neon, and many others. Todd has performed at Cosmic Crossings with 80 lb. Test (Doug Llewellyn) and is a member of the Electronic Music Production Society based in Maryland. In 2019 he released his first album, Ephemeral. He has appeared on several compilations, including The Ambient Files and Ambient Online, and has collaborated with Karl Fury as 'T N K'.
https://dreamware.bandcamp.com/

https://tnkmusic1.bandcamp.com/
https://www.youtube.com/c/dreamwaremusic
The Time Merchant
 – Bathed in obscurity, little is known of The Time Merchant apart from the music.
Genres explored include: experimental, dark ambient, atmospheric. pure electronic, and various combinations.
Admission is FREE. Masking required.