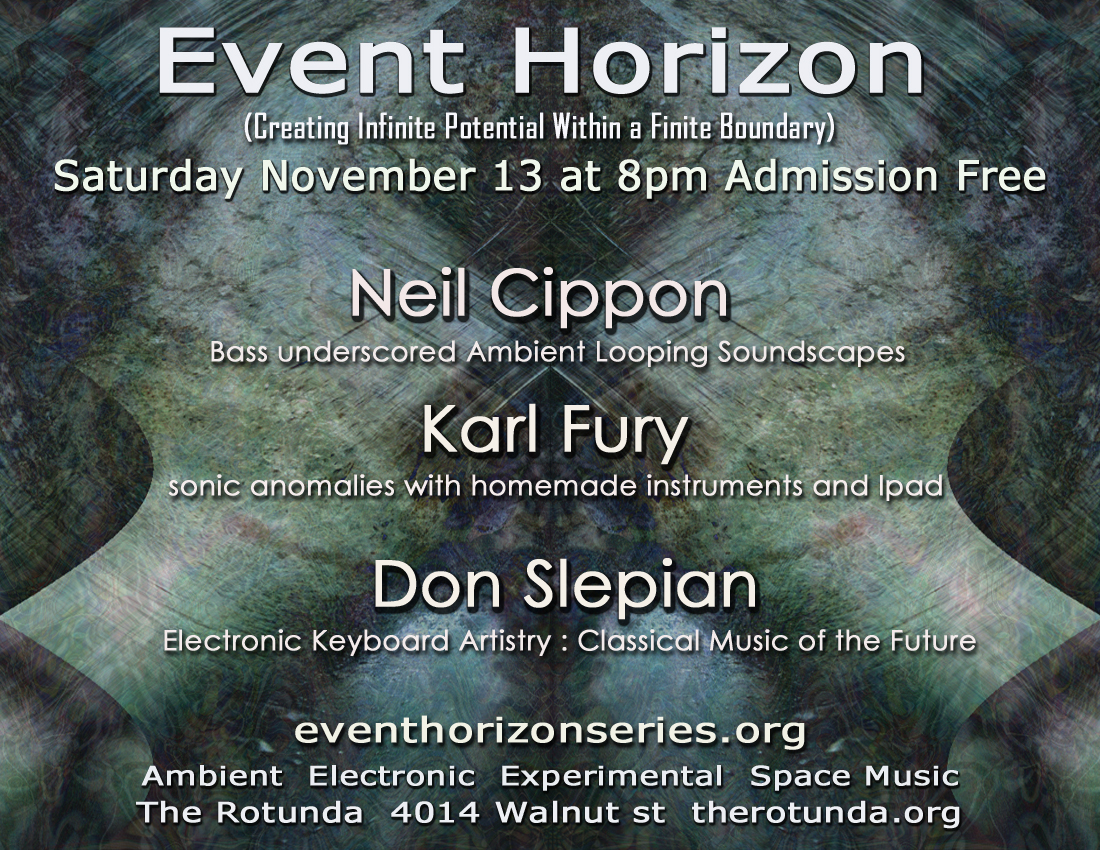 PLEASE SEE BELOW FOR THE ROTUNDA'S COVID POLICIES AND BEST PRACTICES.

Saturday November 13th, The return of The Event Horizon Concert Series!
Featuring: Neil Cippon, Karl Fury, and Don Slepian
Niel Cippon- Bass underscored Ambient Looping Soundscapes.
Neil Cippon is a Philadelphia based musician, playing in bands since the late 80's. Played and recorded with King Carcass, Hoist and Mark's Blues Band. Neil Cippon's current project explores the ambient textures that are possible with six string electric bass modified by pedals, filters and loopers combined with synthesizer sequencing.

Multi-Instrumentalist Karl Fury amongst his handcrafted electro-acoustic creations.
Karl Fury is a multi-instrumentalist and composer from New Jersey. His musical background ranges from rock to jazz, world music, ambient, electronic and free improvisation. He has performed at numerous venues including the Trenton Avant Garde Festival, Artworks, the Cosmic Crossings and Event Horizon concert series, NEEMfest, EEEMfest, Mountain Skies 19, Columbia and Princeton University and live radio broadcasts from WPRB, WTSR, WDVR and WLFR. He performed and recorded for several years in the world music duo Near East and the electronic music trio The Melting Transistor. He continues to collaborate and record with the Equinox Project an improvisational electronic music trio. Karl collaborates with Dr Brad Garton from Columbia University on an irregular basis. Karl is also involved in three new musical duos, Beard Farm with Tom Bruce, Oblique Strategists with Mario-enrigue Paoli and Quantum Elf with Floyd Bledsoe. He also records and performs solo as both Karl Fury and Tars Obscura and currently has a solo release on the da/73 label. Karl plays a number of different stringed instruments, electronic controllers such as the Linnstrument and the Sensel Morph, homemade noise boxes, and utilizes computers and the Ipad as sound sources and processors in his music.


Don Slepian, Bell Labs "Alles Machine" Digital Synthesizer, February 1980.
Don Slepian is a true pioneer of electronic music. He started composing in 1969 and released his first compilation cassette in September of 1978. He left Hawaii and came to Bell Laboratories in Murray Hill, NJ, where he was "Artist in Residence" in computer music for the next two years. In 1980 he released three more cassette tapes on the Hawaiian record label Plumeria Productions: The Sea of Bliss, New Dawn, and Open Spaces. In 1981 he self-released his first LP, Computer Don't Breakdown. In 1982 he signed to Fortuna Records, who brought his music to a much wider audience with several releases throughout the '80s. The same year he released a collaborative tape with Lauri Paisley as Synarios called Uncontrolled Voltage in a classic electronica style. Slepian combines unique skills in music and electronics with a lifetime of improvised keyboard music performance. Born into a scientific family, Slepian showed both musical and technical talent early in life. In 1968, he programmed computers and built electronic music circuitry, sculpting sound with classic electronic music studio tape techniques. Starting in 1972, he was a tester on the early internet as a member of the Defense Advanced Research Projects Agency (DARPA). He was also a synthesizer soloist with the Honolulu Symphony Orchestra, Music Director of Honolulu Theatre for Youth, and ARP Synthesizer Sales Rep for Hawaii. 

Visuals
Niel Cippon will provide his own video artwork. Old school Spirographic Laser Illuminations by Mike Hunter (aka Ombient.)
Admission is FREE
ROTUNDA COVID POLICIES AND BEST PRACTICES
- 50 people MAX will be permitted in the venue during an event. This includes audience, staff, and performers. 
- Everyone over the age of 2 will be required to wear masks indoors, regardless of vaccination status. 
- Performers and attendees will be asked to stay home if they feel unwell or have been in contact with someone diagnosed with Covid within 10 days of the event.
- We will engage in contact tracing. We will register attendees at the front desk, and will require them to alert us if they become sick after the event.