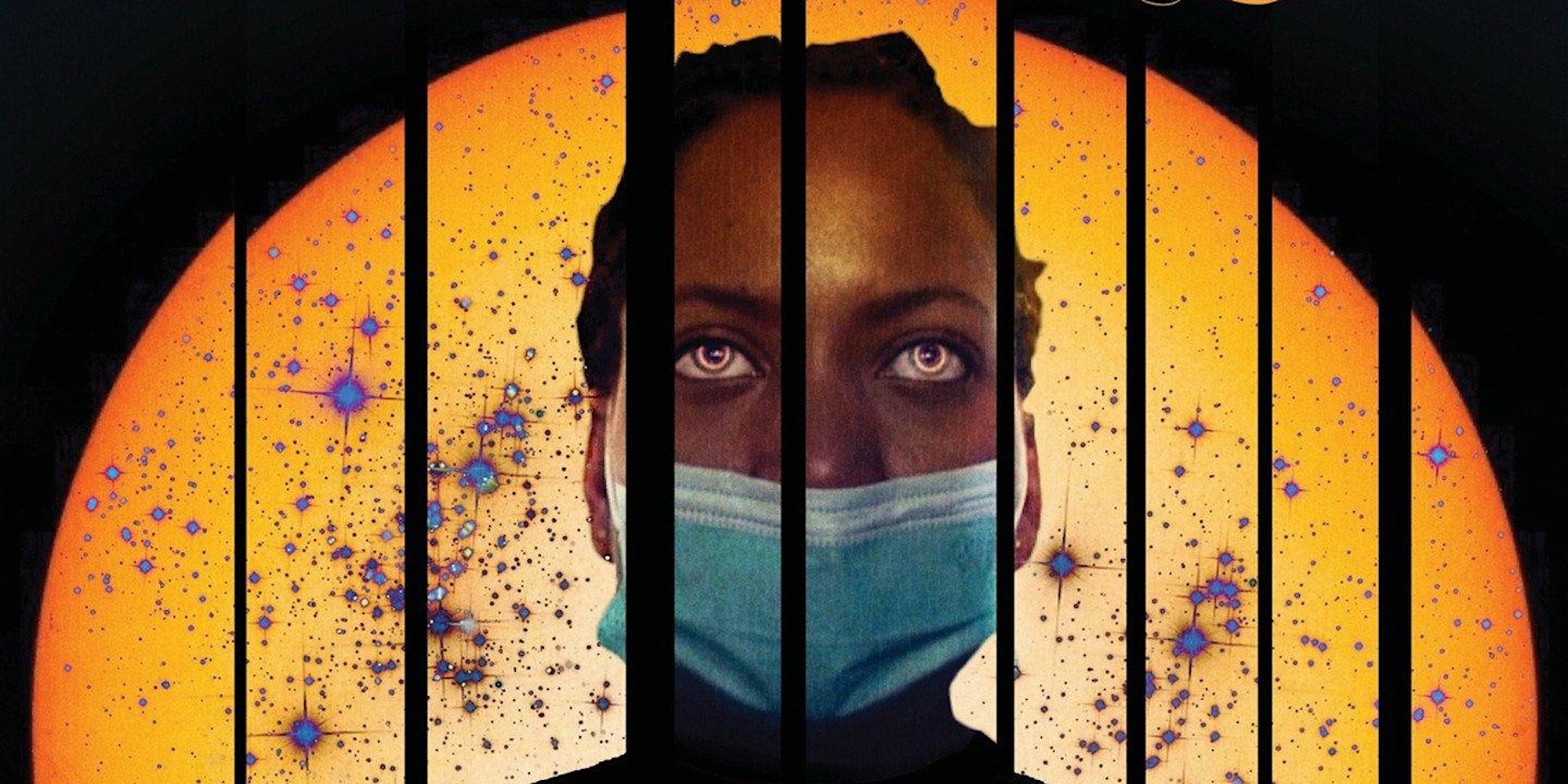 This Halloweekend, join us and BRBCC for an eve of contemporary Black horror shorts & a performance-party with electronic artist N3UR0TIKA.
cineSPEAK's second annual Halloweekend cinema celebration will showcase the fantastic, the delight, and the horror, in partnership with three brilliant indie film organizations from across Philadelphia. On Friday, October 27, attend an evening of contemporary Black horror shorts with a performance and dance party with N3UR0TIKA, presented with Be Reel Black Cinema Club. On Saturday, October 28, learn and explore through NO EVIL EYE CINEMA's workshop, Black Femininity as the 'Monstrousness'. And on Monday, October 30, join Batikh Batikh for a Halaloween evening of horror cinema from the South West Asian North African (SWANA) region raising funds for Palestinian mutual aid groups. This weekend has something for everyone—so prepare your costumes and get ready for a spectacular time!
On Friday, October 27th, join us and our family at Be Reel Black Cinema Club for an evening celebrating contemporary Black filmmakers working in the horror genre.
The night will culminate in a performance x party with Brooklyn-based electronic artist N3UR0TIKA.
This incredible program was curated by Stephanye Watts, founder of Be Reel Black Cinema Club.
—
**EVENT FLOW:
Doors @ 6:30PM
Film Program @ 7PM
Performance x Party @ 8:30PM
* *IMPORTANT INFO:
THIS EVENT IS INDOORS.
**SCREENING: Mask wearing is required.
**PARTY: Mask wearing is highly encouraged but not required.
—If you are feeling sick or have possibly been exposed to COVID, we kindly ask that you stay home.
—
**TICKETS:
— General Admission: $20
— Pay-What-You-Can: No one is ever turned away for lack of funds. If you cannot afford the general admission price, please make a contribution that feels good to you. Your contribution makes it possible for us to pay our team and collaborating artists an above industry standard wage.
— Donations graciously accepted to sustain and grow our on-going work
—
ABOUT THE FILM PROGRAM:
THE FEATURED FILMS:
THE CURSED FACE
Dir. Alex Henderson @alexanderthetitan / 2022 / 8 min / English
Film synopsis/description: Brenda hired me to document her haunting experiences with a Cursed Face.
BENEDICTION
Dir. Zandashé Brown / 2022 / 19 min / English
Film synopsis/description: A broken woman's search for solace lands her at a Black baptist church in rural Mississippi, where an eerie encounter leads her to unsettling truths.
SUICIDE BY SUNLIGHT
Dir. Nikyatu Jusu / 2018 / 18 min / English
Film synopsis/description: Protected from the sun, a vampire must suppress her bloodlust to regain custody of her estranged daughters.
BLOOD RUNS DOWN
Dir. Zandashé Brown / 2018 / 18 min / English
Film synopsis/description: When a mother undergoes a frightening transition, her daughter must decide between saving her or protecting herself in this haunting account of inheritance, daughterhood, and demons.
—
ABOUT THE PERFORMING ARTIST:
N3UR0TIKA
N3UROTIKA is an experimental musician whose focus is liberating the mind-body through electronic-dance infused rhythm and blues, creating a sonic experience that makes one feel liberated to express themselves. Previously known as 'Loose Rap,' the artist captivates their audience with their vulnerability expressed in songs such as 'Casanova' and the dystopic ballad 'Heal Your Love.' However, their more raunchy sensuality is expressed in the bass-heavy club track 'Love Club.' Notoriously known for their hip wines and bravado, N3UROTIKA delivers a captivating performance leaving the viewer wanting more.
Follow @N3ur0tika
—
ABOUT OUR PARTNERS—
BE REEL BLACK CINEMA CLUB
Since 2017, The Be Reel Black Cinema Club has been disrupting the myth that Black cinema is rare + inaccessible by supporting Black films and filmmakers, one monthly meet-up at a time.
Follow @BeReelBlackCinemaClub
—
ABOUT THE VENUE — THE ROTUNDA
Accessibility: There are seven steps up to enter the venue on the entrance on the left side of the building. There is a ramp equipped for wheelchairs, strollers, walkers, and all other assistive devices on the right side of the building, which can be accessed by following the concrete path from Walnut Street. There is a single-occupancy, all-gender, ADA restroom with a baby changing station on the first floor. There are additional all-gender restrooms in the basement. The venue is not air conditioned.
Parking/Transportation: There is limited paid street parking available near the venue. The venue is a short distance from the 40th Street stop on the Market-Frankford Line and accessible by bus routes 40 and 42. There is a bike rack on site.
—
ABOUT CINÉSPEAK:
We are a Philadelphia-based cinema organization that engages diverse audiences through our independent, repertory and foreign film programming; creating space and centering the stories of individuals and communities that are often underrepresented in mainstream cinema.
We promote community togetherness and global understanding by engaging film enthusiasts while cultivating the next generation of discerning moviegoers; encouraging people to demand social justice both on-screen and throughout society.